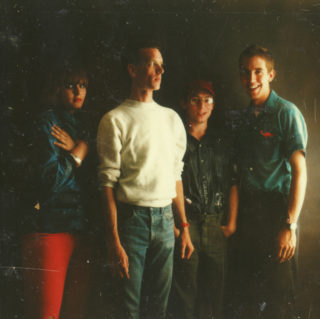 The story of Pylon: a true cult band from post-punk America
In 1987 R.E.M. were named the best band in America by Rolling Stone magazine. For anyone that had seen Athens, GA: Inside/Out, though – the documentary based on the music of their hometown and released the same year – it was clear that R.E.M. would have awarded that accolade to Pylon, even if this local band had already split up four years previously. Such public displays of adoration would lead Pylon to reform in 1989 and support R.E.M. on their massive 'Green' tour (their first major label album) but despite such public displays of affection and influence, initial touring circuits with the likes of U2, their records being re-released on James Murphy's DFA label and their music being covered by contemporary Athens heroes Deerhunter as recently as 2011, Pylon still seem to exist as more of a cherished cult group than a pioneering force of the U.S. post-punk and alt-rock movement.
The group initially existed between 1978-1983 and recently the recording of their final show surfaced. A performance recorded at the Mad Hatter Club in Athens, it was for a TV pilot that failed to get off the ground called The Athens Shows. It was recently transferred from tape, mastered and released as 'Pylon: Live'. The resulting record is a potent document of a band that sound like they are at the apex of their creative powers rather than playing their final, sputtering notes together as a group.
The live album is an illustrative performance of a group in which melody and groove rolled out of them as fluidly and seamlessly as the itchy and guttural guitar stabs. Like the finest of post-punk music from the era they were a group in a state of perpetual motion, surging forward and pulling back simultaneously, harmonious melody and discordant expulsions interlocking and wrestling with one another, spinning and moving in tornado-like trajectories.
The core of the group consisted of Vanessa Briscoe Hay (vocals), Michael Lachowski (bass), Curtis Crowe (drums) and Randall Bewley (guitar), the latter of whom passed away in 2009. Whilst she describes Athens as being "like any other small college town", Hay states that "A sort of perfect storm of creativity happened to our town between 1975-85."
The college town already had a strong art department and in 1976 Georgia native Jimmy Carter was elected president and several major artworks were donated in his honour to the Georgia Museum of Art and many notable artists came to speak with the students during the period, bolstering an already thriving artistic community in the area. During this period many downtown businesses were leaving for out-of-town mall locations or simply closing down and this left spacious (and cheap) loft spaces in the centre, which soon became occupied by artists and musicians. Hay reflects on this period, saying: "The ease of living inexpensively factored into artists and future musicians staying there past graduation."
One central hub of creativity in a cheap location was the 40 Watt Club. Now a revered and legendary music venue in a different location in the city, it was once simply a loft owned by Crowe and it was here that Pylon was born.
"It initially was a large decrepit pigeon-ridden loft in the top of a building downtown," Hay tells me. "Curtis rented the top two floors of this building and sublet the floor just below to artists. It was an old building, which had a dark interior staircase that led up to those two floors. Curtis cleared and cleaned the loft and lived there.
"Sitting on a mattress in the middle of the floor one night and noting a lone light bulb that hung from the ceiling by a wire, Curtis and his friend Bill Tabor dubbed this their 40 Watt club. Michael Lachowski and I rented an art studio directly under Curtis's loft. This studio is where Randy Bewley and Michael started practicing in the fall of 1978. Curtis could hear the two of them through the floor practicing the same riffs over and over again. Curtis decided that they needed a drummer and knocked on the door and offered his services. Later, I auditioned for their band on February 14, 1979."
The group were voracious consumers of music during this period and a band proud to be the sum of the parts of their influences, many of which came from discoveries at local record store Chapter Three. "Our influences and the ability to be inspired and informed by them was key to us making new music that was both valid and confident," says Lachowski. Picking up on records by Television, Pere Ubu, Cabaret Voltaire, Gang of Four, Killing Joke, Roxy Music, DAF, DNA, Mekons, Brian Eno and more, these albums were shared through parties in which they'd all listen to one another's new finds and imports.
Two weeks after Hay auditioned the group played their first show. "People just stood and stared at us," she says. "They weren't quite sure of what to make of it. Maybe we were awful, maybe we were too different.
"Around our third performance, the B-52's came to see us play at a house out in the country and it turned into one crazy dance party."
By 1978 the B-52's (also from Athens) had had something of a hit single with 'Rock Lobster', released via local label DB Records before the group signed to Warner Bros for their debut album. DB turned their attention to Pylon with the aim of putting out their first single, the excellent double A-side of 'Cool/Dub'.
'Cool' was a blistering landmark of a debut single – crashing and crunching guitar eruptions hacked through rolling bass lines and immaculate drums as Hay's voice rose from a quiet murmur to a raging shriek. It recalled both Buzzcocks and Wipers at their finest but the fresh sense of punch and the almost sexy groove made it stand singularly apart. 'Dub' was much more Gang of Four territory, all spiky and restless guitar rattles and throbs and shards of bass as the drums tumbled and rolled whilst Hay's vocals dominated fiercely. Together, they are a vital and vicious opening statement to the world.
They both appeared on the band's 1980 debut album, 'Gyrate' – a record that follows suit, merging spunky almost ESG-like basslines with shimmering guitar melodies and visceral stabs with quiet-to-growly vocals atop. It's clear that R.E.M. were most certainly listening to Pylon a lot in their formative days.
Things began to move quickly for the group in the wake of 'Gyrate'. "It really snowballed very quickly," says Hay. "We had, as our original goal, to go to New York and get written up in New York Rocker and disband. Instead we opened for our heroes, Gang of Four, and were reviewed by Interview magazine's Glenn O'Brien. The B-52's went out on a national tour with the Talking Heads. When they got to the Agora in Atlanta, they played separate nights and we got to open for both bands. We also opened for PiL at the Agora along with the Atlanta band Vietnam. We also played with Medium Medium, the Soft Boys, the Basics, the Tone Tones, Method Actors, Mission of Burma, the Scientific Americans and many others." Most notably perhaps though, was a national tour with U2 as they were working their way from vaguely post-punk Dubliners to mega-bland global superstars. "I honestly didn't have much interaction with them," Hay says. "It wasn't a lot of fun for us and when we were asked to open for the rest of their North American tour, we declined."
On paper, the group's existence between 1980-83 seems like a pivotal, almost enviable, one. Two albums released (the second being the also excellent 'Chomp' in 1983) touring with their heroes and getting major gigs across the country with an ever-expanding fan base, yet there was a feeling of discomfort underneath it all, as Hay very simply puts it. "We had made a pact that if the band ever ceased to be fun, that we would call it quits.
"In 1983, everything seemed to be a lot more work and there was a lot of pressure to do various things that we had no interest in," she says.
Lachowski concurs this feeling: "Because we had gotten to that level of relative success, we found ourselves aggravated by the accompanying expectations: to work on new material, record a new album, tour for the new album, seek out opening slots for big name bands in a strategic bid to move up, etc. Despite all of our experience, we had managed to sustain – and often to reinforce – within the band the notion that we were tourists in the rock and roll industry, artists who were dabbling as musicians; dilettantes in the music business. Somewhere in there we agreed to conduct one last bold move by fulfilling our oft-stated premise: that we would do this band thing as long as it was fun."
"I don't remember a whole lot about the final show," Hay says, trying to recall the evening, "but all our friends were there. We played almost everything that we performed live at the time." Which extends to 20 songs on the recent live album.
These tourists of the music industry returned for one more trip in 1989 at the behest of R.E.M (who by this stage had also covered the group's track 'Crazy', a B-side to 'Driver-8', and the opening track to their 'Dead Letter Office' compilation album) but called it a day once more in 1991.
Pylon would once more come to the surface in the mid-2000s, playing sporadic live shows again from 2004 onward. DFA were soon in touch, too, looking to reissue the two albums, as Lachowski recalls: "I had a DJ record store and I had become aware of DFA because of James Murphy bringing the Rapture to everyone's attention with 'House of Jealous Lovers' and I was a huge fan. Around that time Pylon was asking around about what labels might want to reissue our first album. And then out of the blue we got an email from DFA that said, 'You probably don't know who we are and you probably don't care, but we love Pylon and we want nothing more than to reissue your music.' I was ecstatic and all I had to do was try to convey the importance of that to the rest of the band. I went to New York to meet with them and it was a mutual love fest with James, Jonathan Galkin and Juan McClean. They were exactly the right people to put Pylon's music in front of people at that time." The group's edgy post-punk grit combined with their melodic cool, seamless grooves and new wave gleam meant they slotted in amongst many other DFA releases with ease. Deerhunter then tackled the group's debut single 'Cool' on a 2011 DFA release, which Lachowski loves. "The immense love of Deerhunter to make such a beautiful version of 'Cool', and on that same single having Sasha Frere-Jones and Alexis Krauss – as Calvinist – remake 'Yo-Yo', that was a surprise gift so many years later."
These contemporary artists and tastemakers being in awe of Pylon, exposing them to a new generation of listeners, has humbled Lachowski enormously, although the love of the cult band clearly never died to many.
"It's starting to feel like the fandom never went away," he says, "and maybe it even grew a bit in abeyance. I say that based in part on several chance encounters I had last week at a Kraftwerk show in Atlanta with people coming up to me and saying stuff like 'you changed my life.' We're amazed and grateful that what we created together has been so appreciated and still engenders interest. It's delightful to be in a position to hear this feedback and to continue the conversation."
Free Protomartyr flexi disc with this month's magazine
Subscribers to Loud And Quiet now receive a limited edition flexi disc of a rare track with their copy of the magazine
This month's disc is from Detroit punk band Protomartyr