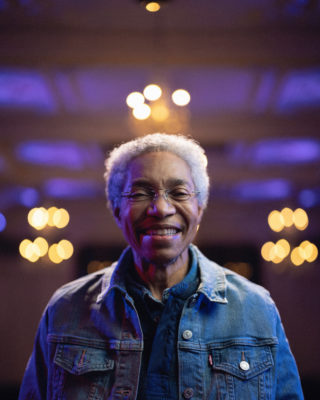 Beverly Glenn-Copeland – a spiritual transgender ambient artist finally recognised for his trailblazing in music and attitudes
"This is the time that I'm supposed to do this"
By this point, Beverly Glenn-Copeland is used to waking up crying. Now 75, and in his 48th year practising Buddhism, the Canadian composer will often come to weeping for joy, "overcome with the beauty of being able to observe the universe." He adds with a laugh, "a little later on in the day I'll be weeping because we're ruining it, but whatever."
You need spend no more than five minutes in Beverly-Glenn's company to realise that he's a deeply spiritual person. Serene and refreshingly open, he radiates all the positivity and warmth of someone who's both at peace with their past, and far too thankful for the present to allow banal, day-to-day gripes to become a burden. But then, as a cult figure in the fields of new age and electronic music – currently enjoying a late-career renaissance – and as one of the first openly transgender musicians, Beverly-Glenn's life has been anything but ordinary.
Born Beverly Copeland in Philadelphia in 1944, he recalls a near-idyllic childhood with his Quaker parents, insulated from the racial discrimination routinely suffered by people of colour at that time. An early obsession with the European classical tradition led him to study the German Lieder singing style, and that in turn prompted his move to Montreal to study classical music at McGill University. A folk music career was begun and abandoned in the early '70s, with Beverly-Glenn subsequently relegating music-making to a private hobby. And then, in the early '80s, the advent of affordable personal computers facilitated a pivotal creative breakthrough.
"I've always been interested in speculative science," he says. "And one of the things that was being talked about at that point was that the basics of life as scientists understood it were based on either carbon or silicon. And so, for me, when I understood that computers were based on silicon it was like, oh, so this is the beginning.
"I bought [a personal computer] from England, and it was this big exactly," he explains, circling his palm. "It came in the mail and I wandered around with it going, 'I just love it! This is amazing!' But I couldn't do a thing with it because I wasn't a programmer. It wasn't until about 1984 when I bought an Atari, and at the same time a [Roland] TR-707 drum machine and a [Yamaha] DX7 keyboard with all these interesting sounds in it, that I was off to the races. Because suddenly I had access to an approximation of acoustic sounds, plus all these sounds that no acoustic instrument could make."
Filtering his classical training and folk sensibility through this rudimentary electronic palette, Beverly-Glenn created Keyboard Fantasies, a third album that felt as futuristic as it was transcendental. Self-released without fanfare, Beverly-Glenn pressed around 150 copies on tape and sold less than half. "Of all the copies I sold, probably 30 were all to mothers who were putting their babies to sleep," he smiles. "They would say to me, 'Oh, this music is so calming to my little one.' And it's those very babies who are now buying tickets to my shows."
Keyboard Fantasies is calming. Comprised of ambient instrumentals and serene devotionals, it's since been hailed a new age classic, and retrospectively linked with releases by Laraaji and Pauline Anna Strom, plus the work of Japanese trailblazers Midori Takada, Mariah and Yasuaki Shimizu. Yet, even if there had been a precedent for Keyboard Fantasies, Beverly-Glenn wouldn't have known.
"I know it's not normal for most musicians, but I live in silence. I don't listen to music at all unless something comes across my ears, and then I will listen to it exclusively for a year or two. I will study it. Not because I'm going to emulate it, but because it's so profound that it's feeding me on a spiritual level. So, I didn't really know what was going on in the world [at that time]. I might as well have been a monk. All I knew was that this [music] was coming through, coming through, coming through, and I was translating it as fast as I could."
After its release, Beverly-Glenn simply moved on, making a living contributing music for, and performing in, children's television shows like Mr Dress-up, Shining Time Station and Sesame Street. It wasn't until Japanese record collector Ryota Masuko reached out on email in 2015, asking to buy any unsold copies of the album, that Beverly-Glenn had any idea of Keyboard Fantasies' cult status. In the time since, Beverly-Glenn has toured Canada, the UK and Europe, and found himself the subject of several documentaries, including Posy Dixon's recent film Keyboard Fantasies: The Beverly Glenn-Copeland Story. There must be some satisfaction to be found in finally getting your dues, I suggest.
"It's not like dues; we're not due anything," he responds gently but firmly. "Mostly it feels surreal because I think I stopped thinking that anything was going to happen with this music back around 1980. I didn't need anybody to understand [my music] – I needed to write it, which was different. And because my great joy was in being able to write the music, I never thought about it in any other terms. But when it did eventually happen I remembered something. When I was young, I went to a palmist and he said to me, 'Everything will happen in your life when you're old.' And when all this happened I went, 'I get it! I'm old now!'"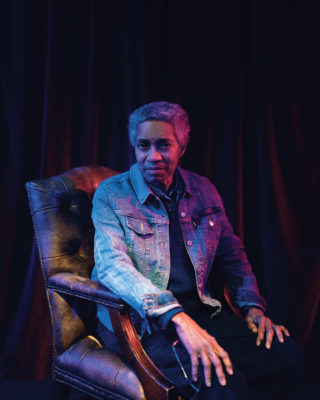 Remarkably, Beverly-Glenn has never made any room in his life for resentment, despite facing a catalogue of obstacles. In Posy Dixon's documentary, he speaks about the prejudice he faced at university without any self-pity whatsoever. Identifying as a lesbian at that time, Glenn was authentically himself at McGill, a whole nine years before homosexuality was decriminalised in Canada. Consequently, he was isolated from his peers and victimised by the Assistant Dean of Women, who worked tirelessly to have him expelled. Most shockingly, his parents were colluding with staff, culminating in him being signed up for electroshock conversion therapy without his knowledge. Fortunately, Beverly-Glenn realised and escaped before any irreparable harm was inflicted.
"Well you have to understand, I loved my parents," he explains, when I marvel at the complete lack of anger with which he describes the episode. "I also understood that all the books they were reading were telling them that my behaviour was an abnormal disease that could be cured by electro-shock therapy.
"You have to understand that I'm a black person in a white culture in 1961/62/63. My grandmother was the first generation not born into slavery, and my parents were the second. So their feeling was that you have to be as normal as possible to be as safe as possible, because the general tenor of society towards black people was very hostile. My parents were just trying their best. And I'm 75: if you'd asked me back then I'm sure I would have had much more anger. But I came to understand that my poor mom was suffering tremendously, feeling that I was not going to be safe."
Due to the sheer lack of conversation around trans identities, it wasn't until 1994 that Beverly-Glenn even possessed the vocabulary to describe himself as transgender, and then it took until 2003 for him to come out to the world at large. "But I think on the deepest level of ourselves we always know," he tells me today. "My mom admitted to me that I told her I was a boy when I was three. But of course she didn't have any language for that or any understanding so she dismissed it."
There was no obvious precedent in the music industry either, though Beverly-Glenn says he's "willing to bet that there were transgendered musicians at that time who, because of being a musician, were able to act out much more of their whole self." Today, there are many more prominent transgender and non-binary figures, from ANOHNI and Laura Jane Grace of Against Me!, to SOPHIE and Kim Petras, and to some extent Beverly-Glenn credits that increased visibility not just to changing attitudes but to the progressive mindset within the arts itself.
"Artists have always been considered to be aside from the norm," he hypothesises. "And I think that's because the arts are meant to talk about and show things that are not to do with the forebrain, that have to do with a more fundamental aspect of all of ourselves. These days you don't even have to say if you're this or that – it's like I'm here on the spectrum today and then I'm back here somewhere, and then I'm experimenting over here. There are so many people now who are gender non-descriptive and fluid."
Just as a new, younger generation of listeners now look up to Beverly-Glenn, he draws as much inspiration from them. "The audiences I'm playing to now are so loving," he exclaims, clearly awed. "That's what's knocking me out. They put out such a beautiful energy, and that's going back and forth between us onstage and them.
"I recently realised that one of my deepest anxieties was that I believed there wasn't enough time, so I would go through life holding my breath to try to finish something. But now I wouldn't say that I don't think there's enough time: what I'm experiencing is that this is the time. This is the time that I'm supposed to do this."
We're not being funny...
… but can you become a member please?
It's actually excellent value, and will help us continue to promote new independent artists and labels.
Sign up and you'll receive our physical magazines delivered to your door, our digital editions, exclusive podcasts and playlists and an actual bookmark, as if printing a magazine in 2021 wasn't old fashioned enough.
6-month and full year memberships are available now. Fancy it?