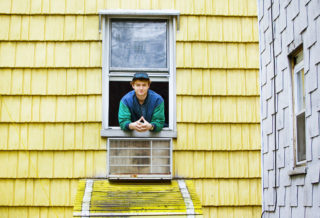 Mac Demarco is the sleaziest guy in the club
The Canadian who's slowed his voice to half speed and invented jizz-jazz
Mac DeMarco's face has been floating around the Internet largely with lipstick on. The rest of him seems to always be topless – one continual double nipple slip. What a sleaze!
Born in Edmonton, Canada, and now living in Montreal, DeMarco, in the flesh, is a friendly, mellow dude, happy to hang out with a beer and cigarettes. He's cool, not creepy; not the sex pest he looks and sounds like on new album 'Rock And Roll Nightclub'.
Mac used to record under the name Makeout Videotape – a DIY garage project that was clanky and cloaked in reverb; a lot like Wavves, and so a lot more unremarkable in terms of what we've come to expect from young North Americans in baseball caps. Under his own name and still working alone, his new material is weirder, more fantastic and, well, sleazy, or "sketchy" as he repeatedly refers to it. Mac deeply purrs now, like a deviant Roy Orbison still looking for a good time between cabaret gigs. He sounds malevolently seductive, lounge-singing to an audience of one – the guy from Silence of The Lambs, sat in the corner with his sewing machine, licking his lips. You'd need a wash after the album's opening title track if it didn't have you wishing you were singing it. Mac DeMarco sounds like he's into some freaky shit, but he also sounds like the coolest guy on the strip.
He's been calling his music Jizz Jazz for years, a name he first came up with for his home studio. "It was going to be 'smooth jizz', but Jizz Jazz has stuck," he says in a pointedly reasoned tone. "I think it's pretty funny, and the way 'Rock And Roll Nightclub' sounds is jizzy and kinda gross. It sounds a little jazzy, but not too jazzy, just jizz jazzy." Mac pauses for a second of serious thought. "It would be nice if other bands started trying to sound Jizz Jazz. I mean Ariel Pink's been doing it forever. It's just crappy sounding, slippery, sloshy, funky, underbelly music."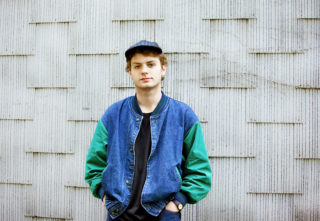 Mac talks in such a laidback way that it sounds like he's always being serious, even when he's explaining how 'Rock And Roll Nightclub' is an accidental Frankenstein's Monster; essentially a joke that went right.
"Me and my friend were just fucking around on a four-track and then he had to go to work so I just carried on recording by myself," he says. "I was trying to make power pop songs, like The Ramones sounding. So I made some songs and then slowed them down, and slowed the vocals down, and it turns out I can make songs that sound like Chris Isaak or something. It wasn't a very serious effort or anything – I was just fucking around.
"The Makeout Video stuff, I wouldn't say it's sincere song writing, but I was trying to make more serious music. With this stuff, I'm fucking around – it's like a theme album, and the theme is a joke. I like the songs, though, I don't think they're crappy, I think they're funny and cool."
"Cruising in the moonlight / Heading down town / Looking for some fast love / Gotta get down," croons DeMarco with a curled lip that has him impersonating Elvis, a less gentlemanly Nick Cave and Jim Morrison all at once. It seems that the 'wild side' Lou Reed spoke of is still out there. 'Baby's Wearing Blood Jeans' is then the stuff of a kinky denim fetish. It purrs: "Straight-leg or a boot-cut / I'm begging darlin' please / Stay with me forever / Just don't take off those jeans". Romantic.
"Elvis gets chucked around a lot," he says, "and I love Elvis, but I think his songs were definitely a lot sweeter. He wasn't very greasy… well maybe his hair was greasy, but he was as sweet as… hmmm… a cherry, let's say."
Mac's clean guitar picks up where it left off with each track, noodling a laconic surf riff that might in actual fact be the same on every song, until, that is, the Pavement-ish 'She's Really All I Need' – the album's halfway point. From then on, 'Rock And Roll Nighclub' sounds a little more like Mac's 'Makeout Videotape' output. It's a conscious decision.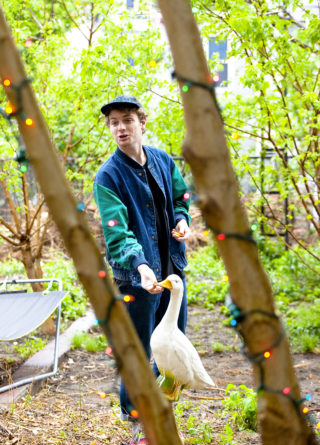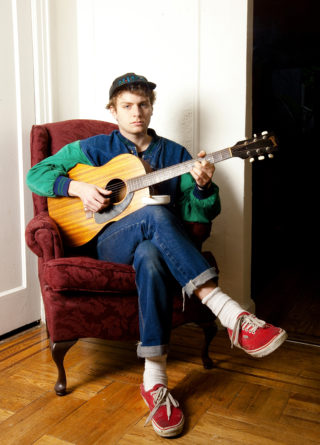 "What I've tried to do on the album is split it down the middle," he says, "so that the second half sort of has a couple of songs that sound more like regular music, because I think this is the first release of mine that a lot of people would have heard, and people should enjoy the rock'n'roll songs, but I'm not a crooner all the time."
While 'Rock And Roll Nightclub' may drop its lounge act halfway through, it remains funky and grubby 'til the last, "kinda grungey, sketchy sounding and dirty," as Mac puts it.
"When I was recording it I was living pretty sketchy," he nods, "like with no money and smoking all day. I had pretty bad tonsillitis too. I was sick and feeling down and out and sketchy. It's just funky rock'n'roll music. It's definitely sleazy. I've never really written swear words into songs before. It's the dirty side of life. Show them their dirty underwear."
Last night was Mac's birthday. Like most of us do, he spent it getting drunk. Then he played "a really bad show." "But I think that's allowed," he says in his stress-free lilt. "It was my birthday, so I'm allowed to get nice and drunk, I think."
The show was full of friends, in his new hometown of Montreal. He's lived in the city for a year and it's a place he's still getting to grips with, where it's "super cheap to live", but there's no music scene he feels he can relate to. In many ways it doesn't matter – Mac, a night time person, as his sloshy, heavy-eye-lidded music suggests, makes music in isolation, recording at home into the early hours. A fan of Joe Meek, Jonathan Richman, Arthur Russell and The Beatles (he freely admits that his track 'I'm A Man' is him "trying to rip off George Harrison"), Mac doesn't really need the outside world, which is perhaps why he's so playfully built his own in 'Rock And Roll Nightclub'. Still, he misses his days living in Vancouver where there were some like-minded bands to hang out with, and his new album has given him a chance to vent his frustrations with Montreal.
"Usually the music I make is a reminder of how my life is going," he says. "For the rock'n'roll songs on the album, I can't really say the same thing about them… Well, maybe I can. I mean, 'European Vegas' [very much from the crooning, dirty side of the album] is a song about Montreal and how stupid I think some of the things that go on here are. A lot of kids move to Montreal and are like, 'it's changed the whole way I am; I dress like Morrissey now and drink wine in the park'. Montreal is trying to be a beautiful European city and it's just this greasy drag.
"Every time we came here the shows would be so fucking crazy," he continues, "so I was like, 'Man, it must be crazy there all the time – we've got to move there!'. And it can be crazy, but, I dunno, there are things about it that are kinda weird."
A "greasy drag" that's "kinda weird" – it sounds like Montreal and Mac DeMarco are meant for each other. Or perhaps it's the city that's made him this way. Regardless, 'Rock And Roll Nightclub' is a happy accident that transcends the joke it started as.
Please support Loud And Quiet if you can
If you're a fan of what we do, please consider subscribing to L&Q to help fund our support of new musicians and independent labels
You can make a big difference for a few pounds per month, and in return we'll send you our magazines, exclusive flexi discs, and other subscriber bonus bits and pieces
Try for a month and cancel anytime