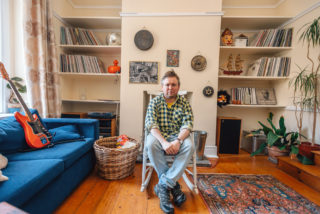 My Place: Richard Dawson showed us around his Newcastle home, one antique gong at a time
Inside the experimental folk artist's collection of absinthe drippers, wooden belts and crusty Care Bears
Richard Dawson is the sort of musician that every city in the UK has: the guy who works in the record shop and makes a bit of music at home in the tiny bit of spare time he has when not listening to other people's music; someone entrenched in the underground scene of their city; someone who quietly creates utterly idiosyncratic and staggeringly inimitable music loaded with a deep knowledge of the esoteric, obscure and avant-garde. These are the sort of people who often go relatively unheard outside of fellow head circles, who never go beyond 500-run small label album releases and who play to rooms full of people that can probably vary between 20 to 100 depending on the night of the week. They are immeasurably important and interesting but rarely celebrated on anything resembling a larger platform.
Richard Dawson aligns with many of these scenarios but recent years have seen him slip away from the obscurity that sadly so many artists like him are often left to thrash around in and reach something resembling the mainstream, or at least the alternative mainstream.
He began making records – some solo, some collaborative ­– ten years ago. Some people began to pick up on the momentum of him and his work through 2013's 'The Glass Trunk', a discordant, experimental folk record in which Dawson searched a local database for unusual tales of death to bring to life. (Anybody that has seen Dawson perform in recent years will know the profoundly moving yet darkly funny tales such as 'Poor Old Horse'.) However, for many the entry point into Dawson's world was through a disastrous school trip as told in the superlative 16-minute opus 'The Vile Stuff' from 2014's 'Nothing Important', a piece of music that unravels and broods with such a rising intensity and fierce, absorbing narrative that it's akin to experiencing something on the scale of a novel or a film.
Aside from the crippling potency and blinding brilliance of that song, the album was also on a new label – Domino offshoot Weird World – meaning a lot more people had their eyes opened to Dawson and could buy his music easily.
'Nothing Important' remained a fairly out-there exploration of something far more in sync with the avant-garde world than the mainstream, yet five-star broadsheet reviews followed, along with a front cover appearance on The Wire magazine and high placing's in multiple 2014 end-of-year lists. It means that his forthcoming 2017 album, 'Peasants', is an album loaded with genuine anticipation in a world much, much larger than his leftfield origins may have ever seemed possible.
This isn't coincidental, though. Dawson – whilst undeniably rooted in the experimental – has more than a degree of accessibility to him. The first single from the new album, 'Ogre', is awash with melodic charm and a glowing choral chorus that toils closer to the area of avant-pop than the often unhelpful folk label that has been placed upon him over the years. It has a broader appeal in the same mildly unexplainable way that someone like Joanna Newsom has, in which the clear talent and innovation supersedes its genres and the perceived mainstream acceptance of them.
'Peasant' is the best album Dawson has ever made and is alive with innovative ideas, be them in the form of the wild, loose, unravelling structures that seem to gloriously contradict one another in their colliding of the accessible and the discordant, the always engrossing lyrics or the narrative concept of the record itself, which tells the story of a functioning society through characters and scenarios. Each song is an ostensible character in this ever-moving society ('Soldier', 'Weaver', 'Prostitute', 'Begger') and whilst conceptually this may take place in pre-medieval times, there's an allegorical function to them that keeps the record far from being a history lesson. "This is about the future. If people think this album is about the past then I have absolutely failed," he tells me when I arrive as his home in Newcastle. It's a new place that he's only just moved into, and is still stacked with boxes.
"I didn't tidy up for you because I thought that would be dishonest about who I am," he says with a hearty chuckle as we sit down and he talks me through some items of significance in his life.
Guitar (Above)
I write the music at home and try and play guitar every day. It used to be hours but now it tends to be half an hour to an hour. It's good for me; it's like eating. Everything fits into place when I'm playing. Writing words, I go into the Lit & Phil, which is like a private library here in Newcastle. It's open to anybody but to use the quiet room you have to pay a membership and you can use this room with really plush, beautiful architecture. It's quiet and it's so hard to find quiet anywhere in Newcastle. The city library, the first time I went to write there, there was a guy having phone sex in the booth next to me. It was horrendous – people reading newspapers really loudly. Awful. The Lit & Phil is great but they've fixed the antique clock in the reading room and now it really loudly ticks, so now I have to go in and wear ear defenders to work. I thought it was going to be really quiet here [in the new house] but the neighbours at the back just play crazy, crazy music with speakers out in the yard full blast. It's great – it's like Pakistani orchestral pop with vocoders. I've never heard anything like it, but it's very loud and they just shout at each other, like 10 of them.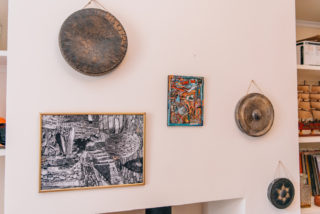 Gongs
There's a local songwriter called George Welch – he's like a local legend, an absolute prince – and he had left his guitar in this little shop to be sold and I saw it and thought I'd like to have that, to have a piece of Newcastle music history, but I got it home and realised the scale was all wrong for me – I couldn't get to the top of the neck. I'm trying to scale down so I took it back to get my money back and then got three bloody gongs instead. They're really beautiful. One of them (the middle one) is an Indonesian gong; the top one is a Thai gong and the lower one is Burmese. I thought I'd kill two birds with one stone, to think about them for recording, particularly with Hen Ogledd [a project that Dawson does with Rhodri Davies] but also they are nice to hang on the wall.
Collages
It's funny with collages. The one on the right, the little blue one, took months and months and the one on the left took a day, yet I think the one on the left is stronger. They are all from books. Magazine paper is too thin and shiny but you can get those nice prints from the early '80s where the saturation of the colours is pretty nice. I just go to the charity shops and buy stuff. I always liked to paint but I wasn't very good. I never had any control over the molecules, matter just flies away from me all the time. I gave collage a go and got really sucked into it. A lot of it feels like writing a song – it's problem solving. The best ones are always just done in a day though.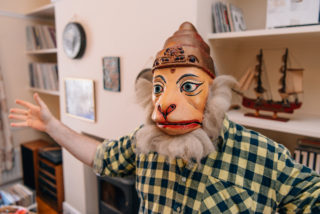 Masks
The Hindu mask came from a little antique shop in Rathmullan, the Atlantic Causeway in county Donegal. Just a beautiful area and this shop faces out onto a lock there. It was a beautiful little shop. I picked it up for £10 but it's absolute quality and a beautiful little thing. It's papier-mâché but it's very nicely done. The other mask is from a shop in New Orleans. I spent the tail end of January this year doing a road trip through the southern states. It's funny isn't it, you try on a number of different masks and you just know which is for you – your whole body changes when you put it on. It was meant to be. The mask always owned me and I always owned it, we just hadn't met yet.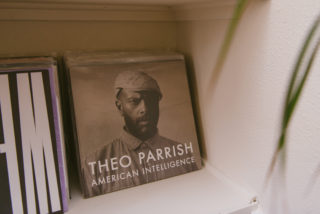 Records
The Theo Parrish one I haven't had that long. It's a great record and was just on my mind. It's a great cover; quite a simple photo. It's all about the shirt – it's a beautiful shirt. I did put out a Sun Ra one too. This is a surprising record for me too, Parquet Courts, it's such a beautiful design job and I really like the record but I don't know much about this sort of music. There's also Arthur Russell, more Sun Ra (I have about 40 of their records), lots of dance stuff, Dean Blunt, Ex Easter Island Head, Fatima Yamaha, Ricardo Villalobos, The Black Madonna. I'm doing a night this weekend as a fundraiser for [Newcastle venue] Star and Shadow. I'm DJing at that. I like to DJ. I like to be in control.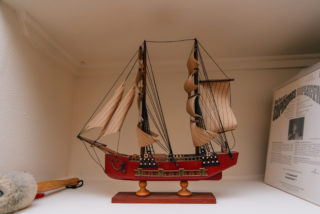 Ship
This is my granddad's ship. I think it was my uncle Derek's before that but he died quite young so it was always at my grandparent's house and I was fascinated by it. I've only just got it off my mother for the new house. There are some very fond memories attached to this ship for me. I just used to stand and gaze at it. It's funny that it's here now.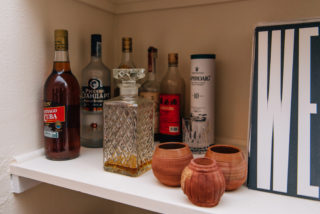 Booze
Hennessey is in the decanter. I know there are finer drinks but I like the way it tastes. The rum I brought back from Cuba. Then we have some vodka, rice wine, Laphroaig whiskey and then Wild Turkey bourbon.
Cuban clay pots
We picked these up in Cuba. They are traditional to Trinidad and are just little clay pots for drinking various boozes out of. They are really nice; I should have bought more of them.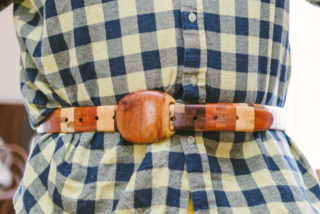 Wooden belt 
I bought this from a man at the top of a mountain. Isn't that wild?! It's so good as a belt. Just quality. It was hilarious. We'd climbed, like, 600 steps to the top of this mountain and there was just a bloke sat there at the top selling beads and these wooden belts.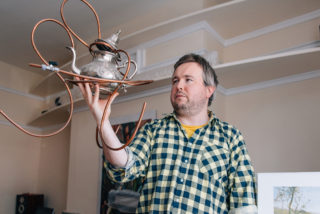 Absinthe dripper 
This is Sally's, my partner's. It is designed to drip water into your absinthe. I'm not quite sure how it works – it's wild. I've had absinthe before but I'm not really a drinker of it. I remember having some and afterwards when I was half asleep I could just hear a high hat. I was audio hallucinating a high hat. It was horrible. Maybe it just induces fever or something, I'm not sure.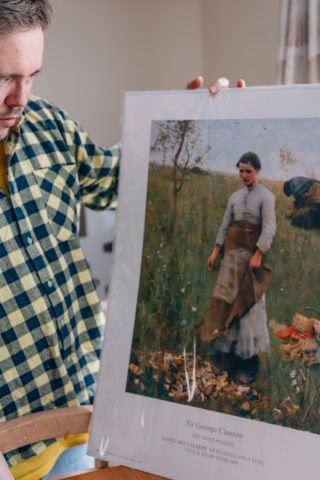 Painting of lady in field 
This is a very important painting to me. It's a painting that is in the Laing Art Gallery. It's called The Stone Pickers [by George Clausen]. I just really love it. I've spent a bit of time in the gallery off and on over the years, and I've spent a long time looking at this painting. I love it because at first you start to think maybe the figure in the background is her mum and it changes so much between being solemn to maybe she's day dreaming about something wonderful. It really oscillates between so many things. Then I started to think, and I don't think it's too much of a stretch, that this secondary figure is maybe her way into the future. The more you look at this figure the scarier it gets. It can almost look like a tongue coming up from out of the ground too.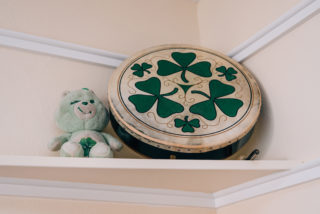 Care bear 
That's my bear from when I was a kid. That's very important to me, although absolutely not a unique item. I've had it since I was 4. I called it lucky bear. I really loved that bear. I still do. He's quite cheeky now, quite disturbing, although he's not going to get washed. Then there's a crass Irish drum. It came from my sister's school and I forgot to give it back.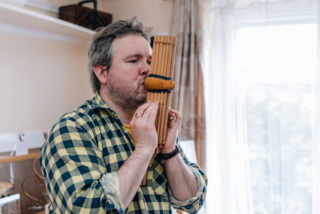 Whistle instrument 
It's not panpipes; it's a Chinese or Thai instrument, I think. I can't really play the thing [blows it]. It sounds like traffic. It's a traffic maker. It's for people who live out in the country who miss the city.
Loud And Quiet needs your help
The COVID-19 crisis has cut off our advertising revenue stream, which is how we've always funded how we promoted new independent artists.
Now we must ask for your help.
If you enjoy our articles, photography and podcasts, please consider becoming a subscribing member. It works out to just £1 per week, to receive our next 6 issues, our 15-year anniversary zine, access to our digital editions, the L&Q brass pin, exclusive playlists, the L&Q bookmark and loads of other extras.