Paranoid Mania and Ecstatic Joy: How David Byrne arrived at 'American Utopia'
Hope comes to town
"What's heaven like for a chicken?" ponders David Byrne with curious, darting eyes, before rocketing his head back and breaking out into manic laughter, exposing a set of pearly white teeth to match the creamy London hotel suite he sits in.
It's a question Byrne poses on his new record, 'American Utopia', on a song called 'Every Day is a Miracle'. The responding lyric goes: "Full of roosters and plenty of corn / And God is a very old rooster / And eggs are like Jesus, his son." It's a song loaded with other similarly incongruous proclamations, such as, "The Pope don't mean shit to a dog / And elephants don't read newspapers," and it explores what it must be like to be, "a cockroach in the cosmos of your heart," before clearing up any confusing matters by declaring, "the mind is a soft-boiled potato."
"There's quite a few songs that have to do with imagining how the world looks from the point of view of another creature," Byrne clarifies. "I think the implication is to try and look at things from the point of view of other people, but I pick creatures because it's sometimes more fun. Then you just go on from there and then you realise that our own conception of these things must be just as limited as theirs. We fancy that we're a lot smarter than chickens, and I hope we are, but…" he stops himself and begins laughing again, something that will punctuate the entire conversation. "In some odds we must be just as limited and I think there's something in that in the record."
The ex-Talking Heads frontman is an immediately fascinating and striking man. His bright white hair wrestles it out with film director Jim Jarmusch for best hairdo for a mid-60s New Yorker; he wears a grey suit and crisp white shirt with black-rimmed glasses tucked between the buttons, and he sports two-tone golf shoes but with the spikes removed. "They are comfy," he says when asked about them when walking through the hotel lobby and into a lift. "I suppose they are good shoes for men who like to stand all day, that's what golf is really isn't it? Standing."
Byrne comes loaded with nervousness and gives off a sense of slight discomfort. His eyes are a constant back and forth and up and down, rarely making eye contact for longer than a few seconds. He wriggles in his seat back and forth, legs crossed and then uncrossed, hands on the table and then on his lap and back again or clinging to his icy glass of water. He is at once loquacious and phlegmatic, loose and rigid, stumbling and flowing. There's an undercurrent of panic from time-to-time, like he's sitting in a job interview (which ostensibly he is) but this is broken up by bursts of laughter to ease any slight awkwardness. Byrne is idiosyncratic but he's good company and very funny. He gobbles up laughter with the same voracious appetite as he reportedly does his food and if you laugh at something he's said, it's like a thumbs up for him to sink even deeper into his own. The title of a track by The Feelies (a group unquestionably influenced by Talking Heads) immediately springs to mind when conversing with Byrne: 'The Boy With the Perpetual Nervousness'.
Such anxiety and nerves has been key to Byrne's career, though. The nervy, jittery, sparse and scattered sounds of Talking Heads' early period is a manifestation of such self-proclaimed oddness. "I used to be very tense and nervous, I couldn't relax," he told Jools Holland back in 1994 when asked about this on his show. Holland – a remarkably, and consistently, inept and inattentive interviewer – misses the humour and the 'Psycho Killer' lyric-quoting response. Byrne continues: "I knew I had to take that step up and be that nervous person behind the microphone. You get it out in the songs and then you don't have to kill anyone in real life." Once again Holland misses the sandpaper-dry, ink-black response and continues to ask an utterly inane question about Byrne's hands as the humour flies over his head with the force and speed of a thousand fighter jets. No wonder Byrne occasionally comes across as strange or uncomfortable on TV.
Today, he is far from the man as seen on other television appearances, such as The David Letterman Show in 1983, when he looked as though he was praying for an ejector seat to fire him out of the studio with every new question asked. Nor is he the man on American Bandstand with Dick Clark in 1979, when he froze up on air to such a degree that Clark had to turn the microphone to bassist Tina Weymouth and ask, "is he always this enthusiastic?" to which she replied, "I guess he's organically shy." Weymouth is correct, Byrne is shy, no question about it. But lacking enthusiasm? Resolutely, no. Byrne is bursting with it.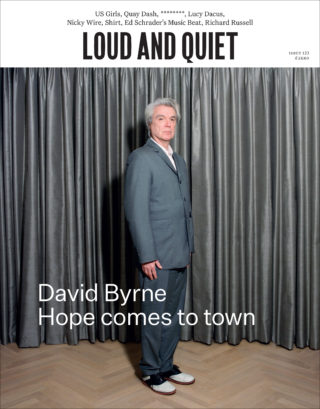 Not only is such enthusiasm documented through his fecund career – one that includes eight Talking Heads albums, numerous solo and collaborative records, books, films, soundtracks, installations, exhibitions, a record label, a radio show, musicals and more – but also in his manner when speaking of his work. Aside from releasing a new record, Byrne has been touring the world with a lecture entitled Reasons to be Cheerful: a scattered look at some of the good being done and progress being made all over the planet in a time of what can often feel like unrelenting misery. "I thought these talks would give the promo schedule a little more variety and something else to talk about besides my record," he laughs. "It's looking at good innovation, renewable energy, positive drug policy… a lot of different stuff." This was born from a period of sourness that Byrne was feeling. "I was feeling pretty miserable," he says, "and still do a lot of the time. I'm not a miserable person most of the time but I wake up and read the paper and feel angry, depressed and cynical. I thought that's not very healthy for myself and it's not very productive, so I thought what can I do?
"The title references an Ian Dury song. It was written during the Thatcher era, so there was probably a similar feeling. It was a period in which people were writing a lot of angry songs and he came out with 'Reasons to be Cheerful', which seemed a little perverse at the time. But I thought that was a good thing to do."
This ties into the un-ironic title of his latest album, 'American Utopia'. It's Byrne's first solo album in 14 years but it didn't start out as one. "At first I thought it was going to be another David Byrne and Brian Eno record." he says. Eno features briefly on the album, as do a range of guests including Oneohtrix Point Never's Daniel Lopatin, Sampha and Jam City. "It started off with me writing over some drum tracks he [Eno] had. They weren't fleshed out with all the instrumental bits but they sounded really interesting. I got excited and worked over those and then added some other musicians. I kept playing them for Brian and he would add more but then eventually he said, 'I think this is your record now,' and I said, 'yeah it does seem that way'. It wasn't my intention to run away with it but that's what happened."
Byrne's collaborations with Eno span decades. They last worked together on 2008's 'Everything That Happens Will Happen Today' but they met in 1977 when John Cale took Eno to see Talking Heads support the Ramones. Byrne found himself back at Eno's having his mind ripped open by the sounds of Fela Kuti and they further bonded over their shared fascination with scientific approaches such as cybernetics. Eno would go on to produce three seminal Talking Heads records ('More Songs About Buildings and Food', 'Fear of Music' and 'Remain in Light') as well as collaborate with Byrne on 1981's masterful 'My Life in The Bush of Ghosts'. Byrne credits their ongoing relationship to eclectic interests. "Sometimes we'll have conversations and not talk about music at all. I think that has kept our friendship going, but also distance," he says, referring to them living in different countries.
Presumably Byrne and Eno continue to creatively spark because of a matched desire to move forward, avoiding the past and not repeating themselves? "Yeah," Byrne says. "Although I realise I am going to repeat myself in some ways, whether there's certain themes or points of view I return to unwittingly, but musically I try to avoid it as much as I can. It'll happen but I'm not trying to recapture something; some glory days from the past. I'm not very nostalgic." As for what makes for a fruitful collaboration in the eyes of Byrne, he says: "I think sometimes the ones that are the most successful are…" once again his stops himself to chuckle and show off those teeth. "It's like… good fences make good neighbours. When you know where the boundaries are and you set those rules in early, it makes it go very smoothly. Creative boundaries, I mean, not like 'get out of the room! get out of the room!'"