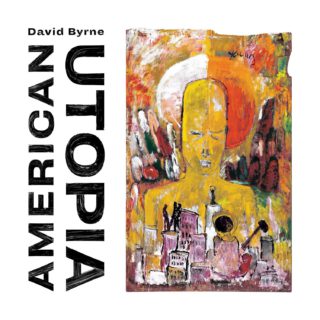 David Byrne
American Utopia
7/10
"Is this meant ironically? Is it a joke?" David Byrne asks in 'American Utopia''s liners notes, possibly second-guessing any critics questioning his non-ironic decision to focus on hope amidst this particularly bleak period in US politics. But even when taking into consideration the accompanying Reasons To Be Cheerful lecture series, Byrne's outlook appears uniquely optimistic rather than out of touch. As he explains later in the preface that's packed full of what ifs, "I sense that I am not the only one looking and asking, wondering and still holding onto some tiny bit of hope, unwilling to succumb entirely to despair or cynicism."
Essentially, it's this innate curiosity that has made Byrne such an enduring talent. More than 40 years on from his earliest experiments with Talking Heads, his enthusiasm for unknown territory remains undimmed, and he's still exploring fresh perspectives and seeking out interesting collaborators. Following recent records with St. Vincent and Fatboy Slim, 'American Utopia' features a diverse cast incorporating Brian Eno, XL Recordings' in-house producer Rodaidh McDonald, Sampha, Jam City and, er, Jack Peñate. It will surprise nobody to learn that he's no closer to settling on a specific genre or mood, and is found ping-ponging between styles instead, in pursuit of inspiring ideas.
Centred around subterranean percussion and serpentine, Eastern-influenced chimes, the dark, Daniel Lopatin-assisted 'This Is That' is a standout. And yet so too is the joyful, brass-flecked funk of 'Everybody's Coming To My House' and 'Every Day Is A Miracle', in which Byrne pairs a sunny, Calypso-inspired chorus with the internal monologue of a chicken. This surrealistic lyrical bent continues on 'A Dog's Mind', while on 'It's Not Dark Up Here' he's seeking silver linings amongst the minutiae of the mundane, proclaiming "There's only one way to smell a flower, but there's millions of ways to be free."
With it's broadly uplifting melodies, and quizzical lyrics, 'American Utopia' offers listeners a little escapism rather than biting satire or concrete solutions. But as Byrne puts it on 'It's Not Dark Up Here,' "Must a question have an answer? Can't there be another way?"
New monthly memberships available
Here's a new thing: our membership scheme now has a pay-monthly option, plus a load of exciting new digital stuff for people who support what we do. It's actually excellent value, honest, and will help us continue to promote new independent artists and labels.
Sign up and you'll receive our physical magazines delivered to your door, our digital editions, exclusive podcasts and playlists and access to our EXTREMELY glamorous Members Lounge. You'll be the envy of all your friends.