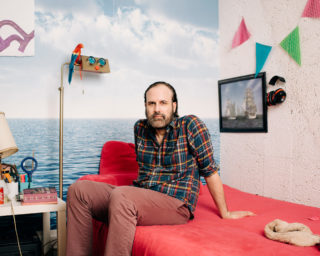 Purple Mountains – the eventual return of Silver Jews' David Berman
"There's less showing off, less misdirection"
"Well, it's amazing how quickly time went by…" He pauses. "I really don't have a very good answer to that question."
When I ask David Berman what's been keeping him busy these 10 years since he disbanded the beloved indie rock group Silver Jews, a career move of either amiable closure or self-sabotage, he could've pulled any number of examples from his rolodex of misadventures. Between scrapping albums with Black Mountain and Dan Bejar, attempting to oust his Washington power broker father with a tell-all exposé, and separating from his wife and former band member, Cassie Berman, it's surely just a matter of what he feels like divulging today.
"The first five years I spent trying to write a book about my teenage years, and after about four years my mom passed away," he says. "My desire to work on the book just faded away after that." 
Berman is calling from his temporary accommodation in Chicago; a spare room in his long-time label home Drag City's office. First I hear the voice of a chipper American – it's Brett, it says, from the label – before being handed over to Berman's sardonic drawl, hardly different to the one you hear on record ("all my favourite singers couldn't sing," he once said on 'We Are Real'). "It's healthy for me to be here," says Berman about his current setup. "I see people every day, I'm not isolated."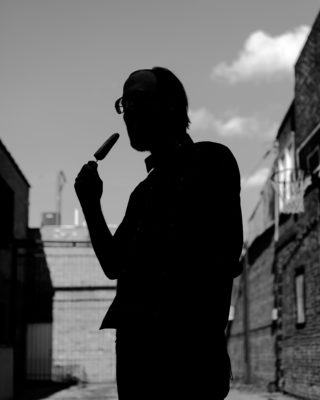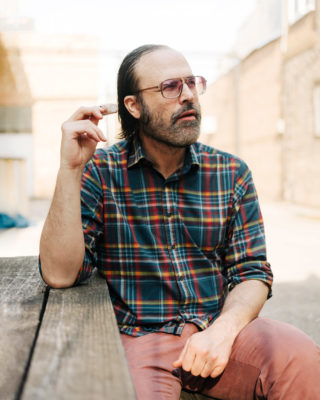 Since making his return to music under a new moniker, Purple Mountains, Berman's made it clear that, now more than ever, he's ready to talk. So he talks, a lot. But he isn't as erratic as the younger man you see in YouTube videos. He guides our conversation through weight-of-the-world concerns and anecdotal tidbits with the quiet eccentricity of a university professor. A brief question about his music often leads us down many other avenues (living in Nashville and Chicago, loss, failure, Judaism) before we arrive at anything straightforwardly regarding his work.
His first new record in 11 years, Purple Mountains finds him ditching his usual vignettes of surreal Americana for a style less mediated, or as he puts it, "more universal". "There's less showing off, less misdirection," he says. "There's no question about the fact that, when you hear it, it's based in personal experience." 
Be it the loss of his mother, lovingly laid to rest on 'I Loved Being My Mother's Son', or the near-loss of his genitalia on the album's opening gambit 'That's Just the Way that I Feel', Purple Mountains is Berman sifting through the tragedy and the comedy of the last decade out of therapeutic necessity – and financial necessity, too. Having pushed to the "very very very limit" of credit card debt and loans, he admits he's at least $100,000 in the hole. "It's always over your head," he says. "It's draining to worry about."
Before spiralling so profoundly into the red, Berman inexplicably found that he was able to sustain himself from old material. "For some reason I was able to just get by making like $20,000 a year on old Silver Jews royalties," he says. If I learn one thing about Berman, it's that he's weary of things that appear miraculous: "It made me very suspicious that there's some warehouse in Germany with stacks of Silver Jews CDs inside, that some beneficiary wanted me to think I should still make music."
Wealthy benefactor or not, his return is clearly welcomed by his small but dedicated following. Even more surprising is the amount of glowing reviews he's received from mainstream publications. It's fair to say a lot of people really like the new record, I say. He concedes: "Yeah, it's something that I couldn't have expected for a 52-year old – coming out and making a record after a decade of disappearing, having been a minor phenomenon to begin with."
Minor phenomenon? This may have been the case in the early 1990s, when Silver Jews, featuring Stephen Malkmus and Bob Nastanovich, seemed in the constant shadow of Berman-less 'side project' Pavement. But over the course of Berman's hiatus, the legend of Silver Jews gradually became canonised in the pantheon of indie rock, largely thanks to a younger generation of musicians (artists like William Tyler and Kurt Vile) talking up Berman's songwriting pedigree. "My favourite thing is people who discovered the Silver Jews after it ended, because to me those people really liked the band," he says. "It wasn't mixed up in their personal life or their history. It's just the music, that's all that's there." I neglect to mention that my own history with his old band includes pretending to like them for hipster cred before I'd heard a single note.
I'm curious about why Berman felt happy to leave music in the first place, when it seemed so much like quitting while he was ahead. "When I started listening to music in 1982, it felt like we were still on the bleeding edge of something that was changing constantly," he says. "We were part of a historical project. I didn't understand why other practitioners – my peers – weren't disturbed by it. They went on and kept making records on a two-year schedule. I was sure that the right thing to do was to step aside and watch, to see what happens."
I see what he means. When bands like Slowdive and Ride have returned to stages in recent years, it's hard not to feel like we're living in frozen time. But does he see the irony here, stepping aside only to return later off the back of his fanbase's goodwill? Isn't he culpable too? He's resolute: "I stopped to make room for other people and no one moved in. I stopped to find something else for me to do, and I couldn't find anything. I just went back to a place that, you know, houses me" – literally, in Drag City's terms.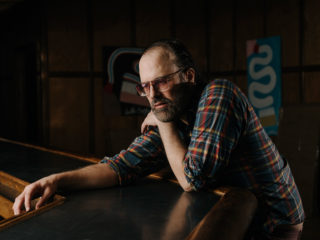 At least Berman was keen to on-board pre-approved contemporary artists to help him make his new record, scanning through interviews with musicians for any kind words about Silver Jews. "There are generational traits in people younger than me, and one of them is not to be aggressively individualistic. I saw that right away with [co-producers and backing band] Woods and how they went to work, making the album as good as it could be, making it as little about them as possible." Coming up in the US of the late '80s and '90s, "a time of peak individualism", it seemed improbable to Berman that any gen-xers would be capable of working together to create art, blinded as they apparently were by the false promises of Neo-liberalism. "It's definitely something I've talked about with [Stephen] Malkmus," he says. "We both agree we've been really lucky to be in this."
Silver Jews were always more of a conceptual project than a full-blown band. They only ever played 100 shows over two decades. But a new name can signify transformation, so what's different about Purple Mountains? Berman's quick to tell me that he's determined to connect this time, making good on his years of absence – physical and emotional, dating back to before his formal departure. He's even excited to tour, a striking change of heart for a man once repelled by touring. "After every show I would leave right away," he says. "This time I've made a commitment to do it the Willie Nelson style" – sticking around afterwards, making friends. On that front, his wife used to do the heavy lifting: "I always had Cassie with me. She would always be my spokesperson and I could just behave like a zombie if I wanted to. She would just handle everything."
Nevertheless, he insists that very little has changed as far as the music is concerned. "Never has a name change signified less," he laughs. "I really wanted to be free of the burden of the name. When you get your haircut and they ask you what you do for a living, for 25 years it's been really difficult – "Oh, you're a musician, you write songs, what's the band's name?". Silver Jews can be kind of uncomfortable, people don't know how to react. It's the word 'Jew'. If you say it in a certain way it's a slur."
Certainly in the UK too, I concur. I admit to being cautious about using the name in public. "Well, it's funny because the British were the ones that had the most fun playing around with the name. Our first article in the UK, in the NME, the headline was 'Strange (He)brew', with the 'he' in parentheses," he laughs. "No one would do that in America. In '94-'95 I got into a spat with Frank Black backstage at one of his shows. I told someone at Domino about this and he, of course, told someone at the NME or Melody Maker and they ran an article with the title 'Jew baits Black', with a picture of us angrily facing each other in profile," he laughs incredulously.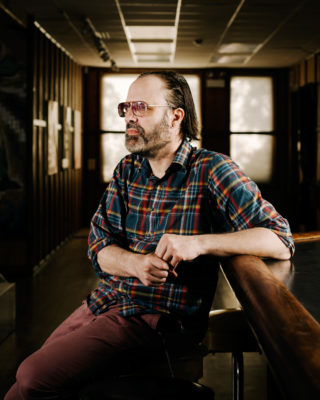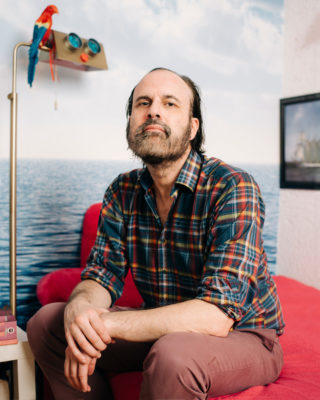 In the spirit of Berman's newfound openness, we progress into talking about the content of his new album. "There's nothing that could get in the way of me and the feelings of pain and loss that the songs were becoming containers for," he says. "I was writing it in a state, at least in my mind, of being forgotten." He felt himself isolated from friends and family, a feeling further exacerbated by his loss of faith, a powerful force that propelled him through the last two Silver Jews records – 2005's Tanglewood Numbers and 2008's Lookout Mountain, Lookout Sea – following his suicide attempt in 2003 and a period in rehab for substance abuse. 
"There are certain values that the new record has – like hospitality, something I really needed," he says. "I started to make the song 'Snow is Falling in Manhattan'. At first, it was just gonna be like 'White Christmas'. Slowly I started to realise that it could be more than that, about how a song could be a place that you resurrect every time you play it." I can hear a stir of excitement in his voice as he connects the dots. "There was a Silver Jews song called 'There Is A Place'. One of the things in Judaism is the name for God – it's the omnipresence, or 'The Place'." 
As obscure as Berman is here, the critical thinker Walter Benjamin springs to my mind: "To articulate what is past does not mean to recognise 'how it really was.' It means to seize hold of a memory, as it flashes in a moment of danger." This is how Berman appears to view the 10 songs that make up Purple Mountains: images of the past, reawakened upon playing, in the hope of achieving some kind of enlightenment, or at least, to learn a lesson.
He continues: "'That's Just the Way that I Feel' was about making music, a statement of intent. 'Darkness and Cold' and 'She's Making Friends, I'm Growing Stranger' are about my relationship with Cassie. 'All My Happiness is Gone' was about being out West, trying to record the album the first time. Then there's the song about my mom.
"I had a really tough time with 'Maybe I'm The Only One For Me'. I really wanted it to strike the right note. I didn't want it to come off like Whitney Houston's 'The Greatest Love of All'." What could be a simple song about learning to love yourself isn't quite so simple for Berman. "I just don't understand what that means, loving yourself. You hear it a lot. That's not the way love works, love is directed towards an object."
A through line of the album, aside from death and loss, is shame: "I'm ashamed to be alive," he sings on 'Margaritas at the Mall'. ("There's a Dinosaur Jr song," he says, before singing the chorus hook from 'The Leper'. "'I'm embarrassed to be alive.' that really resonated with me.") The evocation of shame on 'Margaritas at the Mall' is especially pertinent to Berman, who situates it in the symbolic architecture of American consumerism: "There's the shame of feeling helpless, for civic reasons, for not being able to do anything to stop our whole lives being consumed by the business world."
Welcoming the possibility of ending on a more positive note, I ask him if he sees any way of escaping an existence of shameful disconnection. He deliberates for a moment, and then, decisively: "To me, the way out is lasting – hoping that the way out becomes visible." Again, Walter Benjamin too spoke of Messianic time, "a power to which the past has a claim", if only we had the will to seize it.