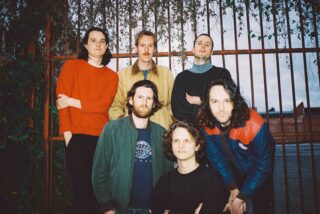 Reactivating the soul: the first interview with King Gizzard about new album LW 
The global pandemic has seen the relentlessly prolific Australian outfit change and adapt 
For over a decade now, King Gizzard and the Lizard Wizard have been relentless. The Melbourne psych-thrash-garage-noise-funk-acid-prog-microtonal "rock band" – to barely scratch the surface of the sheer amount of stuff they incorporate into their sound – are absurdly prolific, having released 16 studio albums, seven live albums, two compilations and several smaller releases since 2010, touring hard all the while. The group, led by de facto frontman Stu Mackenzie, have had seven members for most of that time, until drummer/manager Eric Moore made an amicable exit last year, and though Mackenzie is the nucleus of the project, their work has always been intrinsically collaborative and communal. What happens, then, to a band like this when close contact with others – whether in a sweaty venue or productive studio space – is no longer possible?
Perhaps unsurprisingly for a band as multifaceted and dynamic as King Gizzard, the answer is this: they adapt. The first product of this adaptation to the conditions imposed by the coronavirus pandemic was last year's KG, made in isolation from one another and pieced together bit by bit. Now, they're set to release a companion album, LW, on 25th February – check out this video for new single, 'Pleura'. We caught up with Mackenzie to hear how the new LP relates to its predecessor, how the albums were written and recorded, and what 2021 may hold for this uniquely expansive group.
Tell us about the making of the record: how did the pandemic affect the writing and recording process? How did you manage to capture the band's chemistry when you weren't all together?
We really had to re-figure out how to make music. We're so used to living in each other's pockets – whether that's on tour all the time, in a jam, but also so much of it is just talking about music and being in each other's spaces vibing off each other. So much of music-making is not necessarily on your instrument, so losing that connection was massive for me personally.
I guess we made KG and LW in this weird void. We all set up little bedroom studios. The reason I wanted to make music in the first place was because I just love like bedroom recording, that was my thing back in the day, so it sort of felt like coming home. But making a record like that which includes five other people and their ideas, trying to be collaborative, that was a totally new experience. But we just got really good at sharing our ideas with each other and trying to bring the ego as low as possible: show everyone everything, don't worry too much if it gets cut, sharing files and folders and things on the internet as regularly as possible.
We watched these songs slowly take shape. The interesting thing that happened was with the most of the songs got finished, which doesn't always happen; a lot of the time we make a record and we'll make 20 songs and use ten. This time, we made 19 songs, and used every single song, which we've never done before. So I'm not sure whether the way we worked in isolation from each other forced us to take more listening hours, but it definitely forced us to create two records which, in my eyes, have a different sound and exist in their own little microcosm. And I'm proud of that.
Was it the first time you'd worked on a record without you all in the same room together?
No, we've actually done a lot like that. On Eyes Like The Sky, our second LP, that's mostly just one or two people in on any particular song, kind of fleshed out later. We'd record to pace and then overdub – I love making music like that. But it was new to make something that felt ultra-collaborative and brought in everyone's ideas in; even if every person didn't plan on every track, everyone was involved in every track. And then to figure out how to do that, over the phone or email, was a bit intimidating. You know when you're trying to subtly say that someone else's idea is shit? It's hard to do that without being there in person.
Australia seems to have weathered the pandemic better than many places – how has that affected the music scene there? Have you managed to get back to anything like normal?
It's starting to come back to life. I wouldn't say it's fully blooming like a flower, but it's maybe starting to blossom. It's not in any way the same, but people are super excited to get back into it. We haven't played a show in almost a year to the day – it's like, Tuesday next week or something. We've got a few lined up for the next couple of weeks, which will be super limited, and I hope they happen, but I'm not getting too excited at this stage.
It's felt like a part of my soul is inactive – we've spent so much of our lives on the road. But so many people in the world have a lot more to complain about than we do – we're just lucky to be alive. The longest break we had between shows before this was like two months, and that felt like a holiday. Actually, it felt like a day retreat.
It's made me actually appreciate it even more and feel so grateful to have had those experiences. It's made me appreciate how decadent it is really, to travel around the world and wake up in a new city every night. I won't take it for granted in any way when we kick it off again. I'm trying to look on the bright side. And practice gratitude.
Has that informed your lyric-writing?
Yeah, the year the world ended has definitely seeped into the writing. I mean, it has to, it's such an arresting experience. And there are probably some lyrics you could pick out and say are more nihilistic than before, or even more lacking faith in humanity.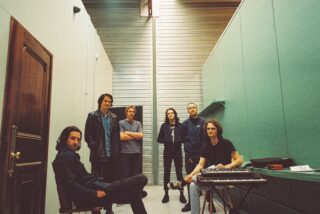 How does the Gizzverse, and your online fan community, feed into the way you approach making records? Do you even think in those terms?
I don't know if I think about it in the way that I think about it in the way that people might think that I think about it, or the way that people think that we think about it. Like, I love our fans, and I feel so grateful to have a bunch of fans who are so excited and enthusiastic, and the people that we meet on the road are so amazing and so lovely. I like to rev them up, I can say that.
I do care what they think. I know that so many artists would say, "I don't give a shit what people think like, I don't care, I just do what I want." I do actually care what they think. But I just want them to trust the journey that we're on. And I think that that's maybe something that I haven't said to our fans – just trust us. You might not understand where this is going right now, but trust me, it will make sense in the long run.
Some bands relate to singles or songs, and that's great, but I would like anyone who's interested in us to listen to our music as a progression. The last ten years of music that we've made is kind of like a long, continuous path. I'm more interested in the story, the narratives. A lot of it comes innately and intuitively because we're just following our muse, but the overarching heart of it is ultra-important.
Have you always taken a longer view of the band's trajectory?
Well, I didn't think that we would last this long, in this way anyway. I didn't think that we would be playing as many shows or touring as much. But at the very start we just said, "Alright, well we don't know what we're doing at all. We have no idea how to make music. But let's just do lots of recording. Let's just play some shows. Let's just have much fun as we can, like, do everything. Treat it a job, but also learn and have fun." It was also like, "What the fuck else have we got to do? Sit around? Smoke a bong? Let's just make music."
Your drummer and manager Eric Moore left the band in 2020. How has that affected the dynamic between you all, and did it impact the creation of the new album?
Yeah, we miss him already. He's ultra-busy, he wears a lot of hats. In terms of the music creation process, it hasn't changed a huge amount – he was always the label guy. He's a great drummer as well, but it was always like, "You guys make the music, I'll put it out." He always had complete faith in what we were doing.
But he still has a lot of ideas. And if you ever get on the phone to Eric, I wonder what he would say if you asked him what he would change on this record. Maybe I should ask him.
Finally, you're now heading into your second decade as a band. What do the coming ten years hold for you? What's changed since you started out, creatively and personally?
It feels like a lifetime ago. Thinking back ten years, I was a baby. It can be annoying when people look at young people as if you were a baby, but literally I was – I couldn't deal with my emotions, I lived on my impulses, just doing the thing that was in front of me.
I guess if I rewind ten years to the day, we would have played some shows, but we hadn't recorded yet. We were trying to figure out what we were doing. I think the next decade will hopefully have more conviction than at least those early years, that's for sure. What else? As you get older, you get a little bit more deliberate in your moves, in what you do and what you don't. But I'm not ready to slow down yet – full steam ahead at this stage.
LW, the new album from King Gizzard and the Lizard Wizard, is out digitally on 26th February, with a physical release scheduled for May. 
We're not being funny...
… but can you become a member please?
It's actually excellent value, and will help us continue to promote new independent artists and labels.
Sign up and you'll receive our physical magazines delivered to your door, our digital editions, exclusive podcasts and playlists and an actual bookmark, as if printing a magazine in 2021 wasn't old fashioned enough.
6-month and full year memberships are available now. Fancy it?