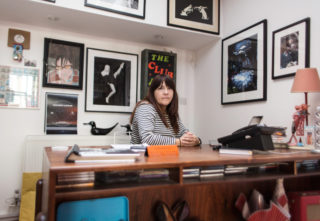 Record Heads: Rough Trade boss Jeanette Lee played in PiL and turned Joe Strummer on to Abba
The lesser know leader of the godfather of UK indie labels also sold suits for Don Letts
"You know I have only ever had three jobs in my entire life," laughs Jeanette Lee, but what jobs. Selling zoot suits for Don Letts at punk institution Acme Attractions, inspiring and conspiring with John Lydon as a manager and band member of Public Image Ltd and running Rough Trade Records with Geoff Travis – it's quite a CV. What makes Lee and her career even more unusual is that she didn't seek out this path; in fact she was practically hunted down for every role. "I don't really know why! People for some reason have always come to me and I am really loyal so I stick with friends for a long time; you'd have to ask them why they would pick me though."
Maybe it's her likeable way – a controlled naivety and the fact she ends nearly every sentence with a glorious giggle. "Now, I don't really do many interviews so if I stop and stare into space you might have to prompt me," I'm informed to another howl of laughter.
It must have been pretty easy to say yes to Don, John and Geoff, I ask. "Of course, I was still at school really and I used to buy all my clothes in the Kings Road from SEX, Malcolm McLaren and Vivienne Westwood's shop, and then by complete coincidence I bumped into Don Letts and he asked me to come and work with him and that was a dream thing because I was already moving around in that scene. Towards the end of that, punk happened, I knew all those people because we were all hanging out on the Kings Road and then John came to me and said after the Sex Pistols if I would come and work with him and PiL and that was a no brainer! After that Geoff asked me if I would work with him and that was the surprising one for some reason."
For 27 years now Geoff and Jeanette have been inseparable. Even as we chat, the Founder of Rough Trade Records sits just yards away in the adjacent office, but it took persistence to make that happen. "I had a call from a mutual friend saying Geoff Travis is asking if you would like to go and work with him, completely out of the blue, which was a bit baffling at the time and then two years later we ended up sitting next to each other at Vivian Goldman's birthday party and we talked about that and I was like, 'sorry, I didn't mean to blank you, it just wasn't the right time for me.' I was having a baby and all this other stuff and we got on really well and we just decided we would try something out."
This was 1987, some 9 years after the labels birth, but it turns out Jeanette had been in training for the moment all along. "Working with Geoff was kind of what I was doing anyway," she says. "Listening to records all the time, having strong opinions about things and tweaking things, and telling people to change little things here and there, which I thought would be better, it was a very similar kind of role and I realised quite quickly that that was actually the perfect role for me. It was kind of what I was doing unofficially anyway."
Jeanette and Geoff's burgeoning musical relationship saw Rough Trade Records blossom as the decade came and went. Bands like The Sundays and Galaxie 500 joined The Smiths on their enviable roster as Jeanette settled into life as a label boss. "When I first arrived it was going really well and the thing I remember thinking was being really pleasantly surprised by some of the things that Geoff was working with at the time, like Jesus and the Mary Chain, straight away I got that and felt really at home with them. We had a mutual respect for each other so that was all good, so there was some really great things going on musically, which encouraged me to dive in."
Jeanette's warming up. Her fantastic laugh remains (possibly a permanent fixture), but there is a fondness in her voice now as she reminisces. "I find that there are not that many people that you feel you are really on the same wavelength as when you're talking about music. You know, people listen to music in so many different ways – you might be listening to the drums and bass where as I might listen to the guitar; people pick up on different things and what I discovered quite quickly when I went to work with Geoff is that we had the same take on things and I think that's quite rare. We never get bored and we're always looking for new things and talking about new things – both of us get genuinely thrilled when we find something new and I think we sort of feed each other like that a bit in a way! I get excited about something and then he does the other way around."
If something is as good as The Strokes you just have to act
The newly shaped Rough Trade Records journey came to an abrupt halt in 1991. "The distribution company went down and we lost all of our back catalogue," says Jeanette. "We lost all the great things like The Smiths and there was a point where Geoff wanted to put money from Rough Trade back into it as it was a terrible, terrible thing, so the label just came to a stop. With everything going on it seemed appropriate anyway." And yet the Rough Trade universe remained intact. Jeanette and Geoff had a promising side label in Blanco Y Negro (home to typically diverse artists like Dinosaur Jr and Everything but the Girl) to keep them creatively nourished, and it was at this point that Rough Trade management was born, which led to Jeanette engineering such acts as Duffy. "Yes I did, guilty!" she says. "The first people that we managed were the Cranberries, so we did that first album, which was a hugely successful record, and then shortly after the Cranberries we started managing Pulp, who we still manage today, and then a few little bits and pieces but nothing much, and then ten years later Duffy walked in."
Admirable in their unwavering taste, Rough Trade the label has made a name for its steadfast belief – if they like something, they like something. "With Duffy, I have always loved pop music as well as rock and roll and reggae and soul," says Jeanette. "When I was a kid, the first music I really got into was Tamla Motown and soul and then from there I got into reggae and then from there it was punk, but I have always had a soft spot for pop music and soul music. Even at the time when I was going to see the Clash and the Sex Pistols I liked Abba. Joe Strummer gave me the 'Arrival' album so it was allowed! He said to me listen to this it's great and he handed it over and I loved it. He loved it too."
I contemplate asking if Jeanette got the same rush of adrenalin listening to 'Arrival' as she did The Strokes' first EP, but I ask instead how the New York band were instrumental in the label's resurrection at the turn of the millennium. "Well, we weren't really looking for backing [from another label], it kind of just happened. We went into Sanctuary who were trying to break into our kind of world with The Strokes and they got it – what's not to get, really? So they suggested to us that we start the label again and we jumped at it."
The modern legend goes that Lee and Travis signed the band to the resurrected Rough Trade in 2000 down the phone. "I think they called up and played the demo down the phone, yes," says Jeanette, "which was really super exciting and the next thing that happened was that they sent the CD in the post and when I arrived in the morning Geoff was already blasting it and going, 'come here, come here!' So I went in and you know it just sounded fantastic, so we got onto them right away and said we wanted to go and see them. It was the early days of the Internet and we were trying to look them up and suddenly something popped up and not only did they look really good but also they had these amazing rock and roll names that seemed like they must be made up. What? They look like that, they sound like that and they've got those names? Is it a joke? And then we went over to see them. If something is that good you just have to act. I am going to re-phrase that, you want to act, the minute you hear something that's that exciting it's just all systems go, isn't it?"
We just take everything on by how it makes us feel. We're like children
With the goodwill of friends and family behind them, Jeanette and Geoff were back to their instinctive best, signing artists like The Libertines, Anthony and the Johnsons and Sufjan Stevens before another disaster was cleverly diverted. "Sanctuary started to go down and it was clear that it was a horrible nightmare again," Jeanette tells me. "At that point we decided that we did need to go and speak to people to see if we could get partners and long story short, Martin Mills [head of the Beggars Group] was by far the most interesting and best fit for us, so we had quite a long negotiation about how it would work and eventually he took a chance on us being involved in Beggars Group and I must say it's been absolutely brilliant. There is a total understanding at Beggars with what we do – that coupled with the fact that Martin is brilliant at business and that's really great as it gives Geoff and I the freedom to do the A&R stuff that we do the best."
Recent signings Parquet Courts and Benjamin Booker get the pleasingly fanatical Jeanette beaming from ear to ear. "We just take everything on by how it makes us feel," she says. "We're like children. We're looking for some kind of buzz that makes you feel elated when you hear something and that's what we go on really. If we get that feeling we go for it, regardless of anything really, what genre it is… because it's all over the place, our taste, isn't it, and that really reflects how we listen to music – it really is all over the place and we would sign anything if we liked it enough."
We gradually come to a close as Jeanette admits she'll have trouble reading any article about herself: "Oh my god I said that!" She lets out one more laugh, perhaps in relief that the interview is over, but not before she offers a final point. "I won't say it happens in all independents, but I think there is an element of making it up as we go along, not that we're totally making it up; we know what we are doing but there is an element of we just do what we love, we just find things that we totally adore and we don't do any market research to see if people are going to buy into it or not. We just find ways of getting from zero to the finish. We get excited about trying to get other people to experience that love. All you do is try to beat your own path and try to find the way, to get to that point where everyone else is into it as well and that idea of being able to invent it as you go and write the rules is a great feeling. It's not as much like that as it used to be but it's still a bit like that around here!"
We're not being funny...
… but can you become a member please?
It's actually excellent value, and will help us continue to promote new independent artists and labels.
Sign up and you'll receive our physical magazines delivered to your door, our digital editions, exclusive podcasts and playlists and an actual bookmark, as if printing a magazine in 2021 wasn't old fashioned enough.
6-month and full year memberships are available now. Fancy it?