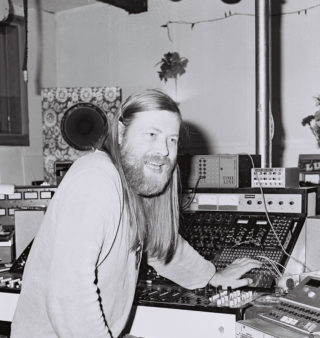 Rediscovering Conny Plank – the legendary producer who turned away David Bowie and Bono, and regretted neither
The producer's name is synonymous with Krautrock, but a documentary co-directed by his son goes much deeper into his legacy
If pressed, most people, when asked what their earliest memory of music is, will recall a nursery rhyme or an omnipotent pop hit of the day that clogged the radio of their parents' stereos. For Stephan Plank, it was the endless floating, driving and looping sound of Neu!'s 'Isi' being played at volume over and over again as it was being recorded in his family home, in a converted farmhouse on the outskirts of Cologne, Germany.  "I was about two years-old," he recalls, "I remember it so well because when you record music you obviously play things back hundreds of times and this really gets into your brain. It glues itself to something."
Plank is the son of producer and engineer extraordinaire Conny Plank, and is also the co-director of a new documentary on his father, Conny Plank: The Potential of Noise. Whilst Plank's work is now revered and celebrated in widening cult circles – with the help of releases like the 2013 4CD boxset of his production work – his early death at the age of 47 in 1987 has left a great deal of questions unanswered for many about who the man behind the music was, including his own son who was only 13 when he passed away. When his mother also died in 2006 Plank realised he wished to explore the life of his own father more thoroughly, to be able to understand both his parent and this celebrated producer. "After [my mother] died, I had to clear out the studio and it was a big farmhouse and there were a lot of things to take care of and I had to decide what was crap and what was art and so on. I came to realise that there were two Conny's in my mind," he says. "First of all there's papa, my father who I grew up with and loved. And then there was Conny Plank, and everyone kept asking me about him and I was not sure that I had the right answers, like when people asked me things like how did he work and did he really work with Stockhausen etc. So I decided I needed to do something about it, and by making the film, I kind of managed to fuse these two separate entities back together again into one person."
Plank's work, on surface level, is synonymous with Krautrock. He produced Kraftwerk, Neu!, Cluster, La Dusseldorf, Guru Guru and Can. However, as both producer and engineer he would also go on to work with people and genres far beyond such German sounds that have come to be adored and emanated in equal measure today.  Plank would work with Brian Eno, Devo, Ultravox, Killing Joke, Eurythmics and DAF, alongside a whole host of other names.  As his career moved on, his work became less defined by a style or a genre but through a mark of quality and consistency, one that eschewed genre and stomped on predictability. This was an area of particular fascination for his son in making this film. "I was really interested in how he did his production and how he chose the artists he worked with. It was almost baffling to me how he made the distinction between who he could and couldn't record," Stephan tells me, referring to the eclecticism of his father's work, such as weaving between gold disc productions (Ultravox's 'Vienna') and obscure, largely forgotten British post-punk bands like Play Dead.   
The key to unlocking such questions perhaps lies more in Plank's personality than his sound, because one distinctive production trademark essentially does not exist. His production work was so unique because one of his biggest applications of identity was not just through sound or a recording method, or intuitive sampling, but through his ability to extract the potential out of the people he worked with (something that is the whole schtick of a guru producer like Rick Rubin, today). "He was ideal as a partner and creative mind and therefore became a third, silent, member of Cluster," Remembers Hans-Joachim Roedelius, who would work with Plank repeatedly. As a result, Plank's recordings feel utterly timeless because his recognisable sense of tone was as much down to his extraction method and desire to move forward as anything else, leaving the recordings free from date-stamped fashionable styles of the day.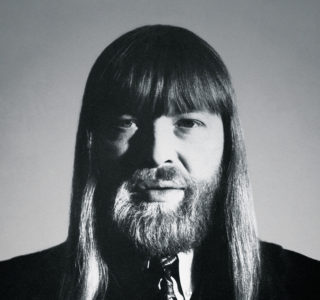 Plank was intuitive, pioneering and experimental in the studio. He built his own world: his mixing desk was custom built and he saw potential in the most primitive and innocuous of items that may be lying around. "In Conny's hands, a simple tool always turned into a sophisticated instrument," his studio assistant Petrus Wippel once said.
Stephan Plank feels that his father first sought people and characters and ideas to work with and then brought the sound out based on them. "He only liked authentic music," he notes. "He was not interested if something was Krautrock or New Wave – labels were not interesting to him. It was about the people who made the music and if they had the ability to be authentic in their art. One of the sentences that he used to say was, 'make me feel'; it had to make him feel something inside. He had this ability in picking up on a hot moment and he could figure out that something was happening there within an artist and he would then involve himself in it by helping the artist go one step further." In short, he removed ego – and often thus himself – from the process, which allowed the most distinct and memorable of personalities to shine through in his work.
This meant that Plank couldn't always work with people purely on the basis of money or reputation, he required something deeper, something personable, something he could forge a connection with. When David Bowie turned up at his farmhouse in 1976 to make plans to record 'Low' there, it was felt by Plank and his wife, Christa, that Bowie's state of mind and level of drug consumption at the time was not one that could be worked with. "My father was quite alright with quite a lot of drugs," Stephan tells me, retelling the Bowie story, "but there was this rule that said no toilet drugs, so no drugs that you take on the toilet were allowed." This clearly alludes to Bowie's vast cocaine consumption around this period as well as "even harder stuff," according to Stephan. Whilst Bowie would go on to make some of the world's greatest ever music through what would become those sessions, it was clear to Plank that his studio environment and their pairing wouldn't have been right at the time; that he needed to go and do something else. Given that Berlin has been credited as saving Bowie's life, it would appear Plank's instincts were correct.
"One of the biggest laughs in the film for me is when he explains why he couldn't work with Bono," Stephan tells me, referring to his father blowing off working with U2 on their monster album 'The Joshua Tree'. "He said that he works as a medium between the artist and the tape and he has to transfer a consciousness to the tape, and with Mr Bono he was not able to understand that consciousness." Which I think is Sephan's polite way of saying that his father detected quite early on, and instinctively, that Bono was a bit of a dick.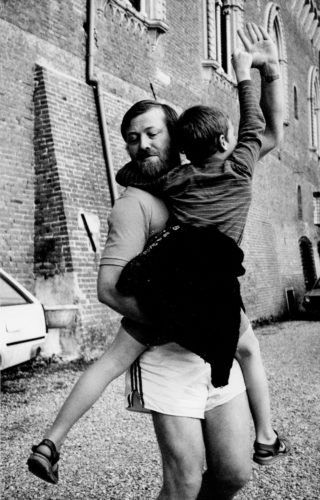 Another one of the film's most memorable moments comes when Stephan travels to Atlanta to catch up with one of hip-hop's early pioneers, Whodini, an outfit that Plank worked with on their debut album of 1983. Jalil Hutchins of the group actually becomes tearful when recalling the unique playback environment that Plank created for them to hear their music exactly as they needed to. He even has to leave the room for a moment. "It makes me get a little emotional because nobody had ever taken that time with me before," Hutchins says as his voice cracks. Similarly, Roedelius speaks warmly about Plank's endless "soul and intelligence" in the studio. 
However, another crucial reveal from Stephan and his film is the key role that his mother, Christa, had in making the studio such a welcoming and nurturing environment. Given the studio and house were on the same compound, often the kitchen would be the breeding ground for ideas and discussions: the petri dish that would later lead to the creation. The person providing the food and keeping people in check was Christa, who it seems had a more formidable reputation amongst artists than she herself was even aware of. "When Killing Joke arrived at our studio they had just ransacked Hansa Studios [in Berlin] and my mother was really, really afraid of them," Stephan tells me, "yet everyone I interviewed for the film, all separately from one another, told me that they were terrified of my mum. She would eat raw steak for breakfast and so I guess she found her ways of saying, 'don't mess with me.'"
Plank's quest for technological advances were on-going and his ability to manage new techniques and recording processes with a sound that never fell victim to the fickleness or limitations of those advances remains a remarkable achievement. His early adoption of using a computer even led to his son's chosen profession today. "My father bought one of the first Macintosh computers because he wanted to record a band and transfer it over to New York, but this didn't work and so he had no use for it and I inherited this computer and absolutely fell in love with it. He really pushed me in using it and finding out about it and how to work it. I then wrote my first computer game when I was 14 years old."
So loved and admired were Plank's unique approaches to recording, and his custom hand-built desk that, later on after his death, famed British producer David M. Allen (The Cure, Depeche Mode, Human League, Wire) would later buy it and have it transported to his London studio, where it is still used today.
For Stephan, who is of course proud of his father's musical legacy – from the artists he recorded that we still listen to today to the imitation of Plank's techniques and approaches – the journey of The Potential of Noise was as much a personal one as it was sonic. "It was really important for me to do this project because it has made me whole again and there is no longer these two different versions of my father, there's just one person," he says. "I understand him much more now; I understand what made Conny Plank Conny Plank."
The Potential of Noise is out now
Loud And Quiet needs your help
The COVID-19 crisis has cut off our advertising revenue stream, which is how we've always funded how we promoted new independent artists.
Now we must ask for your help.
If you enjoy our articles, photography and podcasts, please consider becoming a subscribing member. It works out to just £1 per week, to receive our next 6 issues, our 15-year anniversary zine, access to our digital editions, the L&Q brass pin, exclusive playlists, the L&Q bookmark and loads of other extras.