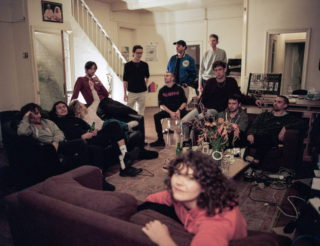 Rising Sun Collective – From a repurposed pub in South London a bunch of art graduates are partying their way out of our annus shitus
There is a house in New Cross
I read a newspaper article recently that was a kind of rumination on whether 2016 is literally one of the worst years in modern history. Media histrionics aside, we've certainly had a bit of a shitter this past ten months or so. Bowie's dead, Prince is gone, terrorism is everywhere, Trump continues to utterly appal and we're staring down the barrel of a hard Brexit.
It hasn't exactly been a banner year for London nightlife, either. Fabric has lost its licence and joined a roll call of recently permanently shuttered clubs that includes Dance Tunnel, Pacha and Cable. Over the past eight years, more than half of London's clubs have closed their doors, falling to victim to a perfect storm of gentrification, restrictive licencing and drugs deaths. The Night Tube has finally arrived but we barely have anywhere left to go.
At least, that's the prevailing narrative. As much as it's tempting to just pack up shop and move to Berlin, the truth is that after-hours life in London isn't entirely dying – it's changing. Just as rave culture headed underground in response to the oppressive strictures of the Criminal Justice Act of 1994, so too are today's best parties and most exciting scenes as they run out of legitimate venues to coalesce around.
Out East, it's Seven Sisters, Manor House and Hackney Wick leading the way with sizeable converted warehouses still available to artists and musicians at (relatively) affordable prices. By day, these spaces exist as living spaces and studios but by night, many are throwing some of the capital's best parties, with up-and-coming DJs, cheap drinks and predictably lenient drugs policies. I should know – I lived in Manor House with a motley crew of 20 artists and musicians back in 2012.
Across the river down South, the Rising Sun collective have had much the same idea. Taking their name from the inconspicuous converted pub that they've effectively colonised, the double-digit posse mainly comprises of Goldsmiths arts graduates in their early 20s who've decided to live together both as a creative and lifestyle choice. Over the past year or so these kids have worked to build a kind of music and partying Eden amidst their unassuming little pocket of South East London.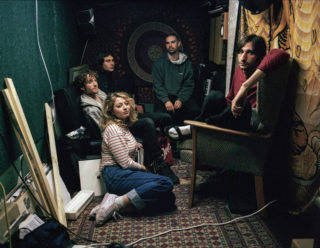 Not convinced? To be honest, neither was I, confusedly trudging between similarly named spots on a rainy October Wednesday night. "I'm outside the place," I say on the phone. "No, wrong one," comes the reply. Ah. Sometimes situations like this just end up turning into a perpetual house party, albeit with a monster sound-system and fuck-tons of MDMA. In other words, not my idea of a good Wednesday night.
As I eventually cross the threshold of the former boozer though, it becomes abundantly clear that the Rising Sun gang are pretty serious about all of this. I immediately clock a beefy modular synthesiser perched on the dining table of the gargantuan living space, half-finished with its guts strewn across the floor. There are records everywhere. People mill about but everybody seems pretty level-headed. "Hi there," I say, clumsily shaking half a dozen hands throughout the room.
First and foremost, I'm here to speak with six-piece outfit A House in the Trees, who, I'm told, form the core of the collective. They're still having their photos taken by Dan, our photographer, in the basement says Joe, my chaperone into this weird and wonderful world. "Let's go downstairs," he suggests. Okey-dokey.
This, it turns out, is the real base of operations for the collective. To my left is a fully kitted-out recording studio, replete with soundproofing and mood lighting. Dead ahead we have the band themselves, sprawled across the floor and joking around in front of some camouflage netting as they pose for pictures. Beyond them there's a makeshift dancefloor, then around the corner there's a mixing room, listening booth and snug. Consider my early scepticism duly checked.
Finally sitting down to get acquainted, it turns out we'll be missing one of the band – Cameron – who's managed to scald his face with a plate of baked beans at work and, it transpires, has had to take a trip to A&E. The rest of the band are present and correct: rakish bandleader and seeming de-facto spokesman Sam, dark horse Chris, the effervescent India, boyish Dan and the perma-chilled Geraint, or G. Tonight it's probably best that we stick to first names only, all things considered.
The genesis of the group was a recording project by Sam back at Goldsmiths a couple of years ago, which yielded an EP ('To Adore'), which you can find on Soundcloud, along with a gig at the Waiting Room in Stoke Newington. That early work set the broad parameters for A House in the Trees: dark pop and ambient dance fit for the morning after. "Yeah," says Sam. "We're on a constant comedown."
Since then, A House in the Trees has become a sextet and branched out into trip-hop meshed with experimental hip-hop; Portishead as imagined by Clams Casino. Over the past year or so the six have been prolific enough to put together a mixtape (which I'm later gifted as an actual tape on the way out the door), a bunch of remixes and enough material for at least a couple of albums, or so I'm told – there are 27 songs circulating between the band on a private link at the moment, apparently.
Having such an incredible place in which to work is one hell of an advantage, I say. "Finding the place was a complete stroke of luck," says Sam. "I remember the first day when Chris had told us about it, saying they were looking for two people and me and G were looking for a place to live at that point. We came down, saw the name the Rising Sun and before we even stepped into it, I was like… done! [Laughter] I think it was just moving in with like-minded people who all saw this space and instead of just saying, 'Oh, that's a cool dirty basement,' it was, 'That's a basement we can transform and do something with,' you know?"
Dan agrees. "It was just the fact of having the space; you've got to use it. I completely understand it's very hard to get a place like this."
In the main, the group were already good friends at Goldsmiths and many of them had already lived and collaborated together on an artistic level. After graduation, the gang were just looking for some way to continue the arrangement. Last November, everything fell into place. "The moment of [finding] the Rising Sun was kind of when it went from being the idea of the collective to putting it into serious practice, because we had the means to do so," Sam says. "That's definitely I think when things changed."
As for the band's moniker within the collective, I'm hoping to hear some fantastical tale behind it but all I manage to tease out is a fairly prosaic yarn. "The name itself came from a house and… some trees… in south-west Wales, near where Geraint lives," Sam laughs. "It was just an image that I saw and, you know, you see something and it imprints itself on your mind and the name just came out from there. But a lot of the theory behind what we do comes from many different [other] things. We have terms that define that kind of stuff and it's a lot of referencing mundanity and escapism; as trip-hop has always been."
Collaboration is one term which is surely important in talking about what A House in the Trees and the Rising Sun contingent are all about. The band walk me through all the dizzying permutations of projects and side projects either between themselves, the collective or outsiders. For one, visual art is a really important aspect of everything they do – sometimes the visuals come before the songs. "The visuals completely set the reference point for the music," Sam says. "If you watch the visuals for the music it gives you complete clarity of the intention of the song."
More broadly though, jamming and exchanging ideas are at the centre of the whole endeavour. The idea of being within a collective is important to the whole band.
"You're fully immersed in a creative environment, rather than having to apply yourself each time. You're already in it so you've got more drive," Dan observes.
A House in the Trees would be a worse proposition without it, says Sam. "You can see it either when we're playing live and jamming around one of our songs, or when we're just sitting in the studio jamming and someone who isn't even affiliated with A House in the Trees – someone completely new – starts making music with us. You're always going to have a much richer form of inspiration very immediately."
This tribe was recently out in Bulgaria for the Meadow in the Mountains festival, along with fellow Rising Sun member and self-proclaimed "flow lord" Boyan Levchev. Between them, they lugged along a portable studio setup and immediately got recording with whomever they found out there. They're toying with the idea of taking the concept on the road – rocking into towns for a few days and working with local musicians and producers before moving on. They've already cooked up music with Dutch producer Sample Proper, grime producer Last Japan and Australian duo Ginger and Ghost, who've come back over to London to record more.
Back home, it also helps that south-east London is a fertile breeding ground for new bands. As with some parts of the east of town, rents still just about exist within the realms of reality and the combination of affordable housing and Goldsmiths makes for a burgeoning experimental electronic scene. "South-east London is amazing," marvels Sam. "There's so much good stuff happening down here and there's so many good people doing good things. We're all a part of that and it's just good that we have a space where people can reap the benefits of it."
Indeed, with such a useful space at their disposal, it's easy to imagine the Rising Sun collective as some kind of a focal point for the broader scene, I say. "A little bit of it yeah," says Sam. "I mean we also have a non official sister venue, the Five Bells, which opened up in New Cross. That's just a pub that's opened and they're trying to upstart and do some other interesting stuff with the space as well.
"Then we have the Siren Girls who are an all-female technical collective, India who's a part of A House in the Trees and does a lot of the visuals for us, some of the Rye Wax lot in Peckham come here, some of the people that have come from Goldsmiths. I find that I come out of my bedroom almost every day and I meet someone new – I can't get away from that!"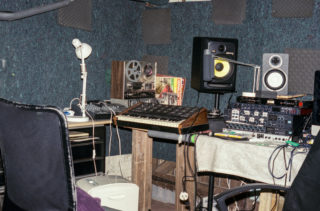 At least once a month, the Rising Sun plays host to some sort of event deep within the bowels of its sweaty basement. A couple of months ago, the gang threw a big bash to celebrate the release of their first mixtape. Vice stopped by, mentioning that the whole thing felt half like a nightclub and half like an art installation. One of the guys covered the toilets in bubble wrap, while the 'Reflection Room' had a small chair in the middle of four mirrors with Alice Deejay's 'Better Off Alone' pumping out of the speakers on repeat. The attic was reserved for recreational indulgence.
It all sounds like great fun, but surely the neighbours give them relentless shit? Not so, apparently. "One of the guys who lives here, Ed, went over to knock on one of the neighbours and said you know, we're having a mixtape launch if you want to come over," Sam recalls. "They brought their kids along and their kids were in the 'bubble bath' loving it!
"That was really nice, to sort of appease them. I think as time goes on and we solidify ourselves it would be nice to give back to the community in some way. There's a school nearby and maybe we could get involved with them, and we've come to a good agreement with our neighbours."
In any case, opening their home up to the outside world for nights like this brings its own perils for the collective. Boiler Room also dropped by a few months ago for a BBC Asian Network set, and the Rising Sun housemates found themselves relieved of a kitchen blender for their troubles. "They didn't take the top bit though," laughs Geraint, incredulously. "They just took the thing that makes it go."
It all sounds like it might be hard work at times. "You just do it, don't you?" reasons Dan "You make it work."
"As a house we're pretty tight," says Sam. "Even from a living [together] perspective we keep on top of each other about stuff and for the most part it stays clean!
"At the end of the day, it's still a bunch of people who're living here and we love this and we want to preserve this as long as possible, so we keep it as low-key as possible. To be honest, it's at a point now where people – like the people who come here and hang out here – they know about it, so it's not like we have to create a bunch of fliers or create a huge Facebook invite. We're not inviting the whole of Goldsmiths."
The group are gearing up for a public reveal of sorts very soon, though. Thursday 3rd November will see A House in the Trees hook up with Junk Son at the Flying Dutchman in Camberwell for a proper showcase event. They're bringing a major sound system along and they've got visuals planned too.
An album is also on the way, with a preceding single and video, although there's as yet no decision on whether it'll be an independent release or through a conventional label. In any case, between themselves A House in the Trees have probably got enough kit to set up on their own. Get hold of a vinyl pressing machine and they could churn out a record from start to finish within the confines of their own basement. "We've thought about it, as a label type thing, but I think it's open just to see what happens – we're open to discussing everything," Sam offers cryptically.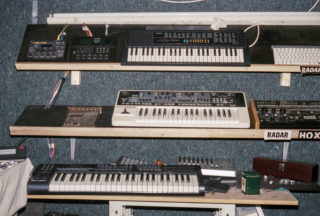 With that, I'm spirited upstairs by Joe to have a word with fellow Rising Sun member Ellie, also known as BYFYN. She's stood in the kitchen, hair in curls, chopping an onion for dinner. "Hello there," I say for probably the fifteenth time tonight. BYFYN makes dark, ambient electronic dream pop and has an EP out already on Soundcloud. She's also involved in visual art and is a fellow Goldsmiths alumnus.
"I wouldn't have got to the kind of stuff I'm making now if it wasn't for these guys," she says, gesturing beyond the kitchen. She's in a relationship with Chris; they previously lived together. "He was doing a computer music course and he showed me Logic, Ableton and then I basically started making my own stuff, just in Garage Band to begin with; I was using an iPad in a laundry cupboard with a really shit mic. When I moved in here with the studio, I bought some proper kit!"
It bears mentioning just how much kit there is lying around the Rising Sun house. I count easily more than half a dozen synths, several mixers, decks, guitars, amps; you name it. "We've got shitloads," Ellie laughs. "I'm now one of those gear heads; I love it. Because I do electronic stuff I get inspiration from what I use."
Like many in the house, Ellie made her first bona fide release in the studio downstairs. "We all want to do the same kind of stuff so it's really helpful to be around each other," she says. "We inspire each other all the time."
Right. It's time to head all the way upstairs to the attic for a quiet conversation with Scott, otherwise known as one half of trip-hop duo Parliament of the Owls. We're in Boyan's room – the Bulgarian rapper I mentioned earlier – and fabric is draped all over the rafters. Cosy.
Scott's tall, very well spoken and studied sonic art at – you guessed it – Goldsmiths. He's also a member of indie rock three-piece Crushed Beaks, who've already put out a couple of records and are signed to Moshi Moshi.
"Trip-hop was one of those things where, if I get back from a night out or something or I just really want to chill and disconnect from the world, my go-to would be Portishead," Scott says, stifling a laugh. "It's not particularly relevant and I don't think there's lots of other trip-hop coming out at the moment, particularly.
"When me and Sam were talking about our love of Portishead when we first moved in, it was almost a bit of a running joke that we felt like we had to hide it from the world. I mean, who's into Portishead?! But then we felt, no actually, let's be proud of our love of trip-hop and all that kind of stuff. We've been trying – in our various projects – to bring it to life, to re-invent it in some way. People seem to be responding to it better than I ever expected, to be honest."
Like Ellie, it wasn't until Scott landed at the Rising Sun that his ambitions really began to take shape. "With Parliament of the Owls, there were a whole load of tracks which I had been writing since I was at Goldsmiths but I just didn't put them out, at all. They've just kind of been sitting there; I've got an album's worth. It was only then coming into the house and seeing more – in this group, there are people writing similar stuff – where it seemed like the perfect platform [to release] it."
Steeling myself to leave the warming glow of the Rising Sun and instead face the sideways rain outdoors, I'm under no illusion that anybody here is taking this for granted. I think everybody recognises that this is a special time in all their lives and a period of unbridled creative freedom at a time when making music and having fun in London is becoming harder by the week. "I would regret it so much, if we didn't make the most of this," Scott insists. "So we're just trying to make the most of every second."
Maybe there's a glimmer of hope for 2016 after all.
Loud And Quiet needs your help
The COVID-19 crisis has cut off our advertising revenue stream, which is how we've always funded how we promoted new independent artists.
Now we must ask for your help.
If you enjoy our articles, photography and podcasts, please consider becoming a subscribing member. It works out to just £1 per week, to receive our next 6 issues, our 15-year anniversary zine, access to our digital editions, the L&Q brass pin, exclusive playlists, the L&Q bookmark and loads of other extras.