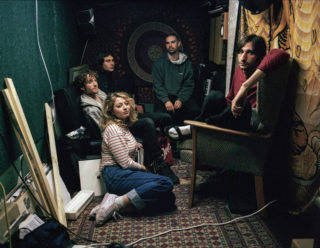 A House In The Trees share their new song 'Tuesday Afternoon' on this Tuesday Afternoon
Easy listening
Not long back A House In The Trees shared 'Summertime' – a hazy tune, pinned to a drowzy beat with a hooky chipmunk chorus vocal. It recently got aired on the Loud And Quiet Radio show on Resonance FM (have a listen).
That track's on their new EP coming out on Handsome Dad on 14 September. The Peckham group have just put out another track, and it shows a different side to what they do. There's definitely flecks of The xx going on.
Last year we visited The Rising Sun collective at their pub-cum-studio in south east London to hear about the community (A House In The Trees led by Sam Hatchwell are just one of the projects to come out of the scene).
So, yeah, have a read of that, and listen to 'Tuesday Afternoon'.
They're playing a show soon at London's Bermondsey Social Club on 21 September.
Free Protomartyr flexi disc with this month's magazine
Subscribers to Loud And Quiet now receive a limited edition flexi disc of a rare track with their copy of the magazine
This month's disc is from Detroit punk band Protomartyr