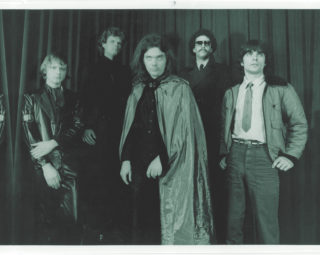 The forgotten story of Roky Erickson and his lost albums of the 1980's
Hear no evil
Like many people in the 1970s, I too had my first experience of listening to Roky Erickson and the music of the 13th Floor Elevators via Lenny Kaye's underground garage-rock compilation record 'Nuggets: Original Artyfacts from the First Psychedelic Era, 1965-1968', albeit somewhat later, probably around 2004/2005 as a teenager. My first reaction to hearing Elevators cut 'You're Gonna Miss Me' was no doubt similar to that felt by many others throughout the decades: 'What the fuck is that sound?' That weird, trippy, wobbly sound that felt as though something was rippling through the song. A submerged gargle? A cooing bird? Distorted strings? A technical malfunction? For years I thought that noise had something to do with water, maybe an amp precariously drenched in water to create a sound like no other, or some kind of spillage on the master tape. Only later did I realise it was someone blowing a jug. Then, just as the mind is beginning to process such a strange sound, in comes a scything scream – "ohhhhh, yeahhh". That scream is of teenager Roky Erickson sounding very much like the next Van Morrison and Mick Jagger rolled into one younger, more out-there body; a role that due to a series of unfortunate circumstances, he never really got to fully live out.
The 13th Floor Elevators are often credited as being the first psychedelic rock band, but their psychedelic leanings went much further than simply their sound explorations. The group – heavily encouraged by bandleader Tommy Hall – were fierce proponents of the LSD movement, openly championing the drug, along with other similarly affiliated '60s chemicals. The back cover to their debut album 'The Psychedelic Sounds…' even reads like something of an 'open your mind' manifesto, challenging people to break down institutional barriers via chemical exploration and 'unlock' themselves. Sadly, what may have initially opened up a lot of windows to a whole lot of other realms for the band then soon folded in on itself. A change in band line up – some of which is rumoured to be the result of Tommy Hall's almost militant insistence on drug experimentation within the group – coupled with the authorities placing a keen eye on this rebellious, counter-culture inciting lot, soon led to the collapse of the group and the arrest of Roky Erickson.
In 1969 Erickson was arrested with a single marijuana joint but was due to face 10 years in prison for the felony. At the advice of his lawyer, in order to avoid prison, he pleaded insanity (Erickson had been diagnosed with schizophrenia the year before). After being placed in some low security psychiatric institutions, he continued to break free from those, thinking this situation would be on-going until he ran down his sentence. That is until they transferred him to a maximum-security institution for the criminally insane, Rusk State Hospital, Texas.
"The bass player, he had killed two small children and raped the mother. He stabbed her with a pen knife and poked one of her eyes out. Another one was involved in the rape of a young boy down in Houston and they murdered him too after they raped him. Another one had killed his parents and one of his siblings – he played guitar. The guy that was involved with the gang rape of the little boy played tambourine. Roky was there for some minor charge, now you tell me if that makes sense? Because it doesn't." This grizzly truth is told by an ex-psychiatric worker from Rusk State in the 2005 Roky documentary You're Gonna Miss Me, in reference to the band Erickson formed inside the hospital. During his incarceration, he was subjected to involuntary Electroconvulsive Therapy (ECT) until his release in 1972. "Lots of people have tried to say, 'oh the way Roky is now is because he had shock treatment,'" says the singer's brother Sumner Erickson in the same documentary, "or, 'oh no the way Roky is, is because of Acid', or, 'oh no the way Roky is because…' you know, nobody can really know."
Roky came out of the hospital feeling alive with creativity, and speaking with the man responsible for three re-issues released next month via Light In The Attic ('The Evil One' (1981), 'Don't Slander Me', (1986) and 'Gremlins Have Pictures' (1986)), Craig Luckin – Erickson's then-manager – he tells me, "He was really excited and focused. He was really becoming a prolific songwriter; he was just cranking them out. He claimed he had around 300 songs, and I saw lyric sheets for around that many, but there was a lot of songs that came around the time he wrote 'Two Headed Dog'. I've never seen a songwriter more prolific than Roky was in that timeframe."
It was Erickson chasing Luckin that led to their management arrangement. "He kept persisting, asking me over and over, and at that stage I knew a little about his history and incarceration in a mental hospital. I told him I would do it but only if he had himself an attorney and I have a chance to meet with them – I didn't want him to sign an agreement without having legal representation."
By the time these 300 odd songs had been whittled down and put into the form of an album, the results included 'The Evil One', a record so crammed with demons, devils, zombies, werewolves and ghosts that in many senses listening to it feels like a personal shedding for Erickson; an expelling; a screaming; an unleashing of all that lurks within him – essentially an exorcism. However, despite his mental fragility during the making of the album, it's an incredibly accomplished collection of songs. The song writing, in an oddly classically rock structured way, with much of the psychedelic sounds long gone, borders on the sublime, and his voice still screeches with a pain and energy that could only be Roky. Aided by the superb production of Creedence Clearwater Revival's Stu Cook, the album swells and soars, brought even more resolutely home by the re-mastering it undergoes for the reissue. Listen to such cuts as 'I Think of Demons' and you can't help but think the likes of Paul Westerberg must have been paying grave attention to what Roky was up to at the dawn of the '80s.
In the UK CBS picked up the album, but on a promotional tour for the release disaster struck, as Craig tells me. "It was really stressful when he did the CBS UK tour," he says. "Boy, I was really hoping he'd do great over there and that was the worst interviews he ever did. That was the thing with him, you couldn't count on him always being in a great frame of mind… sometimes he could get on a roll and just be completely useless for doing interviews or recording, or anything. Usually it would be some fan would run into Roky at a concert and slip him some drugs that he shouldn't be taking. So that would usually be the trigger of the downward spiral." In this case, Erickson disappeared for a full day before the interviews with his then-wife Holly. It was thought they went to Stonehenge to take LSD.
Some exerts from one of the interviews he gave following his disappearance:
Roky, would you briefly tell us how you first started in rock'n'roll and who your main influences were at the time?
How I first started? I first started playing piano, in the swamp. Who was I listening to? The Premier of Russia who died last night.
What do you think are the most noticeable changes in rock'n'roll over, say, the past 15 years?
The piano parts and the razor in the keys.
Why so few releases in that period of time?
Why so few releases in so few time? I guess because… uh… too many Russian Spies.
"Nineteen out of twenty interviews he did were total disasters," Luckin writes in the reissue linear notes. "They killed the album."
To me he recalls the effect drugs would have on Erickson around this period. "It was certain drugs, marijuana wasn't a problem, everybody would use that; it was the '70s. That wouldn't put him over the edge, but it was fans meeting him and going into the dressing room after the first set – and in some of these clubs you couldn't watch him every minute – and they'd slip him something: psychedelics, or Methadrene or heroin. He'd do a great first set and then he could hardly play at all for the final set… but without that he was always fun and intelligent and could be an exciting performer and great recording artist.
"I think with his history of being in Rusk State, the Elevators and being the youngest guy in the band and doing acid everyday, it's not a good thing for him," Luckin continues. "He got real unhappy after somebody gave him some acid or something like that. That was one of the hardest things, to babysit him. Somebody would give him something and then he'd be staying at my house and I'd have to stay up all night with him and he'd be really sad and say, 'Craig, don't ever let me do LSD again' and I'd say. 'hey, I didn't let you do it this time'.
A year after the release of 'The Evil One' Erickson took a downward turn, believing that a Martian had taken over his body. His lawyer, Peggy Underwood, had a fake legal contract drawn up for him to sign in public, pledging his official status as being an Alien, that way escaping the attacks he felt he was constantly under from human beings.
Despite things not looking good, Erickson made it through the next few years and got to 1986 to release 'Don't Slander Me'. "I've never seen him be so together and sober during those sessions," Luckin tells me.
The album is another masterful accomplishment, if as largely forgotten as 'The Evil One', perhaps more polished, with big old nods to classic rock'n'roll and branching out into occasional balladry. Considering its timeline, it sounds remarkably free of garish production – the astonishing 'Burn the Flames' feels utterly timeless as does the effortless breeze of 'Starry Eyes', a song that sits Erickson alongside the more often celebrated Alex Chilton in his ability to adapt to seemingly any style and still produce pop-smattered, songwriting gold.
Luckin tells me of Erickson's occasional reticence to discuss his hospital time around this period. "He did never really want to talk about that and wouldn't, pretty much. The Rusk mental hospital stuff in the '60s was just a terrible tragedy for him, even while he was there, and when he came out he had a burst of creativity but that must have just been a terrible place. I don't think there are any mental health facilitates that are like that any more. It was primitive days for mental health, thinking electro shock therapy was the way to treat schizophrenia."
Is it not a form of torture, instead of treatment?
"That's what Roky thought about it," says Luckin. "I think there's some stuff on 'Don't Slander Me' about that. If you listen to the lyrics there I think that's about Rusk. He had some real horror stories from there and every once in a while he'd share tales about abusive, torturing electro shock therapy." In fact, in 'You're Gonna Miss Me' Erickson goes as far to refer to his time in Rusk as being "like a concentration camp".
The same year as 'Don't Slander Me', 'Gremlins Have Pictures' was also released. A selection of live takes ranging from 1975-82, including everything from a rousing 'Night of the Vampire' and a surging 'Cold Night for Alligators' to an improvised and unrehearsed (according to Luckin) take on the Velvet Underground's 'Heroin'. The coarseness and ramshackle ambiance of the live recordings work as a sweet counter-balance to the wonderfully produced two albums, making the trio of re-releases an all-encompassing, varied and engulfing dive into the wonderful, seemingly neglected world of Roky Erikson in the 1980s.
Sadly, things deteriorated badly towards the end of that decade for the singer, just as interest was picking up again. Erickson had picked up an obsession with the mail, in which he would collect and catalogue junk mail, as well as write countless letters to people (dead or alive). He was arrested (although charges were dropped) for mail theft in 1989. In this period of decline and non-musical activity, 1990 saw the release of 'Where the Pyramid Meets the Eye' a tribute album to Roky, featuring R.E.M, The Jesus & Mary Chain, Primal Scream, Julian Cope, Bongwater, Butthole Surfers and several others.
"He'd had a really bad spell around there and was back in several mental hospitals," Luckin recalls. "I don't know if he knew about it [the tribute album]. By the time I think he came out, I'd not seen him for a year or two and he was in really bad shape. He'd been sent to Missouri or something and that didn't have anything to do with drugs, he'd just been by himself for so long. I never asked him what he thought of that tribute album actually, I bet he would have liked it."
After a custody battle Erickson was taken from the care of his mother (who believed firmly in not allowing Roky any drugs, including prescription medication for his schizophrenia) into that of his brother's (who did), and since the early-to-mid 2000s Roky has been on the up and up, playing music again and also live shows, both solo and also with the Black Angels as his backing band playing 13th Floor Elevators material. In 2008 he was awarded a lifetime achievement award at the Austin Music Awards and in 2010 he released his first album of new material in 14 years with Okkervil River as his session band. In 2012, at the age of 65, he toured Australia and New Zealand for the first time. Now back with his first wife Dana again it would appear that, for now, as his album title suggested, true love cast out all evil.
Please support Loud And Quiet if you can
If you're a fan of what we do, please consider subscribing to L&Q to help fund our support of new musicians and independent labels
You can make a big difference for a few pounds per month, and in return we'll send you our magazines, exclusive flexi discs, and other subscriber bonus bits and pieces
Try for a month and cancel anytime