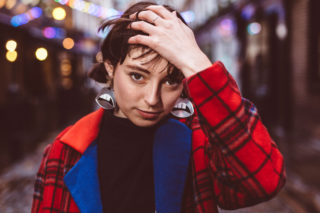 Stella Donnelly: The fight for safe spaces in Perth, Australia, via the social realness of Billy Bragg
A conversation about the power of brutal frankness on the day of the Australian artist's first UK show
Stella Donnelly sits in the dimly lit back bar of a Swiss restaurant-cum-music-venue in Soho. Thanks to yesterday's 23-hour red-eye from Perth to London, the 25-year-old is sniffly and congested, though still sparkly-eyed and chipper. During our time together, her enthusiastic, attentive chatter is punctuated by occasional pauses to self-medicate with delicate slurps from a pot of rapidly-cooling ramen, and her attention only briefly diverted as she jumps up to warmly welcome the young support act and her mother.
Not counting an open mic night she did for laughs while visiting her sister in Brighton, tonight's sold-out show is Donnelly's first in the UK and she's buzzing with anticipation. "I've been in London a bunch of times, but it feels new every time," she beams, her grin as striking as the over-sized, silver, cartoon mouths she wears as earrings. "Look, if every year's like this year, I'll be very happy. I think it's been a big shock, because I put out an EP that was meant to sell 40 cassette tapes, and then move on, and then everything went a bit bonkers."
2017 has been a landmark year for Donnelly's burgeoning solo career. Having taken a temporary break from her other musical commitments – punk band Boat Show, and all-female alt-rock outfit Bells Rapids – the singer-songwriter's arrestingly lo-fi and humorously-titled debut EP, 'Thrush Metal', was released in April to widespread acclaim. She then secured a spot at Australia's answer to The Great Escape, Brisbane's Big Sound festival, where she won the inaugural Levi's Music Prize honouring the most promising new artist, and $25,000 in prize money that's already funded this promo trip to Europe and helped secure the services of Lorde and Flume's PR, Claire Collins.
"It's always been very important that I work with good people, because I'd rather not do music if not," she explains of her recruitment criteria. "I was gonna start university this year, doing social work. It's really important I get to do this the right way, and not treat people badly, and have the people who represent me have integrity, because I'm an advocate for gender diversity in line-ups, and safe spaces at shows. So Claire's one of those people."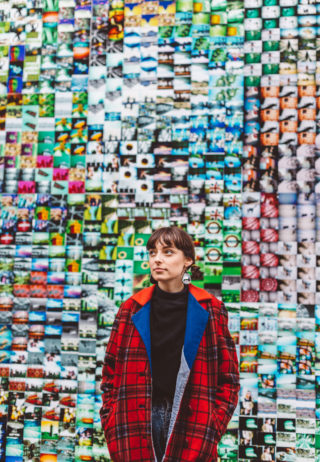 Donnelly herself is a member of voluntary community group Safer Venues Western Australia (SVWA), which sets out to improve "standards of inclusivity and safety in Perth's music and entertainment spaces." Working alongside members of venue staff and other hands-on industry professionals, Donnelly is tasked with raising awareness of the initiative, though she downplays her role today, somewhat self-deprecatingly.
"I don't do any of the work because I'm never there, but I try to advocate for artists to take more responsibility. A lot of the girls that work [at SVWA] have been venue managers in different positions whereas I'm a musician, so I try and educate the white, hetero, male musos in Perth. So, when they play their punk shows and they see guys shoving each other, instead of egging them on – even if they're doing it ironically – they'll be like, 'Guys, stop. Girls to the front. Let's make this a safe space.'"
Donnelly's activism isn't confined to her extra-curricular pursuits, as is abundantly apparent in her breakout track, the satirically-titled 'Boys Will Be Boys'. A haunting, acoustic ballad, it squares up to the perpetrators of rape and sexual abuse with a steely-eyed determination ('You invaded her magnificence / Put your hand over her mouth') and attacks the surrounding culture of victim-blaming ('Why was she all alone / Wearing her shirt that low'). At tonight's show, she introduces 'Boys Will Be Boys' with a trigger-warning. As Donnelly explains, the song is rooted in real-life events.
"I wrote it about a personal experience that happened to a friend of mine, and it affected our group of friends at large. I noticed this victim-blaming thing; a couple of people had asked her, 'Why did you go home with him in the first place?' rather than questioning why women are getting raped. So that was my way of trying to articulate what was happening, and then as I wrote it, it became less about me and her and more about the culture."
In a post-Weinstein world, where a raft of high-profile allegations of sexual abuse are being uncovered in all industries on what's starting to feel like a daily basis, the song's pertinence is uncanny. "It's become bigger than me, and the timing of it has been so weird and fortuitous," Donnelly agrees. "I'm still not sure whether that's a good thing or a bad thing: it's a bit of a beast. But it's important that people talk about this stuff, whether it's from my song or from anything else. It's really important that men are actually allies in helping this stuff stop. And it's not just women who have been subject to this kind of abuse or harassment.
"But it is exhausting," she says. "A friend of mine said the other day, 'Good people go down in a revolution,' and that's the thing: it is a bit of a revolution right now, where people are standing up and saying, 'You can't treat me like this; we won't put up with it anymore.' It needs to happen. I look at the Australian music scene and feel like there's an ominous cloud on the horizon…"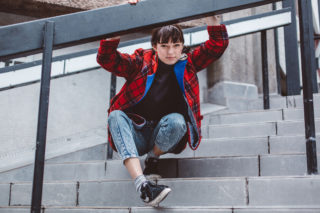 While Donnelly praises the supportive sense of community in Perth's music scene, and its inspiring "underdog mentality" at length, she concedes, "I think we've still got a long way to go in terms of diversity and safety and that kind of thing. Perth has still got its bogans – racist, bigoted, rowdy boys that are Australia's answer to 'lads' – and that can create some violence."
As for personal experiences of harassment, Donnelly cites the period she performed in a tribute band –immediately after finishing her studies at the Western Australian Academy of Performing Arts – as an eye-opener. "I was the only woman in the band and I was wearing heels at these corporate functions," she recalls. "I just found myself in these situations as a young woman, getting groped by business men and stuff like that, which has really helped me gather my strength and fuel me in the way that I write now."
If there's a common thread running through Donnelly's songwriting, it's her brutal lyrical frankness, which is as likely to manifest itself in deliciously dry humour as it is searing social commentary. Amongst the material played at St. Moritz tonight is a love song in which she compares herself to a "malarial mosquito", a score-settling number dedicated to a former employer, featuring a line about him jerking off over a CV, entitled 'You Owe Me', and 'I Should Have Stayed Home', an enjoyably excruciating examination of a disastrous Tinder date.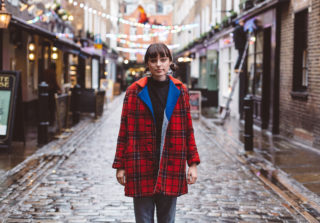 Donnelly credits this candour to her childhood – which included a stint in Swansea – and, in particular, her Dad's long-time love of Billy Bragg. "I think his lyrics really stuck with me," she says. "'Workers' Playtime' was more about love than politics, and I remember this one line [in 'The Short Answer'] where he's like, "No amount of poetry would mend this broken heart / But you can put the Hoover 'round if you want to make a start." You know? Just the very suburban, relatable way of talking about real life. I think maybe I wanted to take those aspects on in the way that I write. There are no frills; I think I'd struggle to be too hyperbolic."
She elaborates further: "[Songwriting's] a way of working through my brain. I suffer from anxiety sometimes and when I feel like that I've got adrenaline running through my body, I don't know what to do with it. I'm holding on to something so I need to work out a way to write this stuff down and get this out. My own material feels like a release in that way."
A debut album is cautiously slated for release in the summer of 2018. Indeed, it's already in the works, and just prior to this trip Donnelly recorded two songs in Melbourne with Dean Tuzer, who previously produced ARIA-nominated five-piece The Rubens, as well as Donnelly's band Boat Show. "Dean's got a pop mentality but I wanted him to approach recording with punk sounds, so it doesn't sound too polished. I'm making sure that the record feels real. You know, I'm gonna do a bit more instrumentation this time, but I still want me and the lyrics to be at the forefront. I'd really like to have something I'm really proud of in terms of my writing."
She looks up from her now stone-cold noodles, unwittingly recreating the pose from her EP cover for a moment, before adding with a grin, "I hope I can do it."
Loud And Quiet needs your help
The COVID-19 crisis has cut off our advertising revenue stream, which is how we've always funded how we promoted new independent artists.
Now we must ask for your help.
If you enjoy our articles, photography and podcasts, please consider becoming a subscribing member. It works out to just £1 per week, to receive our next 6 issues, our 15-year anniversary zine, access to our digital editions, the L&Q brass pin, exclusive playlists, the L&Q bookmark and loads of other extras.