Studio 54 – The story of the most famous club in the world, remembered by the man who just had to buy it
The man in the moon
1977 was a pinnacle year for music in New York. Forty years on, we see the anniversary celebrations and reappraisals of seminal debut works released from the likes of Suicide, Television, Blondie, Richard Hell & the Voidoids and Talking Heads – all bands that are synonymous with the CBGB's scene, a conduit hub for music that flirted with both pop and experimental sensibilities under the umbrella of punk. The area that CBGB's was in, The Bowery, was, at that time, essentially a skid row. It was lined with flophouses for the vast number of local homeless people, street corners would be lit at night by burning trash cans and cab drivers would avoid pick-ups and drop-offs in the area, it being a known hotspot for drugs, crime and prostitution. Blondie's Jimmy Destri once described CBGB's as, "a place for ugly white kids to go. It wasn't the beautiful people; it was the dirty people."
Three miles north at 254 West 54th Street was where the non-Debbie Harry-looking, clean and beautiful people did go, to another place experiencing the peak of its cultural activities: Studio 54. Once they became more successful, the music of Blondie – songs such as 'Heart of Glass' – would more likely be heard in Studio 54 than CBGB's, but during 1977 there was a clear divide in the music, aesthetic and status of the people attending such venerated clubs. The $20 entrance fee to enter Studio 54 would be more than a band of four or five people would likely make to split between them from a gig at CBGB's.
Prior to being a nightclub, Studio 54 was a CBS television and radio studio.  When the club opened on April 26th 1977, it was under the dual-ownership of Ian Schrager and Steve Rubell, who made use of the extensive lighting options and remaining sets left from the studio and built the club with them in place, meaning they could have moveable theatrical sets that would allow the club to be transformed night after night for various themes and events. It also favoured a lighting rig that illuminated the dance floor brightly, which, combined with the extensive mirrors on the walls and the glitter of the outfits fashionable at the time, often meant the room would literally sparkle.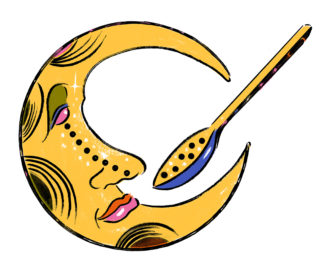 Over the years, Studio 54 has become shorthand for glamour, glitz, drugs, celebrities and a vapid yet rabid level of consumption and excess that would go on to embody the sort of culture that would permeate through and come to define much of 1980s New York culture, perhaps most famously summarised by Gordon Gekko in Oliver Stone's 1987 film Wall Street, as he proudly boasted, "Greed, for lack of a better word, is good." However, the tales of Bianca Jagger riding in on a white horse for her 30th birthday, and other outlandish and egotistical tales, often outweigh the cultural legacy that the club had beyond the celebrity adventures. Not only was it a pioneering place for the disco movement – hosting live performances by the like of Grace Jones, Donna Summer, Gloria Gaynor and Sylvester – but it also created an anything goes, judgment-free space that would become crucial to various underrepresented communities, most notably being a haven for the gay community. That said, people had to get in first.
Studio 54's door policy was known for being brutal. Guestlist and celebrities were allowed in a separate entrance through the back door but the general public lined the streets in the hope to be given the chance to pay to enter the club. "When Steve was running the club he would be very difficult with people on the front door," Mark Fleischman, previous Studio 54 owner and author of the recently released Inside Studio 54 book, tells me. "He'd say, 'you can't come in, I don't like your shirt, get out.' People would wait for hours and not be let in." One regular visitor was Andy Warhol, who summed up such a dichotomy of intense judgment on the outside of the club but with an unbridled sense of liberation on the inside by saying, "it was a dictatorship on the door but a democracy on the dance floor." Rubell would say it was like "making a salad" or "casting a play" when it came to his high standards on the door.
The door policy would lead to many situations over the years, some which ended positively and others that became a sickening tragedy.  One New Year's Eve, Chic's Nile Rogers was turned away and so he and writing partner Bernard Edwards went back to their studio instead and wrote an angry and embittered song called 'Fuck Off' aimed at the club and its mean door policy. The song's title was changed and soon turned into 'Le Freak'. After the millions of singles that sold, they didn't have to worry about gaining entrance anymore and would be welcomed around the back and guided straight to the complimentary champagne and cocaine.  At other times, the desperation of people wishing to get in would end horribly. One young man died getting stuck in an air vent as he tried to enter the building illegally. He was found dead in the vents – wearing black tie – after a smell was reported.
This policy made the club a lot of enemies, as Fleischman tells me, taking me back to a night that he describes as the strangest he ever encountered at Studio 54. "We got a phone call from the New York Post about a month or two into my opening and they said that a bomb is going to go off at 1am. The police came and there were bomb-sniffing dogs. These two German shepherds were moving up and down the balcony sniffing and they didn't find anything but the police said that, maybe to be on the safe side, I might want to evacuate the club. I thought about it and I even had an ex-FBI bodyguard at the time that chickened out and left. I then decided that we weren't evacuating and then at 1am I stood in the middle of the dance floor, as I figured if they are going to blow the club up then I want to go with it. I was a naval officer and naval officers go down with the ship."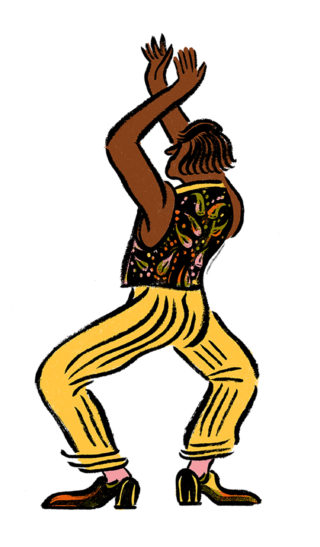 During it's first year, the club was a knockout success. Through its celebrity invites and hosting parties for the opening nights of movies it attracted a high calibre crowd keen to tuck into the free booze and drugs, and an eager press who wanted to keep the club and the celebrities in print on a daily basis, most frequently reported through the page six gossip section of the New York Post.  The success was rapid but it very soon brought the club and its owners to their knees. In a December 1978 interview, Rubell was quoted as saying that, "only the mafia made more money" than they did in 1977, which he estimated at profits of around $7m. It turned out that the IRS read the paper too and they soon realised that Studio 54 had not been paying anywhere near the taxes in relation to that income. Soon federal agents swept through the club, confiscating financial records (including the uncooked books that were hidden in the ceilings) as well as stumbling across a healthy stash of cocaine in the process. Rubell and Schrager were charged for tax evasion due to personally skimming an estimated $2.5m from the club. A further raid took place in 1979 and by 1980 the pair were in prison, sentenced to three and a half years, a sentence that was allegedly lowered on the basis of testimony given in which they named other NYC club owners who undertook a similar skimming practise.
They soon sold the club to Fleischman who, in his 70s today, tells me in a deep, grizzly New York accent about visiting the pair in prison to negotiate the deal. A negotiation no doubt tougher than most because Rubell and Shrager's attorney was Roy Cohn, one of America's most notorious and toughest lawyers, who during his career represented the likes of Rupert Murdoch, Joseph McCarthy and Donald Trump. Shrager and Rubell survived in jail amongst the drug kingpins and hardened criminals by having access to excess cash and paying money to the wife of a murderer they met in there, which bought them protection during their stint.
You might think that seeing two club owners imprisoned and represented by Cohn was enough to rethink the whole deal but Fleischman had already undergone an incident a year earlier that would have sent most people fleeing for the mountains. It took place at the Virgin Isle Hotel that he owned in St Thomas. In 1979 the hotel was targeted in an arson attack, two dogs were poisoned to death and a security guard was decapitated with a machete – all part of an orchestrated attack. In regards to responsibility for such a horrific plot, some suggested local Rastafarians who were angered by the intrusion on their land and others suggested a disgruntled New York club owner who Fleischman had turned his back on in a previous deal.  Regardless of such experiences, he still wanted to press on and desperately own what he considered the hottest club in the world. "I'm an adventurer and I seek adventures," he tells me. "I've always taken on projects that were exhilarating and dangerous and risk-taking. Studio 54 was a risk because when I first signed the deal with Ian and Steve, who were still in jail, it had been open a month already and it was as hot as a pistol; but I remembered how great it was and I wanted to make it great again, so I did."
Things had to change operationally, however. The anything goes drug den that was the basement under Shrager and Rubell had to be no more. "I had to sign a waver with the Alcohol and Beverage Commission that I wasn't going to take people into the basement but people still wanted what they wanted and people wanted to get high, so when celebrities started walking in I'd take them upstairs to my office – everyone from the Rolling Stones to Rod Stewart." It would literally be someone's job to chop out 40-50 neatly and perfectly presented lines of cocaine to start each night. People would then be given either a gold straw or a crisp, tightly rolled $100 bill upon entrance to hoover it up. More tales of drugs and sex fill Fleischman's book, which is page-after-page of cocaine, quaaludes and angel dust-fuelled tales, all of which really hit home the bordering on depraved nature of the partying that took place during those years, under the club's moon that hanged over the dancefloor, snorting coke from a spoon.
In her 2016 memoir, Grace Jones recalls the sense of liberation that floated through the club. With everyone inebriated, high and giddy to be inside one of the most exclusive places in the world, it led to the creation of a space in which anything went. Jones wrote: "Up above the balcony there was the rubber room, with thick rubber walls that could be easily wiped down after all the powdery activity that went on. There was even something above the rubber room, beyond secretive, up where the gods of the club could engage in their chosen vice high up above the relentless dancers. It was a place of secrets and secretions, the in-crowd and inhalations, sucking and snorting."