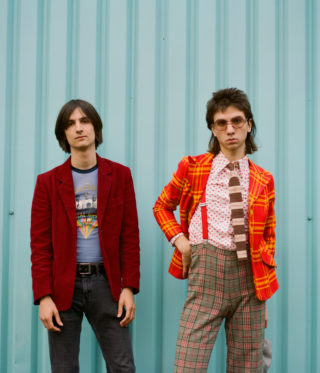 The Lemon Twigs are revisiting the greats of the 1970s, sometimes all at the same time
"Every interview must have a story. This isn't going to be like a Paul McCartney one where you read it and you think, oh man, he said that in the last interview. This is an exclusive, an original!" Michael D'Addario is standing up, wildly gesticulating, his big brother Brian sat beside him head in hands. A story fails to instantly materialise but this is The Lemon Twigs – don't expect the narrative to flow from A to B.
The teenagers from Long Island are in London for their debut UK performance. News of their idiosyncratic stage show and peculiar, knowing brand of classic rock is spreading fast. "We couldn't believe it was sold out," says Brian. "Most places we have played, people are there because of the venue, not for us – this is the first time we have sold out and it's our first time in Europe in general. Every time I buy something I get a joyful feeling. I don't know why, I guess it's the currency." Michael's still standing. "Oh yeah, it's cheap as hell. Tell that to the judge, motherfucker, I am rich now!" Brian smiles fondly at Michael this time. "We haven't even see Paul yet," he says, taking us back to McCartney.
"Simon Pegg is coming later, though," Michael finishes and takes a seat.
Later this evening the brothers will astonish the Sebright Arms basement with an accomplished but joyfully erratic set that playfully captures elements of The Beach Boys, Big Star, even Bowie. Right now they're two polite, slightly giddy young men batting off passing members of the public whilst trying (and failing) to sit still. "Sorry, we're doing an interview at the moment but maybe you could speak to our manager who is just around the corner," says Michael to a smartly dressed couple that stop to ask for tickets. "That fellow was so sharp, he had Beatle boots," says Michael. "There are a lot of Beatle boots here. That's one thing that's different from Long Island. Brian likes London as he likes mods; I don't really like mods, even though I am a little…" He gestures at his choice of clothing. "It's frustrating because people keep saying I look like a mod or that's the mod way." Brian interjects: "You do look just like a mod." Michael's up again, flat cap off, he launches it at Brian's face and the interview careers to a halt once more.
With the brothers back in arms I ask if the infighting is the sibling band thing – you know, the cliché. "No, that wasn't the brother stereotype," says Michael. "It's literally because I just don't want to hear him talk anymore. Sure it's the brother thing on one side of it but it's just association – we have been together now for the past I don't know how many hours. I will be doing it to the other band members as well." He picks up his cap and scopes out the nearby benches for targets. I talk him down by asking about family but it's Brian who answers. "That's been our whole existence. We were singing with each other first before we could play any instruments and our Mum was having us sing harmonies. There are videos of us where she's saying, 'Put your fingers in your ears Michael,' so it's kind of intense. I mean, it wasn't like training or anything, it's just that we happened to enjoy it from the get go. I guess she saw we had talent and because our Dad is a musician she probably hoped we would follow him."
Both Brian and Michael talk animatedly about their parents, and an artistic background and strong familial support have clearly allowed the band to flourish. "Well that's very true," says Michael. "My parents are a bit older and I think when they got together they wanted to, you know… pass on their knowledge, if you know what I mean. So I think that mum was attracted to dad as he had talent. I think she wanted his seed – his seed was worthy!" Michael's up and leaning into the Dictaphone now, just when it was all going so swimmingly. Right on cue another member of public stops by. "Oh, this is my girlfriend's aunt," Michael says distractedly. "We're just doing an interview but I'll be with you very soon."
Michael kindly attempts a more serious tone: "Honestly, Mum and Dad have been really, really supportive and we're very lucky. Dad wanted to come to England with us now as he's a big Beatles fan, maybe next time."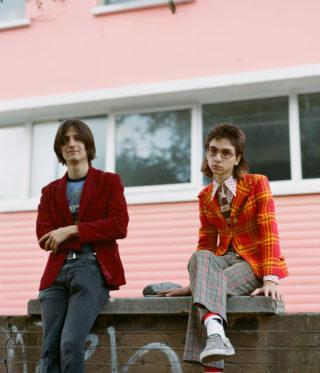 In the entertainment business since a young age, both Michael and Brian were child stars (check out their IMDB pages) so it's with a heavy dose of irony that their debut album on 4AD will be called 'Do Hollywood'. It also happens to have been recorded in LA with Foxygen's Jonathan Rado.
"We recorded the album two Februarys ago," says Brian. "Well, we recorded the basic tracks and then a bunch of strings for the record were done over the course of last year. We knew what the album would sound like long ago; we were just adding bits and pieces. Jonathan was awesome to work with. It was very seamless. We didn't have to explain this one has to sound like this and this one has to sound like that – we had made demo's of the songs previously and he really liked them, he didn't want drastic changes."
Michael grins. "He just recorded it! But he's got a lot of cool stuff."
Brian jumps straight back in. "He recorded it but he got the best tones and he knew exactly what equipment to use. He is always on craigslist or eBay. When we connected with Rado there hadn't been any support before that. We'd had it from our parents, sure, but never from an outsider. We were big Foxygen fans so when he liked our stuff we were just like, 'wow!'"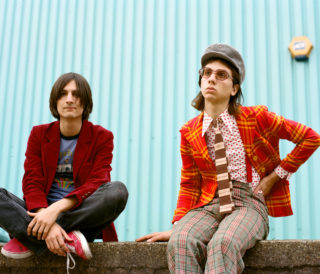 'Do Hollywood' is an album of many parts with songs of many parts. A beautiful, mad jigsaw of ideas, it's a wonder how such disparate elements hang together so remarkably well. The opening 'I Wanna Prove To You', for example, takes in the Minder theme tune, Wings and the kind of '70s prom music that could soundtrack a massacre montage in an early Scorsese movie within its first 60 seconds. Sudden bursts of fairground-ish tunes are another reason why The Lemon Twigs will no doubt not be for everyone. "We kind of write separately and then we come together to edit stuff out," Brian tells me, which makes sense in terms of their 'A Day In The Life' style of songs within songs. "The album is half and half; it goes my song, Michael's song and so on. It's uncomplicated, it makes the most sense."
Michael is a touch more self conscious when explaining his own writing methods, which stands to reason considering he's a 17-year-old exploring his art. "We were writing just regular songs, then we started getting so many ideas," he says. "I always have too many parts, then I get really attached to them and don't want to take them away. I am hoping to not do that anymore! It makes for an intriguing thing but as we develop we are interested in crafting original songs."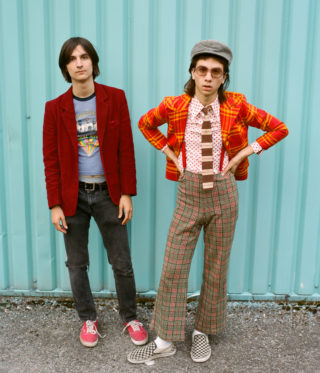 This seems like a perfect juncture to ask the band about comparisons; after tweeting 'NOT GLAM!' in response to an English newspapers feature (it kind of is), I tread somewhat carefully. "Musically it's not really influenced by glam," says Brian. "If you have heard the record, maybe a couple of tiny parts. Of all the music that we are really obsessed with, the glam stuff and that era doesn't come into the equation."
"I love Bowie," contradicts Michael, "and it's certainly not something I avoid. I mean, I know T-Rex but my favourite bands are Big Star and Badfinger and stuff like that. Let's be honest, they are talking about the fashion, but it shouldn't just be about what we look like."
The brothers turned to their parents for advice on the matter – it seems like Brian listened. "If you look on Wikipedia, because our Mum told us to, she said you can understand why they are calling you Glam right? It's because it says it's for people who dress up, wear make up and play music, so I guess they're right! We love the classic rock comparisons and obviously stuff like The Beach Boys."
Further down The Lemon Twigs twitter feed you will find playlist after playlist of Brian Wilson, a passion the young Brian cannot hide. "If you're a fan of his maybe you will go through a year or two of being obsessed and then come away from it for a while but guaranteed you will be drawn back as there is always more shit you know! He is a great songwriter and never lost that, just like we want to be great songwriters."
I never do get to hear that exclusive Lemon Twigs story. Michael's promise is swept up by yet more passers by and our chat stops amidst suitable chaos.
Please support Loud And Quiet if you can
If you're a fan of what we do, please consider subscribing to L&Q to help fund our support of new musicians and independent labels
You can make a big difference for a few pounds per month, and in return we'll send you our magazines, exclusive flexi discs, and other subscriber bonus bits and pieces
Try for a month and cancel anytime