Tkay Maidza is doing it for the women of Australia, and not just the other rappers
Switch it up
In the Northern hemisphere, the phrase "Australian female rapper" can only be associated with one name: Iggy Azalea. For better or worse (read: undoubtedly worse) Azalea is the Land Down Under's only successful female hip-hop export to date. However, some very public celebrity feuds and gratuitous acts of cultural appropriation have rendered her more embarrassment than ambassador. In the past two years, a 19-year-old rapper from Adelaide has been waiting patiently in the wings, crafting a handful of ambitious, radio-ready tracks. Now, with her successful 'Switch Tape' EP behind her and a debut album in the works, Zimbabwe-born Tkay Maidza is poised to redeem Aussie hip-hop on the international stage.
Her effortless flow and polished production have garnered comparisons to the likes of M.I.A. and Azealia Banks, though Maidza is quick to state her admiration for the undisputed queen of contemporary hip-hop. "Nikki Minaj was the reason why I started," she says, having begun to write songs in her mid-teens. "She made me think, wow, girls actually do this thing!" The importance of elevating female voices in an industry dominated by male artists is not lost on Maidza. She recognises that she's a pioneer, and hopes that, in time, she also proves to be a trendsetter. "I'm excited to see how far I go," she says of her recent rise to prominence, "but I think it's just the start of something, a bigger picture for women in Australia – not just rappers, but female vocalists as well."
Maidza is both humble and affable –the kind of person to laugh at a dud joke just to diffuse the tension – though her easy-going demeanour belies a discerning streak.
She's aware of the naysayers who want to divest her of her achievements or discredit her successes, and she isn't afraid to defend herself – "I don't think it's a fluke or anything, because I've been able to play some of the most elite festivals."
In that she means Australia's celebrated Splendour in the Grass Festival (an event she's performed at twice) and earlier this year she was selected to fill in for Lykke Li at the touring Laneway Festival after the singer pulled out due to ill health. "It's like Pitchfork Festival in Australia," she says of the latter. "They always get the Pitchfork kind of people to play there. Not a lot of Australians get to play there."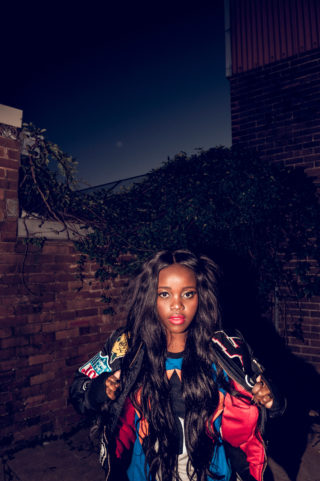 Now that she's made sufficient headway in conquering her homeland, Maidza has set her sights on winning over audiences abroad. She toured the UK in support of major label pop trio Years & Years this summer and tells me that she enjoys playing to people who aren't yet familiar with her work. "I like playing overseas because no one really knows what I do, so I don't have to play crowd favourites all the time. We can change the set and make it more experimental. It's fun to try and win over new people."
Ultimately, she hopes to gather a following in the U.S. and embed herself in the Big Apple's historically rich hip-hop scene. "It's my goal to live and work from there," she says. "If I don't live in New York, I don't feel like I've done what I set out to do."
Like so many tourists, Maidza was instantly smitten with sights and sounds of the city, but, more importantly, she came to understand how the place shaped rap music as we know it. "I realised why people rap about what they rap about," she says. "You can feel the culture just walking around, you can see it everywhere. It's the city of big dreams."
While Maidza may not have a lifetime of urban living to draw from in her lyrics, she finds that her own experience provides her with a wealth of material. "The 'Switch Tape' EP that I wrote last year was about losing friends and getting rid of people that you don't need in your life," she tells me. "The stuff that I'm writing now is more about me trying to find out who I am and me telling myself to keep going. I've written a lot of songs like that lately."
She's also discovered that fame and acclaim have their drawbacks, and she half-jokingly bemoans the fact that she can no longer leave the house looking like "a dag", for fear of being recognised. The sudden materialisation of hangers-on and opportunistic acquaintances has been a legitimate test of Maidza's patience, too. "More people want more things from you", she says. "The more I become known, people feel more entitled to get me to do things for them."
Through it all, Maidza's music remains her respite and her salvation. "It's just my outlet for stress," she says, "that's just how I vent. It's like a therapy session or a time-stamp of my life, I guess. Sometimes I write a song and I don't understand why I wrote it, but then in two months or two years I'll be like, 'oh that's what that song meant.'"
At present, Maidza's debut album is roughly halfway to completion and she's preparing to embark on a tour of Australia in September, with many dates already sold out. Seemingly true to form, she remains modest in the face of adoration; still pleasantly surprised at the level of attention her songs have been receiving. "I just used to do it for fun, and then it actually started picking up and it somehow turned into my job. It's my interpretation of my own life, it's my story"
Free Protomartyr flexi disc with this month's magazine
Subscribers to Loud And Quiet now receive a limited edition flexi disc of a rare track with their copy of the magazine
This month's disc is from Detroit punk band Protomartyr