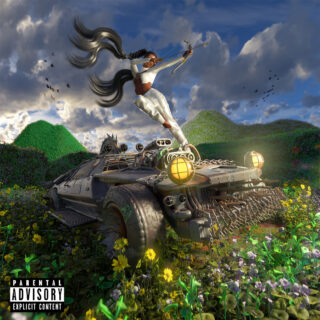 Tkay Maidza
Last Year Was Weird, Vol 3
(4AD)
7/10
As a keen numerologist, it's appropriate that Tkay Maidza chose to chunk-up 24 new songs into a neat triptych of eight-track EPs this past three years. Broadly they've all been reflections on 2016 – the rapper and singer's "weirdest year" – but each has been sonically distinguishable from another. 
So where 2018's Vol. 1 felt like Maidza debuting a new, less dance-y sound and 2020's Vol. 2 fizzed with Missy Elliot-esque jams like 'Shook' and '24K', Vol. 3 feels, in part, like the wind down, the all-back-to-mine-after-the-club vibe. 
Speaking to Loud And Quiet last year, she outlined her vision for the project, an exploration of her own African-Australian experience. "I'm just trying to figure out who I am. So, it's just everyday: everyday people, just mutual experiences, love and friends and that kind of stuff," she said. "This felt like the place I could do it without anyone judging what I said."
By this point Tkay is comfortable switching between her skills – she sings with a spectacularly soulful voice and delivers raps with a devastating flow. The two best tracks here exhibit those interchangeable talents – 'Cashmere' is a cwtchy R&B tune that wouldn't sit out of place on Ariana Grande's Thank U, Next. And 'Kim' – where she joins up with U.S. rapper Yung Baby Tate – is the sort of crunchy grime tune that you can envisage igniting crowd pandemonium at her live shows (Tkay's known for climbing stage furniture, crowd surfing and generally causing mayhem). 'High Beams' falls into that category, too – a test of your soundsystem's low-end bass capabilities. The rest though is less combative – like the summery, piano-based opener 'Eden' and the cosy R&B of 'Onto Me' featuring neo-soul singer UMI. Following those, the gently funky 'So Cold' feels indebted to either Jamiroquai or The Internet – depending on how old and how cool you are. 
After twenty quick minutes it all ends with the self-reflective 'Breath' – which feels like Tkay taking a restorative break after the creative flurry of the past few years. "Why don't we just stay here?", she sings, as if needing a moment to pause and collect her thoughts. Vol. 3 might bookend this chapter of Tkay's career on a mellower note – lyrically this collection feels much breezier – but no doubt there's fire to spare in her belly.
Free Protomartyr flexi disc with this month's magazine
Subscribers to Loud And Quiet now receive a limited edition flexi disc of a rare track with their copy of the magazine
This month's disc is from Detroit punk band Protomartyr