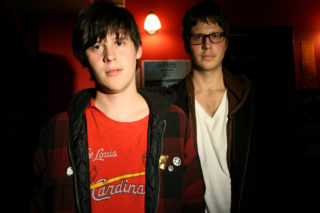 Wavves are doing their bit for legalising cannabis
Weed has long been an inspiration for musicians. Take The Beatles' marijuana-induced attempts to write a song using only one chord on 'Rubber Soul', or Pavement's surreal lyrical flights of fancy on 'Wowee Zowee', for example. We're not comparing them to the fab four, but you can add Wavves to that hallowed list of musicians inspired by the mighty 'erb…
"This is some great weed, real Californian stuff," says drummer Ryan Ulsh as he packs the grainy contents of his small bag into a hashpipe halfway through our interview backstage (well, basically in a cupboard) at London's Barden's Boudoir. "I don't know if you can smell that…"
"That smells good," sighs guitarist, singer and songwriter Nathan Williams, with the fervour of a man rejuvenated.
They might enjoy a toke now and then – and have a song called 'Weed Demon' – but you'd better not call them stoner rock.
"I smoke weed and I play music that I guess could be considered rock music," explains Williams "but my idea of stoner rock is Sleep or Sabbath. I just write songs about whatever I'm doing, and a lot of the time that's smoking weed!"
It's not hard to hear the ganja's influence on Wavves' music – a cross behind the lo-fi scree of No Age, Husker Du's more dreamy moments and The Beach Boys' harmonious hooks, their self-titled debut album and numerous 7-inches are pricking up ears all over.
Talking of the Wilson brothers, the seaside is another big influence on Williams' apparent on 'Beach Demon'.
"We both lived at the beach," says Ulsh, who's only been playing with the guitarist since the start of 2009. "I lived at Virginia Beach and he lived on the west coast, so we both grew up around surf culture.
"Neither of us surf, I would say we both skateboard more than we surf. So the aesthetic is there, the beach aesthetic."
"I'm pretty deathly afraid of the ocean", admits Williams, though.
It's lucky the poor lad's got his garage to stay in, then. Locking himself away with his Tascam four-track and Garageband in San Diego, Williams – fuelled by weed, of course – writes and records everything himself. But will he be getting Ryan to help him out on their future sessions?
"Probably not," he says. "It's just easier to record it myself. Who knows, though? It's just kind of easier alone."
"Nathan does everything live [in the studio]," adds Ulsh, perhaps knowing his place. "It's Nathan's baby, he does the drums on the recording, he does the guitar and the vocals, and he does all the music and writes all the songs.
"We've talked about [me helping] but I don't want to get too ahead of myself."
A second proper Wavves album could be coming pretty soon though, as Williams tells us he already has most of the songs written.
"I've been writing stuff on the road," he explains. "I've got another record, the bones of the record, maybe another ten or twelve songs. I like fucking around with them first, feeling them out, so I have a little bit more structure to the songs before I go in and record it."
Watching the duo perform in Dalston, with Ulsh keeping the drums tight and stripped-down and Williams riffing away under his cries and wordless harmonies, tracks like 'So Bored' become catchier than they do on record – unfortunately, they also become less interesting, losing their edge of mysterious hiss and oblique fuzz, sounding a bit too much like songs a 22-year-old would write in his parent's garage… strange, that. There's also a distinct lack of the experimental ambient tracks that pepper Williams' releases, like the recent 'Killer Punx, Scary Demons'.
"It's pretty stripped down [live], I think everybody can pick out a lot of the melodies, it's easy for people to hear what's going on with just two people," Ulsh later tells me, so maybe it's a deliberate choice to embrace their straighter side on stage.
Promisingly, Williams is keen to play some of Wavves' weirder stuff live also. "Most of the ambient stuff is done on a MiniKorg which would be pretty easy to bring with me and program and work with," he says. "So I think it would be cool to incorporate that, I just haven't gotten around to it."
Typical stoner.
Please support Loud And Quiet if you can
If you're a fan of what we do, please consider subscribing to L&Q to help fund our support of new musicians and independent labels
You can make a big difference for a few pounds per month, and in return we'll send you our magazines, exclusive flexi discs, and other subscriber bonus bits and pieces
Try for a month and cancel anytime