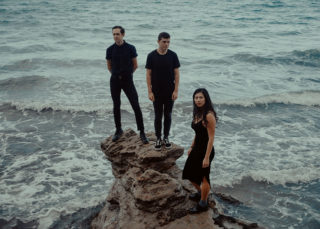 Wax Chattels are a bunch of Kiwi jazz school grads who made their debut LP across two hectic all-nighters
Dana Scully's well into it...
"Apparently they can live up to 90 days." It's around 8pm in Auckland, New Zealand and in Peter Ruddell, keyboardist and vocalist of post-punk trio Wax Chattels, has crickets behind his fridge. Their chirping permeates our entire conversation but the sound, if quite loud, isn't exactly unpleasant. It's a common occurrence these days thanks to New Zealand's hottest summer on record, but that doesn't make it any less of a nuisance. "If they're still in there, it's 3 months of this shit, man," huffs Ruddell.
If not quite the nation's ecology, New Zealand's cultural exports continue to resonate with the UK and US, not least because of the nation's place in the global imagination. "You know New Zealand is sometimes called Godzone – like God's Own Country – and made out to be this place that everyone should emigrate to, a place where there's nothing but beaches and sunshine," Ruddell says. Much of the scenery familiar to Brits looks holiday-brochure pleasant: palm trees and glorious weather at one end, deep green bush and sheep farming on the other (with the occasional Hobbit and rap-funk-comedy folk duo). "It's all lies," Ruddell half-jokes.
Apart from Flight of the Conchords, two things come to mind when you think of New Zealand music; buoyant jangle pop, and the legendary Auckland label with which the genre is now synonymous, Flying Nun Records, home of acts like The Bats, The Clean, and a host of other influential 'the' bands. Recent signees Wax Chattels' fitful, downcast post-punk fits the label's other, stranger canon, starting with the misanthropic noise of The Dead C and continuing today with the vocally-nimble freak folk of Aldous Harding. Admittedly, this divergent timeline is less well-known abroad, but frequent Flying Nun co-sign, Brooklyn's Captured Tracks, is set to raise awareness, according to drummer Tom Leggett: "I guess they want to remind people that it's dark and sad here in New Zealand too."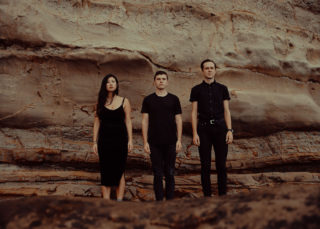 Sure enough, Wax Chattels' debut album channels outward anger at the state of New Zealand today, citing P-houses (meth dens), abject poverty and a high male suicide rate as only some of society's insurmountable problems. "I don't know that the darkness is a conscious thing we have in mind when we make music," says bassist and vocalist Amanda Cheng, "but it's always there."
So, are Wax Chattels an angry band? The three of them can't help but stifle laughter. Leggett clarifies: "It's just funny – whenever I try to describe our music to my non-musician friends, I end up using terms like that – fast, or angry." Indeed, a cursory glance at the group's wholesome Instagram reveals a trio keen on visiting burger joints and playing heaps of live shows. The topic they want to discuss with me most is this: what does the first total stranger to hear their self-titled debut, due out in May, think of their handiwork?
It's a startlingly clear-minded debut, I respond in less prostrating terms – taut with whiplashing rhythms, and obtuse jazz voicing (the three met at jazz school in Auckland University), recorded with nary a glint of studio trickery. In truth, 'Wax Chattels' was recorded almost exactly a year ago, over the space of two hectic nights (starting at 8pm, out by 4:30am) in a windowless studio, with the lights dimmed for effect. "Then I'd go to work in the morning," says Leggett, recalling days spread thin. The sessions were made doubly pressing by Ruddell's impending departure to China to work as a language teacher, so they took to the studio of producer and Auckland legend Jonathan Pearce (The Beths, Artisan Guns) at the first available slot. With 'Wax Chattels', you often get the sense of days numbered, and all the uncertainty of being a musician in your twenties. It's as if they had a day to condense all of themselves into one fearsome document, in fear that they may never get the chance to do so again. Really, it's a rare thing: a thoroughly realised first album.
Not that Wax Chattels need my approval. The group can count among their fans the actor-activist Gillian Anderson, also known as Scully from The X Files (even the mere mention prompts a holler of joy from Leggett). Contacted on a whim by Cheng via Twitter upon the release of their single 'Gillian', Anderson gave them a "full-on endorsement". Naturally, the story was picked up by the New Zealand press ("One in a Gillian reply to Kiwi band's tribute," read one headline). "She even quoted what we said in an interview about it from this link I sent her, so even if she just skimmed it, that was still pretty cool," says Cheng. I tell the group that I'm currently in the middle of watching The X Files' second season, in which Scully is abducted by aliens and largely absent from the show's main action – a narrative device bred from filming constraints related to Anderson's clearly visible pregnancy at the time. "Nah, you don't wanna bother with that season," says Ruddell.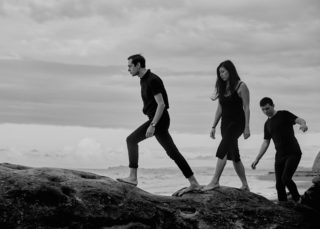 A tour of America is in the pipeline for the group, which would probably be more daunting had they not recently returned from a run of shows in East Asia. "China was brutal," says Ruddell. "Get up early early, get to the venue, soundcheck, get dinner, rinse and repeat – with only one day off for the entire leg. That was trial by fire. When you're touring New Zealand you basically play weekends. You'd drive down to Wellington or something, play a show on Friday and Saturday night, then drive back up for Monday morning and turn up at your regular job." The group's extensive tour of small shows in "tiny cities" across China were matched by surprisingly big appearances in Taiwan: "we played this gig that was to be this particular venue's final show, so they put on this huge party, with a film crew getting the whole scene. It was just chaos – totally great".
New Zealand in the past has seemed like its own microcosm, a series of big fish in a small pond, but more bands like Wax Chattels are seeking their fortunes abroad these days. Ruddell clarifies: "the scene in Auckland, if not the country in general, is really strong at the minute. More importantly, people are really pushing and figuring it out."
Among the restless are groups like the "fucking sick" noise-turntablists The All Seeing Hand and noise pop stalwarts Die! Die! Die!, a key inspiration for Wax Chattels, who regularly make stops in Europe. "Bands have recently had larger aspirations, going overseas a whole bunch more than groups five or ten years ago – making a real go of it. It used to be that bands of… I don't want to say it but, slackers, just wanted to stick around."
"All it takes is to see a band you know head overseas," Cheng adds diplomatically. "It's what gets you thinking, 'oh hey, we can do that too'. It begins to feed a sort of collective ambition."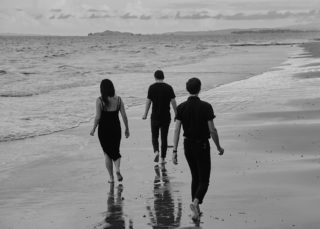 Loud And Quiet needs your help
The COVID-19 crisis has cut off our advertising revenue stream, which is how we've always funded how we promoted new independent artists.
Now we must ask for your help.
If you enjoy our articles, photography and podcasts, please consider becoming a subscribing member. It works out to just £1 per week, to receive our next 6 issues, our 15-year anniversary zine, access to our digital editions, the L&Q brass pin, exclusive playlists, the L&Q bookmark and loads of other extras.