Why this record label are releasing 100 songs in the first 100 days of Donald Trump's presidency
Secretly Group release loads of your favourite artists, they explain why they're putting out new music every day for more than three months to benefit causes marginalised by the latest US administration
Following the election of Donald Trump there was a lot of talk about the potential for the struggle against the new administration to inspire a new wave of protest music. One organisation that has immediately taken this idea and committed it to action is the Secretly Group (composed of the independent record labels Secretly Canadian, Jagjaguwar, Dead Oceans, and The Numero Group).
Working with 30 Days, 30 Songs, Secretly Group has organised the Our First 100 Days projects. Over the first 100 days of the Trump presidency they will release 100 songs by artists such as Angel Olsen, How To Dress Well, Mitski, PWR BTTM, Minus The Bear and Into It. Over It.
The songs will be released in a subscription format, with all 100 songs being available for a minimum donation of $30 and all the proceeds going to charities and organisations that will support those who will be hurt by the Trump Administration. Places like Planned Parenthood, People's Climate Change and Southerners on the Ground.
I spoke to Phil Walforf, the Secretly label co-founder, and Jon Coombes, the head of publishing, to learn more about Our First 100 Days, the importance of art and politics and their advice for people who want to organise their own projects.
L&Q: Firstly, what are you trying to achieve with the project?
Jon: I don't think we have a hard goal in mind, we're just trying to raise money for organisations that do good. Every penny that's being generated is going to causes that are needed right now. We're well on our way to six figures, and if we can hit that mark I'll be thrilled.
How important do you think music, art and culture as political acts are going to be over the next four years of Donald Trump's presidency?
Phil: I think artists have an amazing platform, and it helps put things in front of people whilst still they're doing the things they like to do. They still want to be entertained, they still want to laugh at jokes, hear good music, watch film. I think it's going to be a crucial platform. I think the one challenge of it is so many of the artists that are speaking out, their audiences largely agree with them. While I think that's great as a call to action, I also hope that artists are doing things to reach people that didn't vote for Clinton, or didn't vote at all maybe more importantly.
Jon: I agree. I think it's vital that they start reaching out. Whether that's touring in smaller markets that here in the states voted red, I think that's one step. Being mindful about where your dollars are going when you are donating is another. One of the charities we're working with is called Hoosier Action. The money we're raising for that goes to help impoverished communities in Southern Indiana. [The Secretly Group headquarters are] based in Indiana and that is a part of the country that voted deep red. So it's that thing of being mindful of where your dollars should go. It's a step everyone can take to help bridge a gap. As far as where music falls in that, I think music is in a very unique place within the arts where it's omnipresent. A message can be delivered when you're walking down the street, at your desk, doing laundry, going for a run, unlike film where you have to be in front of a screen, or a painting where you have to be in a museum, which I think makes music really, really special.
I agree. You can be exposed to something coincidentally on the radio and it can still have such an effect on you.
Jon: Yeah, that subversive quality is very unique.
Secretly Group is made up of independent labels and artists who largely don't have commercial interests limiting what they say. When it comes to reaching audiences who voted Trump, do you think major labels and mainstream artists will be needed?
Jon: I think it's happening. Just look at the entire history of hip hop, which has always been a politically motivated genre. I do hope that our bigger pop stars, our Taylor Swift's, our Katy Perry's, our Adele's are coming out and saying something. Those artists have audiences in parts of the country that a lot of hip hop doesn't.
Phil: I think you have to be respectful of people that disagree with you and find a way to say it in a non-condescending manner and have a real conversation. I recognise we're afforded the liberty of having an audience that largely agrees with us, and it would be much more complicated if what we were presenting wasn't something the majority of people who liked the music agree with.
Are there any musicians or moments in music that have particularly inspired you politically?
Phil: I grew up in Washington D.C., so when I was young I saw bands like Fugazi, Bikini Kill, Nation of Ulysses. A plethora of punk and indie bands that were outspoken and political, so some of my earliest impressions of music were tethered to activism. I went to so many benefit concerts as a teenager that were very local in nature. They weren't necessarily benefiting national organisations, but rather a local shelter of a local clinic or something of that nature. I think those early experiences as a music fan were incredibly formative to me.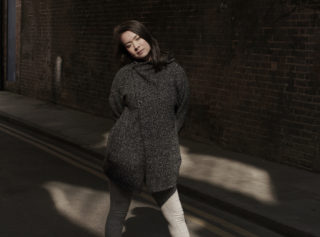 Do you guys have any advice for people who want to start doing things like that in their own area?
Phil: I think focusing on what you're good at is really important. If you're great at putting events together, do benefit concerts. If you're a prolific songwriter, write songs and and pass on the proceeds. But I also think it should stretch beyond that. The thing that is going to really matter in the next four years is people getting involved on a very local level. I heard something on the news the other day – if five people show up to the office of a state senator because they support that person, that's a huge impact because those are shoestring operations and five volunteers can go a long way in enacting better policy. So I think as much as you can get involved on a local or grassroots level is going to make a really big difference.
Finally, are there are songs that you guys are particularly excited about on the compilation?
Jon: We were really excited to kick things off with Angel Olsen and following that with PWR BTM. A large portion of these songs aren't politically motivated in their lyrical content, but those two are that I'm really excited about.
Phil: There's a couple that just as a fan I was really blown away by. There's a band I like called The Cross Record that put together a song for this and I thought what they delivered was terrific. They're probably one of the pleasant discoveries as they're one of the lesser know artists, but that's part of the project as well. Hopefully people stumble across some new artists that they like. I guess the other one – we work with a British songwriter called Bill Fay and Bill delivered a track that was on the original collection of demos we heard when we were first thinking about working together, and it was my favourite of the demos but they never quite finished the song in the studio, so there was this unfinished skeleton and I'm just really excited we got to finish it for this project.
Loud And Quiet needs your help
The COVID-19 crisis has cut off our advertising revenue stream, which is how we've always funded how we promoted new independent artists.
Now we must ask for your help.
If you enjoy our articles, photography and podcasts, please consider becoming a subscribing member. It works out to just £1 per week, to receive our next 6 issues, our 15-year anniversary zine, access to our digital editions, the L&Q brass pin, exclusive playlists, the L&Q bookmark and loads of other extras.