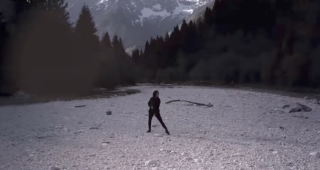 Huge pop stars, take note of this dramatic video from Josin for 'Feral Thing'
You don't need Katy Perry-sized budgets to make an attention-grabbing clip
You know Josin? No. Good, nor did I until this past weekend.
Listen to 'Feral Thing', and it sounds like a track that could have been lifted from Thom Yorke's 'The Eraser' sessions, with her languid vocal and twitchy sonics.
But it's the video which makes the whole thing even more stunning.
Josin says she made up most of the choreography on the spot. It's filmed among the precarious rock formations, deep ravines and rushing mountain rivers of Slovenia's beautiful Julian Alps. It was done with just one cameraman/drone pilot, Marc Neckermann.
Josin's story: She's German artist, Arabella Rauch. Both her parents are opera singers. Until recently she was pursuing a career in medicine, studying in Nice, France, before giving it up to commit to music.
"It has never been my plan to dance in front of a camera for one of my songs, but somehow this idea got its own way," she says of this new clip.
'Feral Thing' the latest track to be released from Josin's debut EP, 'Epilogue', which comes out via Dumont Dumont on 2 June.
We're not being funny...
… but can you become a member please?
It's actually excellent value, and will help us continue to promote new independent artists and labels.
Sign up and you'll receive our physical magazines delivered to your door, our digital editions, exclusive podcasts and playlists and an actual bookmark, as if printing a magazine in 2021 wasn't old fashioned enough.
6-month and full year memberships are available now. Fancy it?