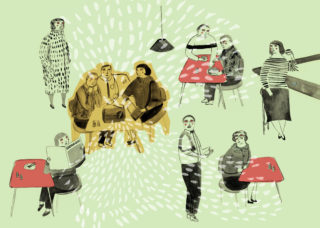 Loud And Quiet Radio on Resonance FM – listen back to episode 3
Did you miss it? Well, you're in luck
Once a month the generous people at Resonance FM hand over their radio station to us for an hour.
For Loud And Quiet Radio we like to keep things simple; playing new music we've discovered in the past few weeks.
That means for episode three (broadcast on 24 November) there was new music, an intellectual discussion about Christmas songs and a funny story about a British acting legend. Listen back below, and find the full tracklist.
What we played:
HMLTD – Stained
Totally – Falling Apart
Wall/Merchandise/Parquet Courts – Fire Dance
Noga Erez – Dance While You Shoot
Tom Furse – Listen
Alyusha – Moshi Moshi
A Winged Victory For The Sullen – Prologue Iris
White Dog – Locked Out
Video Nasties – Albatross
Adia Victoria – Horrible Weather
Listen back to episode one and episode two.
Subscribe now. Cancel anytime
Go on, give us a go
We love making Loud And Quiet – our magazines, this website, our podcasts and more – but it's become increasingly difficult for us to balance the books.
If you're a reader who'd like to help us keep the show on the road, please consider becoming a Loud And Quiet subscriber. There are options to receive our physical magazines and lots of other extras that are exclusive to our supporters.