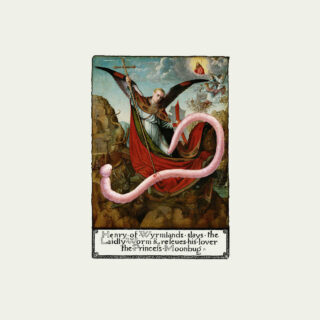 In his so-surreal-it's-actually-real 1989 book Lipstick Traces: A Secret History of the 20th Century, America's premier music journalist and cultural critic Greil Marcus posed the question of whether "the Sex Pistols could be considered a historic event"? Well, some thirty years later, one wonders whether "HMLTD could be considered a historic non-event"? 
In their frenzied rise to indie notoriety in 2017, the six-piece were hyped up as "rock's saviours" by The Guardian, "the UK's most thrilling new band" by the NME, and "the real fucking deal" by this very publication. The edgy art-punks championed a Gesamtkunstwerk approach, mixing fashion and spectacle with dissonant rock songs that had a penchant for overly-reverbed electronics. Then it all went tits up. 
They were signed and dropped by Sony after spending hundreds of thousands on a never-released album, were accused of appropriating queer culture, and then maybe most unforgivably for a band that projected themselves as the avant garde, in 2020 they released their insipid debut album West of Eden. 
Whereas Sex Pistols closed their ferocious debut (and only) album with the scathing 'EMI' where they went for their former label's jugular, unleashing a rabid Johnny Rotten who reveled in the animosity, bellowing "You thought we were faking / That we were all just money making / You do not believe we're for real". On HMLTD's debut, the proclaimed provocateurs didn't really say anything. The album instead hosted a mash of styles, all underwhelmingly executed, that tried to cohere a half-baked concept that sounded like an abandoned draft for Aladdin Sane. Bafflingly, the album's best song ('Blank Slate') and worst song ('Mikey's Song') both ended up sounding like Suede. It turned out that Britain's most thrilling new band were its most boring. 
Three years later and the signs coming into their follow-up album The Worm are ominous. Lead single 'Wyrmlands' is confounding, boasting an annoying post-punk-fusion sound; what Bitches Brew would sound like if it had been recorded at a home-counties boarding school after someone brought a tonne of salvia and David Bowie's Outside back from Amsterdam. 
However, for all its annoyances 'Wyrmlands' does do its job at setting the scene for this very proud concept album about *check notes* ah yes, a worm. Across the album's 40-odd minutes, the titular Worm takes on a bafflingly number of meanings – from an evil force that has consumed a cyberpunked medieval England that must be slayed, to the depression that vocalist Henry Spychalski is admirably unerring in addressing in this album, to perhaps even being the Snake in their own Garden of Eden – Sony. 
Whatever it is, the worm's shape-shifting form flows throughout the nine songs on this ridiculous but revelatory album whose sound can be best described as "silicon renaissance". It turns out the borderline-musical sound is the perfect form for HMLTD's extravagance and allows them to balance genuinely enthralling sonic experimentation with satisfying narrative intrigue and climatic song-structure. Soaring ballads such as 'Days', 'Liverpool Street', and closer 'Lay Me Down' crawl out from the husk of mind-bending – but incredibly listenable – epics such as the title track which sounds like if The Bachelor era Patrick Wolf soundtracked a Rocky montage.
The Worm builds to the seven-minute 'Past Life (Sinnerman's Song)', the best song the band has ever penned. The song's first half is a wondrous riff on Penguin Café Orchestra's 'Perpetuum Mobile' which culminates in a transcendent minute-long mantra to "keep the faith". For a band who felt incapable of connection in their debut, it's a genuine moment of purity.
Make no mistake, The Worm is a sea change, as much as Primary Colours was for The Horrors. An album borne out of a sincere soul-searching and one of the most well-executed concept albums of recent times.
Please support Loud And Quiet if you can
If you're a fan of what we do, please consider subscribing to L&Q to help fund our support of new musicians and independent labels
You can make a big difference for a few pounds per month, and in return we'll send you our magazines, exclusive flexi discs, and other subscriber bonus bits and pieces
Try for a month and cancel anytime