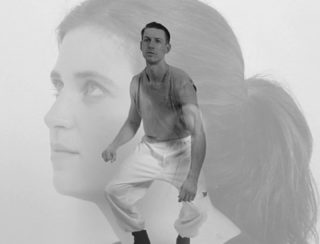 Pillow Person and XX Teens' Anthony Silvester have made a killer, weird slow jam as TECHNOLOGY + TEAMWORK
Drive slow to the brilliantly not slick 'K+B'
If you, like us, were just the other day thinking 'XX Teens were fun. What are those guys up to these days?', well, we've got some of the answer.
TECHNOLOGY + TEAMWORK is a recent collaboration between Anthony Silvester from the band and Sarah Jones.
You may know Jones as the drummer from Hot Chip and many other projects, but last year she released a handful of great tracks as Pillow Person. You can read one of her first interviews about it here.
Silvester's old band were last seen in 2008 after the release of their long-awaited debut album on Mute – 'Welcome To Goon Island'. A sloppy/tight mix of LCD cowbell and the Mark E Smith speak-sing that became XX Teens' thing in 2004, the only thing that was wrong with 'Goon Island' was how long it took get down onto tape. XX Teens bothered themselves more with squeezing onto small pub stages (all 100 of them) and playing in white shirts and black trousers and sunglasses, like office temps giving it a go. Naturally, it was great.
TECHNOLOGY + TEAMWORK have already sneaked out a couple of tracks, but this new one, 'K+B', kicks off work for a debut EP, coming later this year. It will be released via the duo's own label, NFNF (it stands for Never Forgive Never Forget), on July 21, produced by Felix Martin from Hot Chip.
We're not being funny...
… but can you become a member please?
It's actually excellent value, and will help us continue to promote new independent artists and labels.
Sign up and you'll receive our physical magazines delivered to your door, our digital editions, exclusive podcasts and playlists and an actual bookmark, as if printing a magazine in 2021 wasn't old fashioned enough.
6-month and full year memberships are available now. Fancy it?