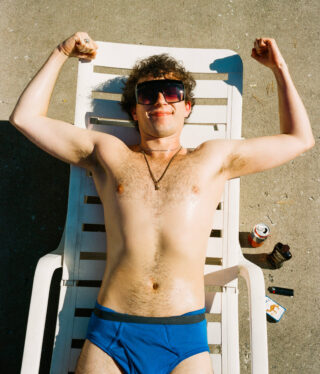 Losing My Edge: We asked Shame frontman Charlie Steen what his favourite song is, really
Don't try to be cool
Stuart Stubbs: Hello Charlie. Please tell me what your favourite song is? 
Charlie Steen: I don't know if it's my favourite, but I really love 'Minor Swing' by Django Reinhardt. 
SS: Yeah, but what is it really? 
CS: Ok. It's 'The Pretender' by Foo Fighters.
SS: Now we're talking. 
CS: I refuse to believe that anybody can listen to it and not get it; not understand how someone can like it. It's like going to the cinema and seeing Batman or any Hollywood blockbuster. You know what you're getting and it fucking delivers. 
SS: Tell me about how you first heard it. 
CS: My dad used to drive me to school listening to Absolute or Xfm, or whatever it was called at the time, and they would have been playing it. At that age, as an early teenager, it would fit with the angsty stuff I liked, like Linkin Park. I even liked – this is going into a weird realm now – I even liked… Nickelback. 
SS: Jesus Christ.
CS: And Feeder. Weezer. All very melodic and angsty and whiney and over the top.
SS: Were you an angsty teenager Charlie? 
CS: I wasn't very popular, at all. When I started secondary school I didn't have any friends. One person came to my Year 7 birthday party.  
SS: Oh mate. What was their name?
CS: He was Laurie. Laurie Batchelor. A fucking hero. After a few years I met Eddie and Josh from the band, but in those first couple years I was angsty, yeah. A black sheep. 
SS: What had you done to upset your classmates so much?
CS: I had glasses, I didn't like football, I didn't have Nike trainers or a cool jacket. Eddie remembers that on non-school uniform day I came in in a brown vest with a dragon on it from Primark. 
SS: That's very brave. A vest in any colour, I mean. 
CS: It was. I think I was quite confident, and I don't think I've changed that much. But when you start Year 7, the difference between what personality is allowed in comparison to when you're a real person is very different. 
SS: Back to 'The Pretender' – have you ever seen Foo Fighters perform it live? 
CS: No, but we were supposed to play with them at Wembley Stadium last summer. And then Taylor Hawkins died, which was fucking tragic.  
SS: They play for up to three hours per night, which is too long, isn't it? 
CS: Yeah, it is. I remember speaking to Beck once and I asked him how long he plays for and he said: "Y'know, I used to play for 44 minutes, because I looked into it once and it said the average human attention span is only 44 minutes, so that's how long I play." I was like, "Yeah, that's fair enough." 
SS: Did Beck give you any other advice? 
CS: We saw him recently at Primavera and it was nice to see him again… Oh yeah, he did give me fucking advice. I was with Grian from Fontaines and we were chatting with him, and we were just about to go in to record the new album [Food for Worms] with Flood, who he knows. I asked him if he did everything on Odelay, and he said yeah. So I asked if he had any advice on the mixing. He said, "When you mix, put on a song that you love and want it to sound like. Then put on your song that you're mixing. And then put on another song that you love afterwards, so it's sandwiched in between." And try to make yours fit. I think he did it with a Led Zeppelin song on one side and a Beatles song on the other. It's good advice. 
SS: It sounds like you're best friends with Beck? 
CS: I don't think we're best friends, but he seems like a very lovely person.   
SS: Dave Grohl has that reputation too. People are always calling him the nicest man in rock, aren't they? How would you like your peers to refer to you? "Charlie Steen –  the…"?
CS: Oh, fucking hell. I don't know… I really don't… "The biggest blagger in rock"?
SS: I think that might be Nickelback. 
CS: Yeah. We'll only put Nickelback on when we're driving through LA now. "We all just wanna be big rockstars."