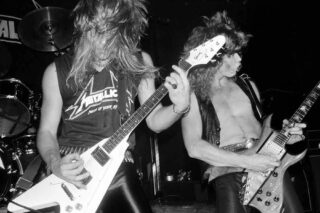 Primer playlist: a beginner's guide to classic thrash metal
From Slayer and Metallica through to Candy and Power Trip
A quick qualification to begin with. It's quite hard to write something concise about a metal subgenre without getting completely mired in the category gerrymandering which has plagued generations of heavy music at this point. So it's probably worth defining the terms here: when we talk about thrash metal in this L&Q Primer Playlist, we're referring to the speedy, punk-inflected stuff that burst out of California in the early 1980s, typified by the likes of Metallica and Slayer (who, let's be honest, are by far the most significant two thrash bands, and between them will be the main focus here), and a selection of the music that's been most audibly influenced by that original wave in the decades since. We're not going to be lumping in stuff like grindcore, doom, black, or death metal – but we'll also be tracing a line through thrash for the general reader, not the devoted, micro-genre headbanger who'll get upset if we're deemed to be a little fast and loose with our terms. It's not that there's no place for that kind of precision – but this isn't it.
That disclaimer done, let's start from the (arbitrary) beginning. Despite its ultimate association with the western U.S., some of the earliest glimmers of what would become thrash actually emerged from the U.K. in the form of Newcastle's Venom and Stourbridge band Diamond Head. Neither of these are technically thrash groups (before anyone jumps in), but emerged from the fringes of the New Wave of British Heavy Metal scene made famous by bands like Iron Maiden and Judas Priest. Compared to the operatic camp of their British peers, both Venom and Diamond Head were significantly darker and more stripped-back, combining the amphetamine grunt of Motörhead with the apocalypticism of Black Sabbath and a more generalised sense of (post-)industrial rot. Check out the teeth-grinding 'Black Metal' by Venom, or the stylised oblivion of Diamond Head's 'Am I Evil?'; it's pretty intense stuff, even to today's listener.
It's easy to hear why a generation of gobby young Californians found something to identify with in this stuff, as they sought to push metal into heavier, more unforgiving territory at the start of the new decade, following the cementing of the genre's key components over the course of the 1970s. Their efforts began to come to fruition in 1983, the year Slayer and Metallica both released their debut albums, Show No Mercy and Kill 'Em All. Both records are lo-fi and precocious, the sound of angry, energised kids buzzed up on West Coast hardcore, British metal and watery beer. With tracks like 'The Antichrist' and 'Black Magic' on Show No Mercy, and 'Seek and Destroy' and 'No Mercy' on Kill 'Em All, it was clear that under the vaguely obnoxious juvenile exuberance of both bands lay a lean potency, matched in its fierceness only by their very obvious – but rarely flashy – instrumental virtuosity. Guitar solos and arrangement intricacies aren't mere displays of technical prowess on these records; they're coruscating, unpredictable implosions of light and speed, violent power surges overwhelming a blackened grid. 
Both bands grew up fast, rapidly expanding upon their ambitions and abilities through experiments with lengthier tracks, more complex arrangements and more considered subject matter (compare Metallica's 'Metal Up Your Ass' to 'Fade To Black' for a pretty blunt illustration of that shift). Metallica followed up their debut with 1984's Ride The Lightning, a far heavier, gloomier record than Kill 'Em All, that album's punky enthusiasm substituted for a thick, claustrophobic murk. 'For Whom The Bell Tolls' is perhaps the highlight, but bassist Cliff Burton's instrumental opus 'The Call of Ktulu' (Metallica sharing a passion for Lovecraft and weird fiction with many luminaries of the British post-punk scene which was unfolding at the same time) has a malevolent slink that's hard to resist. Slayer caught up in 1985 with Hell Awaits, a starker, more sinewy work, hinting towards the austere brutality that was to follow on their next full-length. 
Slayer and Metallica are commonly referred to as two of thrash metal's Big Four, along with Megadeth and Anthrax. That's always been a bit of a lopsided term though – Metallica tower far above the rest commercially, and Slayer have always been the critical darlings, with Megadeth and Anthrax both looking insignificant by comparison. It's not that these bands don't warrant inclusion in the wider story of thrash – Megadeth's Dave Mustaine was an early member of Metallica, after all, and New Yorkers Anthrax, the one non-Californian band here, can be reasonably credited with bringing the nascent sound of this skinnier, pacier metal to an East Coast audience – but if you think that tracks like 'Madhouse' or 'Symphony of Destruction' measure up to the raw thrills of 'Battery' or 'Angel of Death', or that either of the smaller groups did anything like as much as their Californian peers to popularise extreme music around the world, you're sorely mistaken. Or Dave Mustaine. 
1986 was a big year for all four groups though, with Slayer, Metallica and Megadeth all releasing their most enduring albums – Reign In Blood, Master of Puppets and Peace Sells… But Who's Buying? respectively – and Anthrax continuing to build on the success of their rapidly-released first and second records, Fistful of Metal (1984) and Spreading the Disease (1985). Reign In Blood and Master of Puppets are by far the best albums mentioned anywhere in this Primer, two genuine classics of any genre which should be required listening for even the most metal-shy music fan. They also neatly encapsulate the difference between the groups who made them, the former a no-frills exorcism of extreme textures and caustic vibration, the latter a more sprawling, multi-timbral beast, on which it's clear that James Hetfield, for all his flaws as a lyricist, is the best pure rhythm guitarist of his generation, Cliff Burton the most creative bassist, Kirk Hammett a less dazzling but still incredibly accomplished soloist, and Lars Ulrich a very lucky man indeed. 
With those releases, it's fair to say that thrash metal more or less peaked. Slayer continued to release very good thrash albums pretty regularly – South of Heaven (1988) and Seasons in the Abyss (1990) are both well worth your time, while 2009's World Painted Blood is the pick of their late-career work. Metallica released one more truly great album, 1988's …And Justice for All, and achieved an enormous commercial breakthrough with 1991's Metallica (widely known as The Black Album), with tracks like 'Enter Sandman' and 'Nothing Else Matters' becoming genuine chart hits. Yet the FM choruses and chugging tempos of that record were the first step towards what Metallica would become for the next decade-and-a-half – a proto nu-metal/hard rock outfit, as plodding and macho as they used to be youthful and mischievous, responsible for some of the most aggressively boring music of the 1990s. It would all come to a head in the early '00s, with the release of the awful St Anger, an incredibly cringe documentary about that album's creation (Some Kind of Monster) and Lars Ulrich well and truly showing his arse over the rise of Napster and file-sharing. 2008's Death Magnetic was a very partial return to thrashier form, and 2011's notorious Lou Reed collaboration Lulu was at least an interesting failure, but you don't really need to bother with them unless you're extremely curious. 
The legacy of thrash does live on with newer artists though. The most notable of these is perhaps Power Trip, the Dallas, Texas group who spent much of the 2010s fusing classic thrash with hardcore punk, grindcore and radical politics. Tragically, their frontman Riley Gale passed away in 2020 aged just 34; the band's future is therefore in doubt, but a listen to a record like 2017's Nightmare Logic – one of the most exhilarating heavy releases of the decade – will demonstrate why his work meant so much to an entire new generation of thrash fans. Finally, if you're into what you hear from Power Trip, the most exciting current act carrying on their legacy of blending thrash and hardcore in new and interesting ways is probably Candy, the Virginia/New York/Los Angeles collective making serious waves at the moment thanks to releases like recent album Heaven Is Here. They're intense, inventive, and very, very good. Get stuck into some of their tracks – along with the best of the rest mentioned earlier in this piece – on the playlist below. 
Listen now
Spotify
Apple
YouTube