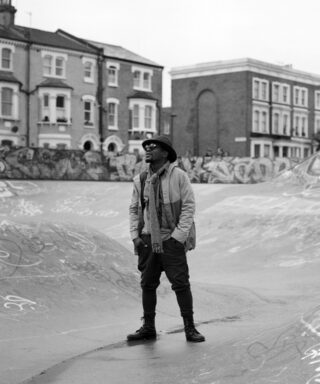 Primer playlist: Roots Manuva, trailblazing maverick of UK rap
A deep dive into the work of South London pioneer Rodney Smith
It took a while for the UK to catch up with hip-hop. Really, before grime emerged, fusing certain hip-hop aesthetics with a distinctive evolution of the British-Jamaican heritage so key to the development of everything from reggae to jungle, British rap music was largely a wilderness of dodgy Americanisms and unsuccessful experiments. But there are always exceptions. And few UK artists of the past 25 years have been more exceptional than Roots Manuva.
Born in South London in 1972 and growing up in Stockwell, the kid then known as Rodney Smith was exposed to the Jamaican music and soundsystem culture that would prove so influential for him from a very young age. "Soundsystems were always there. Soundsystems were there playing at weddings, at funerals, at parties," he told Red Bull Music Academy in 2010. "I can't remember the first time I ever saw a soundsystem, but it was something I was always drawn to. I just loved the wires; the way they used to stack the sound."
Smith made his debut as an MC at the Deptford Albany, a community-focused theatre in South East London, a show he remembers as "terrible". But after honing his craft further as he entered young adulthood, working in studios and playing countless small shows around the city, he was discovered by Big Dada, the hip-hop-focused imprint of legendary jazz, electronic and experimental music label Ninja Tune, and everything changed.
The first Roots Manuva album, Brand New Second Hand (1999), sets out his stall perfectly. In their nonchalant way, tracks like 'Clockwork' and 'Movements' provide a masterclass in adapting aesthetics from distinct cultures – here, US hip-hop and UK bass music – to produce something honours its influences without simply copying them. The grooves are effortless, the production gorgeously rich, but it's Smith's voice that steals the show. His unique flow, somehow boomingly declarative and smartly laidback at the same time, is as perfectly blended as his production, borrowing from US boom-bap MCing and soundsystem toasting in equal measure. Of course, those cultures had always been intertwined to a certain extent, as any hip-hop history worth its salt will show you, but Smith's idiosyncratic fusion, so firmly rooted in South London, suggested something new and innovative.
Run Come Save Me came next, in 2001, and now we can't really go any further without mentioning the track that has most defined Smith's career: 'Witness (1 Hope)'. 20 years on from its release, 'Witness' still lurches from the speakers like nothing else you've ever heard, its trademark ultra-thick bassline clearing the air before it like a sprinting elephant. Famously, Smith happened upon this joyously heavy, triplet-led lollop while trying to recreate the theme from Doctor Who; he's since admitted that happy accidents like this have been a big part of his craft throughout his career, and in the nicest way, you can tell. So much of the Roots Manuva catalogue is audibly homemade and rough around the edges, inflected with the kind of parochialisms and eccentricities you just don't get elsewhere; indeed, you could argue that it's this DIY sensibility that both set him apart from his US copycat peers and made him such a formative influence on the nascent grime scene.
The lyrics to 'Witness', delivered with commanding clarity atop that anvil groove, have probably been praised quite enough by now, but it's hard to tire of lines like "Taskmaster Burst the bionic zit-splitter / Breakneck speed we down ten pints of bitter". All the while, Smith sounds like the smartest man in the room, a figure both entirely of his surroundings and totally unlike anybody else within them. 'Witness (1 Hope)' remains his biggest hit, its enduring popularity helped along by its charming music video, and earns its place in the UK rap pantheon before the end of the first verse.
Within a couple of years of his commercial breakthrough, grime had somewhat stolen the UK rap limelight from Smith – not that he seemed particularly bothered. He just carried on what he'd always done: pushing Roots Manuva forward. Although he never quite equalled the crossover success of 'Witness', the run of albums that followed between 2005 and 2011 is full of treasures: the breadth of ideas (of consistently immaculate quality) shown on tracks as diverse as 'Chin High' (from Awfully Deep), 'Jah Warriors' (from Duppy Writer), 'Let The Spirit' (from Slime & Reason) and 'First Growth' (from 4everevolution) is unrivalled in UK rap.
After 4everevolution, Smith, now a family man living in leafy Surrey, took a break from releasing music, but returned as fresh and creative as ever with 2015's Bleeds. Perhaps his most ambitious creative leap yet, it's a record in direct dialogue with the scenes and genres to which his early work was so inspirational. The lo-fi futurism of grime, the laidback menace of road rap, the restless energy of footwork and the creepy flexing of trap haunt the album, a far more sombre and melancholic set than fans of Smith were accustomed to. Not that it's without his trademark humour – just listen to the the darkly funny 'Hard Bastards', featuring lines like "And most broke cunts are all true bastards / And most rich cunts are even more bastards" – but it's his most grizzled, introspective LP, on which his restless creativity rubs up against the weary wisdom of the now middle-aged Smith. It's heavy, but rewarding.
As I write in 2021, he's been relatively quiet since Bleeds, the recent standalone single 'So Jazzy' his only output for some years. Here's hoping it's a sign that he'll make his grand return soon; for now, treat yourself to some time spent with his back catalogue.
Listen on Spotify
Listen on Apple
Listen on YouTube