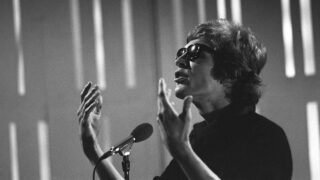 Primer playlist: Scott Walker
Our member-only guide to the work of 1960s pop pinup-turned-experimental auteur, Scott Walker
There's never been anyone quite like Scott Walker. Born Noel Scott Engel in Ohio in 1943, he rose to fame as a handsome teen idol with easy-listening pop band The Walker Brothers in the mid-1960s. Following their dissolution in 1968, Walker embarked on a solo career, and that's when things started to get really interesting. 
His first four solo records, inventively titled Scott 1-4, start off innocuously enough, the first couple of albums mainly consisting of sophisticated, baroque-ish pop, all swooning strings and elegant arrangements that duck and dive around his uniquely engaging baritone. Yet on Scott 3 and particularly Scott 4 (both 1969), the arrangements darken, become stranger, complementing the increasingly esoteric, complex lyrical subject matter. By and large, these were still songs you could get away with playing at your nan's, but if you were listening closely, there was something quite different developing here. And it helped that the songwriting, avant-garde or otherwise, was superb.
The early 1970s weren't particularly kind to Scott Walker. As his music grew more challenging in the late '60s, record sales had declined, and for a few years he somewhat lost his nerve, releasing some pretty naff albums of covers and half-baked country-pop to get the cash flowing again, before eventually reuniting with The Walker Brothers. With his old band, he initially pursued a similarly unremarkable commercial sound, yet on their final record, 1976's Nite Flights, one can begin to hear his former experimentalism returning, newly reinforced with a bolder, more confrontational sonic palette. This was a signpost that pointed towards where he'd head next. 
Climate of Hunter was his next release, in 1984, and a minor revelation. Oblique, allusive lyricism, ambitious arrangements and labyrinthine song structures make for a thrilling listen, a striking left turn from his previous work that remained just about accessible enough for some of his old fans to stick with. Then, as he often did, he disappeared again, not returning until 1995 to begin the final, and arguably the most fruitful, phase of his career. 
He broke his silence with Tilt, one of the most powerful records of the 1990s. 25 years on, it remains a mind-bending listen: haunting, unpredictable, terrifying, beautiful, and unlike anything else. Traces of his former knack for classic songcraft remain, but they're constantly under attack from meat-grinder percussion, mangled synths, brutal dissonance and splintered melody, Walker's voice more tremulous and yearning than ever as it cracks and deepens with age. It's astonishing. 
The Drift (2006) and Bisch Bosch (2012) followed, equally uncompromising records that sound as much like Karlheinz Stockhausen as they do Walker Brothers hits like 'The Sun Ain't Gonna Shine Anymore'. The crooning pinup Scott Walker was long gone by this point, replaced by one of the most ruthlessly experimental, keenly well-read, and subtly iconoclastic musical artists of the past half-century. 
Walker's final works were Soused, his 2015 collaboration with American drone metal pioneers Sunn O))), and his 2016 soundtrack for the historical drama film The Childhood of a Leader. Like most latter-period Walker, they're not easy listens, but they're incredibly rewarding if you stick with them.
Having lived in the UK for many years, both The Walker Brothers and his solo material finding greater success on this side of the Atlantic than in his native America, Scott Walker died in London in March 2019, at the age of 76. What a legacy he leaves behind: click through any of these players for Loud And Quiet's Primer Playlist, which we hope will give you a decent overview of his work, and persuade you to invest some serious time in his records. You can thank us later.
Listen now
Spotify
Apple
YouTube