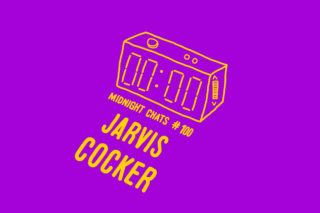 Jarvis Cocker: Midnight Chats – Episode 100
Celebrating 100 podcasts with Jarvis' birthday stories of visiting graveyards
Episode 100 of Midnight Chats was recorded two days after its guest celebrated their own birthday.
Jarvis Cocker planned on spending his 57th feeding his friends nothing but the 57 varieties of Heinz products. Fortunately, tighter COVID restrictions came into play to prevent that from happening.
That's what Jarvis tells me on this week's podcast, along with how he feels about birthdays in general, his rave days in the early 90s, questionable housemates, new album Beyond the Pale, and going to art school to try to get over being a musician (it didn't work).
Listen below or via your podcast app.
Thank you to all of our previous 99 guests. We never thought we'd make it this far.
Free Protomartyr flexi disc with this month's magazine
Subscribers to Loud And Quiet now receive a limited edition flexi disc of a rare track with their copy of the magazine
This month's disc is from Detroit punk band Protomartyr