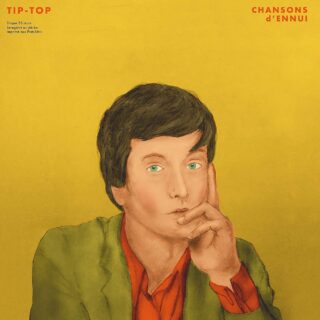 Jarvis Cocker
Chansons d'Ennui Tip-Top
8/10
Jarvis Cocker has always had a bit of the Gainsbourg about him, whether he's overtly hip-thrusting his way through the smoke, as with This Is Hardcore, or making cycling around dog poo sound filthy in a completely different way. But it's always been tucked away behind markedly Northern kitchen sink dramas. Now, with Chansons d'Ennui Tip-Top, Cocker has the chance to set that side of him loose.
Though not the official soundtrack to Wes Anderson's The French Dispatch, this is classed as a companion "mood" album. With twelve covers of French pop classics, it's an album that sits perfectly with the pantheon of Andersonian needle drops – those tunes (nearly always from the '60s) that bring an air of nostalgia and melancholy.
Everyone from yé-yé icon Françoise Hardy to Alain Delon gets the Cocker treatment. The thumping cover of Claude Channes' 'Mao Mao' and the ultra-lustful take on Nino Ferrer & Radiah's 'Amour, Je Te Cherche' (or 'Looking For You') are particular highlights. Cocker, whether tackling male or female vocals, brings his trademark breathy vocals to the mix, taking these tunes into interestingly murky places, whispering naughty things in your ear in a whole other language.
He is the perfect fit for music to accompany tales of ex-pats in France, himself a Yorkshireman in Paris. Though Stereolab's Lætitia Sadier acted as Cocker's French coach, his Sheffield twang still shines through and gives each of these covers an uncertainty that's quite compelling; someone playing a part in a place that isn't quite yet home, mirroring the mindset of the characters that work for The French Dispatch.
Chansons d'Ennui Tip-Top, then, is clearly natural territory for Cocker and Anderson to build on their relationships with French music and each other. Partners in library chic and partners in pop. Here we find a loving, stylish tribute that, like Seu Jorge's David Bowie covers for The Life Aquatic, is distinct enough to become its own thing, exploring this weirdly contradictory world of pop, traditionally bright but with an often revolutionary, seedy edge, with an affection that never tips over into slavish reverence.
Free Protomartyr flexi disc with this month's magazine
Subscribers to Loud And Quiet now receive a limited edition flexi disc of a rare track with their copy of the magazine
This month's disc is from Detroit punk band Protomartyr