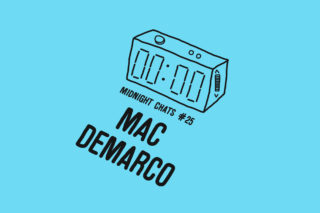 Mac DeMarco: Midnight Chats Podcast – Episode 25
Join us for idle chit-chat about moving to LA, feeling old and pigs
Mac DeMarco's moved to LA but he doesn't know why. It just seemed like a change, and a different place to make his third album, 'This Old Dog'.
That record is released next month on May 5th via Captured Tracks, but before then Mac was in London purely to talk about it.
He came by our office the same week the cock up with envelopes happened at the Oscars. We briefly spoke about that, but mostly spent our time discussing LA, feeling old, pet pigs, his solo shows and what music he's listening to these days.
To end with we played a game relating to an old interview he did for Loud And Quiet, which went even more to plan than I had hoped.
Have a listen below or on your MOBILE DEVICE via the iTunes app, Stitcher and other Android platforms, and the Acast app. Subscribe if you like it, and leaving a positive review is always a fun thing to do. We get one of these up every 2 weeks at Midnight on a Thursday, so that way you won't miss the next one. God knows we're all so busy these days.
Here's DeMarco…
Free Protomartyr flexi disc with this month's magazine
Subscribers to Loud And Quiet now receive a limited edition flexi disc of a rare track with their copy of the magazine
This month's disc is from Detroit punk band Protomartyr