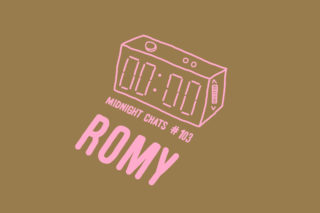 Romy, from The xx: Midnight Chats – Episode 103
A podcast about raving in Ibiza, football and writing pop mega hits
For the final episode of this series of Midnight Chats I spoke to Romy Madley Croft from The xx.
The spring lockdown was the kick-start she needed to write and record her debut solo music. She's subsequently released the song 'Lifetime', which should be currently be filling dancefloors the world over.
On the first day of the second UK lockdown – the same anxious week of the U.S. election – we discussed Romy's successful songwriting for other artists (Dua Lipa, King Princess, Jehnny Beth), how maturity has seen her become more comfortable expressing her sexuality and why she loves football – playing, watching and the attitudinal progress forged by sportspeople like Megan Rapinoe and Marcus Rashford.
Listen below, or on your favourite podcast app.
Finally, thanks to all our guests on series 10 – all the episodes are available to listen to now.