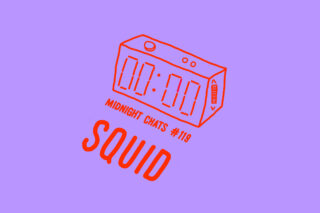 Squid's Ollie Judge: Midnight Chats – Episodes 119
Such an immersive experience
Something a little different on this week's episode of Midnight Chats…
Earlier this year, while the L&Q team were in Barcelona for Primavera Sound, I met up with Ollie Judge, frontman and drummer in Bristol-based band Squid, to record episode 119 of the podcast.
Not wanting to lock ourselves in another room while the sun and sea were so close, we arranged to record this conversation while we walked the beaches of the city. We didn't quite stick to that plan because the wind would have made the listening experience awful. But we did find a park nearby and headed for it with our clip mics clipped and my recorder on.
So, along with the ambient sounds of Barcelona that morning (including birds, bikes, babies crying and the odd bit of evil traffic), here is Ollie and myself skittering from topic to topic, including NFTs, bad merch decisions, pre-show nerves, dossing around at school and what the next Squid album might sound like.
Listen below or via your podcast app. Please do subscribe and tell a friend.