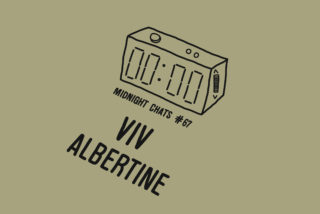 Viv Albertine: Midnight Chats – Episode 67
What else do we need to say – it's Viv Albertine!
Viv Albertine doesn't like to call herself an artist, but it's easily done when you consider all the things she'd done.
It's a stone cold fact that her band, The Slits, were the most punk thing about punk. As a group of four wild women, they dared to form a band and behave exactly how they wanted to from 1976 to 1982, absorbing a tide of misogyny and physical abuse that met them at every turn. On top of that, the music they made together was some of the most inventive and strange to come out of the genre – while The Clash and the Sex Pistols repackaged rock'n'roll, The Slits were just as inspired by reggae and dub.
It was just the start of a creative life for Viv, though, who since The Slits has been a film director, an actor, a solo musician, a keep fit guru, and, most recently, an acclaimed author.
As I say in the intro to this episode of the podcast, a good place to start in order to realise just how inspirational a feminist icon Viv Albertine is, is her memoir Clothes Clothes Clothes Music Music Music Boys Boys Boys. And then her more recent book, The Throw Away Unopened.
We speak about these and a bit of everything else, right here…
New monthly memberships available
Here's a new thing: our membership scheme now has a pay-monthly option, plus a load of exciting new digital stuff for people who support what we do. It's actually excellent value, honest, and will help us continue to promote new independent artists and labels.
Sign up and you'll receive our physical magazines delivered to your door, our digital editions, exclusive podcasts and playlists and access to our EXTREMELY glamorous Members Lounge. You'll be the envy of all your friends.