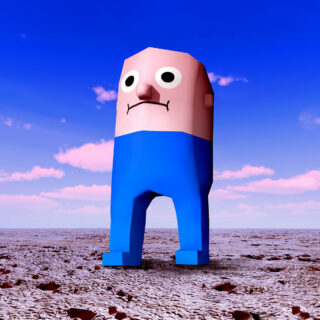 Three years ago, London-based experimental label Don't Delay dropped AEVA's Superstar EP, opening with a five-minute dose of post-apocalyptic but melancholic house music, duly inspired by "the implosion of a star turning supernova". 'Massive Life' felt like a cerebral joke; it was a song that should have been soundtracking the montage slides of great travel documentaries and descents into the YouTube quicksand alike – a ubiquitous smash hit in another world now inadvertently whirling around a white label like a sad rotary kebab, adorned by the image of a man dressed in a silk suit and slatted yellow sunglasses gatecrashing the best man's photoshoot. Everyone seems to be in on the joke, but it's still readily available on Discogs for your spare change.
Affording less instant gratification on his follow-up EP, I Feel Blu, AEVA rewards deep listening. The title track paves a strange path between IDM, proto-house and Bon Iver, with a touch of chiptune – as if 22, A Million were released on fabric's Houndstooth label. A monastic calm is shattered by manipulated vocals, playing into the chaotic glitch of 'Goblin Portal' which sleuths through UK bass and extrapolated electronics, ricocheting into a dizzying void. 
A scattering of singles, from Superstars 'till now, have explored AEVA's interest in the relationships between fantasy, tragedy and euphoria. Here, our lead character is Mr. Blobby in the Wrong Trousers, a club-ready blimp in an empty desert. 'Til I'm In Death' and 'Mysterious World' are disarmingly pretty tracks to end the EP. Warm drones glide from frontier electronics to hyper-real ambience, recalling the self-described "bubblegum industrial" heights of Croatian Amor and Posh Isolation. The feeling of loneliness is one club music has had to negotiate ambitiously a years' worth of releases, and AEVA's falls effortlessly from the bone, beatless and mesmerising.