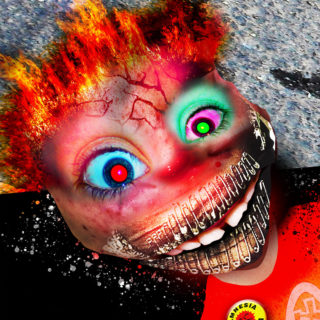 Amnesia Scanner
Tearless
(Pan)
8/10
A NOTE: LOUD AND QUIET IS IN DANGER OF CLOSING. PLEASE CONSIDER SUBSCRIBING TO OUR MAGAZINE OR MAKING A SMALL DONATION HERE. THANK YOU.
The press release for Amnesia Scanner's new record, Tearless, describes it as "a soundtrack of the New Roaring Twenties – an era of decadence and decay in full embrace of the Great Weirdening of the 2010s". This quasi-folkloric description, implying epochal change, magickal possibility and impending crisis – it's important to remember, among the flapper costumes and Gatsby references, how the last Roaring Twenties ended ­– aptly frames Tearless. This is a strange, dislocated album, one that does indeed feel alive with creative potential, but never more than a heartbeat away from implosion.
To be fair, Amnesia Scanner have form on this. Their early work, so ruthless and disorientating it makes Tearless sound like AC/DC, pushed the boundaries of what could be achieved at the peripheries of European electronic music and extremely-online subculture. Even their name, an anagram of Renaissance Man, is a mischievous subversion of a classic cipher for multi-talented sophistication, which feels apposite considering where we find ourselves today; if the traditional conception of the Renaissance Man is the individual who is capable in whatever field he chooses, today's young adults, with our second and third jobs*, pivoting skillsets and costly over-qualification, are Renaissance People under duress, our multiplicities forced into and out of us by the whims of capital rather than exercised at leisure.
Ville Haimala and Martti Kalliala, the surprisingly unassuming-looking Finnish pair behind Amnesia Scanner, are notoriously press-shy and reluctant to comment on the specific themes and processes of their work, but the record's pervasive senses of unease, atomisation and hyper-connected neurosis lay their general thesis pretty bare: we've never wielded so much power, nor have we ever been so vulnerable. Tearless barrels along a tightrope as if it's a landing strip, the pace blistering and the tumult unrelenting, yet it just about manages to retain its balance.
At times, the album evokes the more obtuse moments of Safe In The Hands Of Love, their fellow PAN alumnus Yves Tumor's excellent 2018 album. Yet where that record was largely an inward-looking affair, a personal exorcism writ large, Tearless is wider and less intimate in scope. Closing track 'AS U Will Be Fine' is the perfect illustration of this: preceded by such a violent expression of doom and destruction, its deadpan, chanted refrain of "you will be fine", dripping in robotic insincerity, implies an uncomfortable truth. Our problems, and their solutions, are universal: you might be fine, but that's neither here nor there; we are not.
*At least, before COVID-19 threw all our jobs into question.