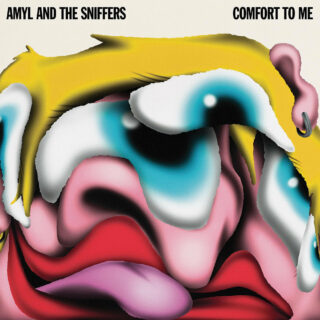 Amyl and the Sniffers
Comfort To Me
6/10
Australia is always vaguely apocalyptic, but perhaps never more so than in 2020. In Melbourne, people were already wearing face masks to protect themselves from the smoke of a particularly bad bushfire season well before Covid ever came down. For a long time, it was best to stay inside. So Amyl and the Sniffers did. 
Their second album, Comfort To Me, is the result of the band's time in isolation. For the most part, the forced proximity and narrowed focus of months indoors has served them well. The frenetic energy of their self-titled debut remains, but in places is sharper, more sleek. 
Singer Amy Taylor also had more she wanted to say this time around. 'Knifey', with its propulsive, stepping bassline, recounts the defensive manoeuvres of a woman walking home at night, turning the violence on its head. Meanwhile, the head-banging 'Capital' takes aim at government exploitation – of bodies, of the environment, of migrants' rights – in the name of corporate gain. 
Amyl and the Sniffers are still at their best when serving up pub-punk bangers, though. The thrashing night-out anthem 'Freaks to The Front' is a standout; the shorter, faster sibling of album one's 'Monsoon Rock', its AC/DC guitar riffs crackling with electricity.
While Comfort To Me usually stays just the right side of manic, the frenetic pace spirals slightly out of control towards the end, and the last three tracks somewhat unravel. It's not an ideal send-off, but the album walks the fine line between chaos and control. It's easy to slip just a little too far to one side. 
On Comfort To Me, Amyl and the Sniffers get stuck into the fundamental weirdness of humanity in all its messy, drunken, complex glory.
Free Protomartyr flexi disc with this month's magazine
Subscribers to Loud And Quiet now receive a limited edition flexi disc of a rare track with their copy of the magazine
This month's disc is from Detroit punk band Protomartyr