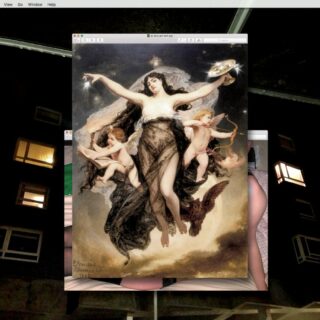 Arab Strap
As Days Get Dark
7/10
According to Aidan Moffat, As Days Get Dark is about "resurrection and shagging", "hopelessness and darkness". As if that wasn't what every Arab Strap album was about. 
Nobody does horny, hungover, misanthropic filth quite like Moffat and Malcolm Middleton. This is their first album since 2005's The Last Romance, but their aesthetic is so singular that it feels like they've just picked up directly from where they left off. Perhaps this is helped by their consistent activity throughout the intervening years – solo albums, collaborations, documentaries, the lot. They've kept busy, and they sound it – this is the reanimation of a merely dormant project, not a dead one. 
There's little here which will surprise long-term Arab Strap fans, but that's not necessarily a criticism. Most of the music is built upon an artful tessellation of Middleton's arpeggiating guitars and creeping drum machines, with Moffat delivering his grubby monologues over the top. The atmosphere remains as sticky and dank as ever – you can practically hear the sweat dripping down the flanks of each track – but Moffat's characteristically seedy vignettes now play out among the soft furnishings of middle age ("In Tesco with your buttons undone, I saw you; hand in hand as we do the school run, I saw you"). Not that this jars with the rest of the Arab Strap catalogue: even in his twenties, he had a prodigious talent for being a dirty old man. He's really grown into it now.
Free Protomartyr flexi disc with this month's magazine
Subscribers to Loud And Quiet now receive a limited edition flexi disc of a rare track with their copy of the magazine
This month's disc is from Detroit punk band Protomartyr