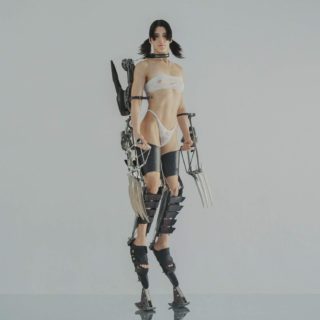 "I'm a transwoman but I'm gay. I'm a woman and I'm attracted to men, but I'm gay. At this point, it's 'glitch'" says Arca, speaking to her fans in an impromptu livestream, shortly after announcing her gender transition. "The language is breaking down. I'm not breaking down. I'm comfortable, girl," she says, casually flitting between Spanish and English in between questions. 
Arca's experience with the fluidity and interchange of gender bleeds into her art and even language to the point that it's hard to tell which parts are influencing which. From the impressive auditory body-horror of her early work, to her star-making production for Björk, FKA Twigs and Kanye West, to her surprising shift to haunted vocal pop on her self-titled album, Arca's career has been about musical and personal transformations. 
With KiCk-i, the first in a proposed series of records exploring the various sides of her artistic vision, she violently combines pop, electronic and industrial music. It's not just deconstructed club music; the club has been separated into its sub-atomic particles, and the dark matter in between consumed for fun. Opener 'Non-Binary' is Arca's punk mission statement, snarling and taunting in its queerness, and speaking of sweetness and gentleness moments later. Arca views her gender as a gateway into seeing yourself in various forms, and the song mirrors that, slinky and brutish at the same time, slowly unravelling into a readable song before fizzling into a thumping breakdown. 
We see both the collaborator and the lone wolf in Arca too. The appearances from Rosalía, Björk and Sophie all lean into those artist's signature sounds with overt mutations and an apocalyptic energy. 'Watch' featuring Shygirl is the standout of these collaborations, with its relentless, foreboding synths and metallic palette. 
On her own, we hear her party side, her quiet spirituality, and tenderness. 'Time', is a gorgeous plee for patience with herself, with a gentle bouncing groove and futuristic swipes of keys. Then 'Riquiqui' erupts with its confrontational Aphex-inspired stomp.
KiCk-i isn't a cohesive album by traditional standards. It's anti-cohesion, proudly emphasising the parts that shouldn't fit. Tradition hasn't served Arca's life purpose. And somehow, it all clicks with an internal logic and poignancy. The closing one-two punch of 'Machote' and 'No Queda Nada' look back at her the sound of her last self-titled album with more notes of hope, and subtle propulsion. Both are stunning, swooning ballads that could not have been done by anyone else, and they connect the bangers to the dirges with delicate finesse. 
In that livestream discussing her transition, Arca had another piece of wisdom on her journey so far, and on labels: "It's not a correction. It's an expression of life". We've long struggled to box Arca into a single genre, and KiCk-i bursts out of genre conventions entirely, as a glorious expression of life.