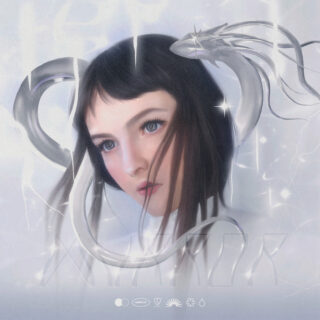 This second LP from Margate-based future pop artist BABii is an ambitious undertaking straight out of the gate – the ten tracks are accompanied by a book she's written and an alternative reality game, as well as an album-specific audio-visual show she's constructed out of the back of a van. The sense that BABii is an artist unswerving in her vision is reinforced about two minutes in, when there's a drastic landscape change in opening track 'DRiiFT'. What had sounded like more of the kind of brooding electropop that had come to define her first record, 2019's HiiDE, suddenly kicks up a notch into something altogether more dramatic, with swells of synth that recall SOPHIE at her most thrilling.
What follows is an electronic album entirely in BABii's own image, but that brings to mind, in its willingness to take risks, SOPHIE's own Oil of Every Pearl's Un-Insides as well as one of last year's most sorely underrated experimental pop records, Eartheater's Phoenix: Flames Are Dew Upon My Skin. There is real genre fluidity and a sense that BABii is taking her cues from all kinds of different places: 'WASTE' melds low-key, woozy synths with beats and vocals that feel as if they're referencing early-'00s R&B, whilst 'TRACKS' is a nice reminder that it's possible to do something that feels genuinely minimalist with a trap beat.
'SHADOW' brings Kelly Lee Owens to mind in the manner in which it pulls off the neat trick of laying a dreamy vocal over a percussive background that nods to techno, without the two different aesthetics clashing. It's 'VOiiD', though, that feels like MiiRROR in microcosm; a sprawling, nine-minute epic thick with atmosphere that establishes a foreboding mood in the opening moments and then subtly shifts shape as it winds on, like a mood piece all of its own. How successful the broader MiiRROR project is at communicating BABii's vision remains to be seen, but on the record, at least, there is compelling evidence that we have a genuinely inventive new voice in pop.
New monthly memberships available
Here's a new thing: our membership scheme now has a pay-monthly option, plus a load of exciting new digital stuff for people who support what we do. It's actually excellent value, honest, and will help us continue to promote new independent artists and labels.
Sign up and you'll receive our physical magazines delivered to your door, our digital editions, exclusive podcasts and playlists and access to our EXTREMELY glamorous Members Lounge. You'll be the envy of all your friends.