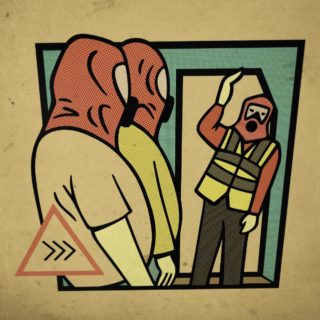 With the release of Beak>'s third album, Geoff Barrow has now made as many records with his so-called side-project as he has with Portishead, thus potentially demanding a reappraisal of how to view his musical priorities. Further supporting that demand is '>>>' itself, in which Beak> have shrugged off the slight whiff of three blokes messing about in a recording studio largely for their own amusement, and quietly written a modern classic: in its attitude, delivery, and feel, '>>>' has nothing of the side-project to it. Instead, it's brimming with urgency and snarl, paranoia and exhaustion, and a delicious sense of modern-day relevance.
That's not to say, however, that Beak> have changed. Indeed, the band's ingredients of fuzz guitar and pared-back drums oozing between grids of analogue electronica, like sludge-metal playing along to age-warped Tangerine Dream LPs, remain intact throughout: 'The Brazilian' finds sci-fi-noir synths and ominous clouds of electronic fog engulfing the album's opening minutes in much the same way that 'Abbots Leigh', all cacophonous, sour and metallic menace, characterises its closing ones. 'King of the Castle', too, with its no-frills monster riff and slogan chorus, is a delightfully hissy and vituperative slab of uber-lean punk rock.
What has changed, however, is how the band deploy its ingredients, with previous jam-band laziness now replaced with laser-guided intent. The first half's run of 'Brean Down', 'Birthday Suit' and 'Harvester' is the sort of brilliantly executed series of proudly subverted pop music that Radiohead only flirt with these days, simultaneously tuneful and deeply weird, as inviting as it is discombobulating. Woozy keyboard lines lie just out of sync with the rhythm section, teasing the songs' senses of centre and pulse, while strained, distant but yearning vocals and scabrous strings beg you to listen ever more intensely. Album closer 'When We Fall', too, with its eerie bucolic near-future-dystopia aesthetic, imagines Nick Drake fronting Boards of Canada and appears fine-tuned to achieve maximum emotional devastation. As the building, bewildering synths are finally propped up by a motorik rhythm section for the album's grand finale, the sense of satisfaction is as spine-tingling as it is pure.
None of this is easy music to play or – normally – to listen to. That Beak> have rendered a record this turbulent and frequently dour as such a captivating and emotionally resonant experience is a feat in itself. That its songs linger well after its 45 minutes are up, too, makes it a rare, resilient triumph.