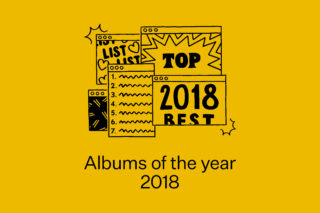 The Loud And Quiet best 40 albums of 2018
These are our favourite records released since January 1 – voted for by our contributors
40. Half Waif
Lavender 
(Cascine)
Nandi Rose Plunkett's second album of skilled synth work about isolation in America.
Read Mike Vinti's full review.
39. Phantastic Ferniture
Phantastic Ferniture 
(Transgressive)
The debut album from a Sydney trio fronted by Julia Jacklin.
Check out Rosie Ramsden's full review.
38. La Luz
Floating Features 
(Sub Pop)
The LA group's third album of blackened surf rock.
Take a look at Susan Darlington's album review.
37. The Voidz
Virtue 
(Columbia)
Julian Casablancas' best, maddest work this side of 'First Impressions of Earth'.
It kinda blew Edgar Smith's mind at the time it came out – see the review.
36. Marie Davidson
Working Class Woman 
(Ninja Tune)
Canadian techno about the stresses and strains of working Berlin's clubland.
Check out Oli Rankine's interview with Marie.

35. Mount Eerie
Not Only 
(P.W. Elverum & Sun)
Phil Elverum's sequel to last year's devastating album about the death of his wife.
Stephen Butchard wrote about the album when it was released.
34. The Goon Sax
We're Not Talking 
(Wichita)
The Australian band's second album of bittersweet indie pop.
Read Hayley Scott's album review in full.
33. Daniel Avery
Song For Alpha 
(Phantasy Sound)
A second album of artful techno for early hours on the road rather than late ones on the dance floor.
Check out Reef Younis' words about the album.
32. Lonnie Holley
Mith 
(Jagjaguwar)
The debut album of improvised soul collages from the 68-year-old American sculptor.
Joe Goggins reviewed 'Mith' at the time of its release.
31. Nils Frahm
All Melody 
(Erased Tapes)
The neo-classical master's ninth album of hypnotic synth cycles.
Take a look back at Reef Younis' review.
30. Caroline Rose
Loner 
(New West)
Sarcastic pop tunes about gender and anxiety from an ex-blues player who only wears red.
Check out Susan Darlington's review, and Tristan Gatward's interview with Caroline.
29. Szun Waves
New Hymn to Freedom 
(Leaf)
A jazz record made by underground experimentalists Luke Abbott, Portico Quartet's Jack Wyllie and PVT's Laurence Pike.
Stephen Butchard's full review of the album.
28. Rolling Blackout Coastal Fever
Hope Downs
(Sub Pop)
Unmistakably Australian indie rock for running around in the sunshine.
The full review of 'Hope Downs' by Liam Konemann.
27. Haley Heynderickx
I Need to Start a Garden 
(Mama Bird)
An 8-track debut of delicate, finger-picked folk from Portland.
26. Sophie
Oil of Every Pearl's Un-Insides 
(Transgressive)
An aggressive debut that pushes pop music's shiny beats to their metal-buckling end.
Stephen Butchard wrote about this one back in June.

25. Shame
Songs of Praise 
(Dead Oceans)
A debut punk album that also includes nods to The Cribs, Happy Mondays and Oasis.
Austin Laike's verdict on 'Songs of Praise' back in January.
24. Ghetts
Ghetto Gospel: The New Testament
(GIIG)
The grime MC's re-evaluation of how hip-hop treats woman.
Check out Mike Vinti's recent interview with the reluctant grime pioneer.
23. Ed Schrader's Music Beat
Riddles 
(Carpark)
The Baltimore duo's first album to add Dan Deacon to their drums and bass setup.
Ian Roebuck in conversation with ESMB earlier this year.
22. Lily Allen
No Shame 
(Warner Bros)
A collection of down-tempo nearly-ballads and comeback tunes.
Sarah Lay's full album review.
21. Gazelle Twin
Pastoral 
(Anti-Ghost Moon Ray)
Elizabeth Bernholtz's malfunctioning and fittingly horrible ode to Brexit.
Take a look at Mike Vinti's LP review, and Ben Hewitt's cover feature interview with Gazelle Twin.
20. Beak >
>>>
(Invada)
The Bristol trio's third and best album of fuzz guitar, paired-back drums and analogue electronica.
Here's Sam Walton's review of the album.
19. Nines
Crop Circle 
(XL)
The London rapper released his second album on International Weed Day. Lol.
18. Yves Tumor
Safe in the Hands of Love 
(Warp)
Funk. Soul. Ambient. Industrial. Weird electronica. The illusive musician's third album is, obviously, a slippery bastard.
Read Daffyd Jenkins' assessment of the album.
17. Anna Von Hausswolff
Dead Magic 
(City Slang)
The most radio-unfriendly five tracks of the year composed on an organ in a marble church in Denmark.
Tristan Gatward wrote about the release.
16. Sons of Kemet
Your Queen is a Reptile 
(Decca)
The album that should have won the Mercury Prize. The jazz nominee.

15. Gwenno
Le Kov 
(Heavenly)
The Welsh artist's second album of cosmiche pop – her first sung predominantly in Cornish.
Read Tom Walters' review of the album.
14. Viagra Boys
Street Worms 
(Year0001)
Self-referential debut of Swedish garage rock that critiques the machismo and cliché of punk.
Have a look at Fergal Kinney's review of the album, and Liam Konemann's interview with the band.
13. Let's Eat Grandma
I'm All Ears 
(Transgressive)
A second album of cute/scary pop aided here and there by SOPHIE.
Look back at Stephen Butchard's piece about the album.
12. Space Afrika
Somewhere Decent to Live 
(sferic)
The Manchester duo's second album of urban ambience and dub techno.
Luke Cartledge spoke to Space Afrika earlier this year.
11. Sink Ya Teeth
Sink Ya Teeth 
(Hey Buffalo)
The DIY debut from a Norwich-based duo inspired by Chicago house and early British rave culture.
Revisit Sam Walton's album review, and Max Pilley's feature interview.

10. Oliver Coates
Shelly's on Zenn-La
(RVNG)
The cellist and producer's second album inspired by pirate radio jungle, now with added deep space electronics.
Eugenie Johnson wrote about the album.
9. IDLES
Joy as an Act of Resistance 
(Partisan)
Everything you hate the Tories for, in one punk album from Bristol.
Tristan Gatward's piece about the album, and Greg Cochrane's cover feature interview.
8. Gabe Guernsey
Physical 
(Phantasy Sound)
The Factory Floor member's debut solo album that simulates a night spent clubbing.
A review of the album by Reef Younis, and Stuart Stubbs' interview feature.
7. audiobooks
Now! (in a minute)
(Heavenly)
Synth-pop songs and spoken word odysseys about creepy people and sharing a bubble bath… as mates.
Look back on Stuart Stubbs' LP review, and Ian Roebuck's feature.
6. Shirt
Pure Beauty 
(Third Man)
The New York rapper's strange-beats debut, inspired by conceptual artists like Marcel Duchamp.
Read Katie Beswick's interview with Shirt, and Mike Vinti's album review.

5. LUMP
LUMP 
(Dead Oceans)
The first and probably last collaboration between Laura Marling and Tunng's Mike Lindsay.
Derek Robertson wrote about 'Lump' when it was released.
4. Tirzah
Devotion 
(Domino)
A moody collection of melancholy love songs that sound distinctly at home in South London.
Check out Joe Goggins' full album review, and this chat with Tirzah by Katie Beswick.
3. Low
Double Negative 
(Sub Pop)
The twelfth and most violent album of in-the-red slowcore from a Minnesota band 25 years in.
Here's Susan Darlington's full review of the album.
2. Pusha T
Daytona 
(Virgin EMI)
The rest of Kanye's 7-track 'Wyoming Sessions' albums can go to hell.
1. Virginia Wing
Ecstatic Arrow 
(Fire)
The Manchester duo's third album of deadpan dream-pop that dares to speak of optimism in 2018.
Check out Tristan Gatward's album review from back in June.

Support Loud and Quiet: Subscribe for £3 a month, and we'll send you our next nine issues of the magazine.
FURTHER READING:
We're not being funny...
… but can you become a member please?
It's actually excellent value, and will help us continue to promote new independent artists and labels.
Sign up and you'll receive our physical magazines delivered to your door, our digital editions, exclusive podcasts and playlists and an actual bookmark, as if printing a magazine in 2021 wasn't old fashioned enough.
6-month and full year memberships are available now. Fancy it?