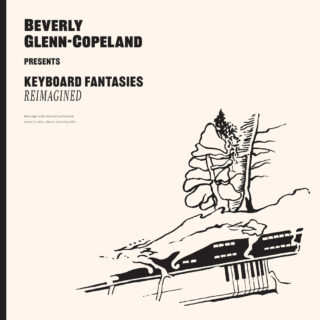 Beverly Glenn-Copeland
Keyboard Fantasies Reimagined
8/10
If Beverly Glenn-Copeland feels as if he's spent his entire career waiting for his influential work to meet with the kind of acclaim it deserved, then he might now feel that it's come along all at once. He spent sixteen years in the wilderness after 1970, the year in which he released two stunning self-titled albums that represented odysseys into what's possible when melding classical and jazz influences. When he finally resurfaced in 1986, it was with what's now considered his magnum opus, Keyboard Fantasies. That record, in and of itself, spent many years in obscurity, with only a few hundred cassette copies having been pressed; its reputation burgeoned with time, thanks in no small part to the tireless work of Japanese record collector Ryota Masuko, who helped garner Glenn-Copeland a cult following.
Fast forward to 2019, and Glenn-Copeland, by then in his mid-70s, found himself performing at New York's Museum of Modern Art; at the same time, he was the subject of a documentary, Posy Dixon's Keyboard Fantasies: The Beverly Glenn-Copeland Story. This remix album serves as much as a testament to his renewed popularity as it does his profound impact on those he's inspired. Remixes of the six tracks on Keyboard Fantasies are provided by the likes of Bon Iver, Julia Holter and Arca, and if, for example, Jamie xx's We're New Here did justice to the sound of Gil Scott-Heron's original whilst imbuing it with his own ideas, Keyboard Fantasies Reimagined feels like a comparable vindication of Glenn-Copeland's commitment to sonic singularity. 
The artists involved are not afraid to bring their own identities to the table; Bon Iver's 'Ever New' shares a musical palette with his 2016 album 22, A Million, while the more maximalist moments on Holter's 'Fastest Star' bring 2017's Aviary to mind. Yet throughout, Glenn-Copeland's vision and explorative fearlessness are summoned in stirring fashion. Keyboard Fantasies Reimagined is a rarity – a must-listen collection of remixes.
Free Protomartyr flexi disc with this month's magazine
Subscribers to Loud And Quiet now receive a limited edition flexi disc of a rare track with their copy of the magazine
This month's disc is from Detroit punk band Protomartyr