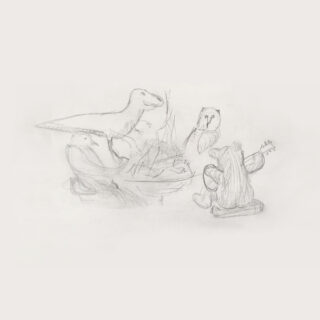 Big Thief
Dragon New Warm Mountain I Believe In You
(4AD)
9/10
Big Thief don't make music; it spills from them. Their first four records emerged magnificently in quick succession, including two released in a single year, and still their live sets are often littered with unreleased material. Yet their music never feels rushed, or forced – it comes from a need, from something that has to be expressed. 
With their fifth record, an epic twenty-track double LP, we witness something new from Big Thief: their process. It began with an experiment by drummer James Krivchenia, who produced the album – to record in four sessions in four starkly different locations with four different sound engineers. Five months later they had 45 completed songs – 20 of which became Dragon New Warm Mountain I Believe In You. 
Just as the cover depicts the band (as animals!) playing their instruments around a campfire, the record has a single-take, organic sound and the rawness of a spontaneous run-through. These songs are living things; in all likelihood they will continue to evolve, and these recordings will simply act as snapshots of the track on that given day in that given place. 
The record belongs to none of them and all of them, exploring more of their individual contributions than perhaps any prior record. Moments of raw, delicate beauty on tracks like 'Change' and 'The Only Place' undeniably echo singer Adrianne Lenker's solo material, while warm, whimsical country moments like 'Spud Infinity' and 'Red Moon' betray Buck Meek's input. There are completely new sounds too, as the band ventures to previously unexplored soundscapes on tracks like 'Little Things' and 'Wake Me Up To Drive'.
A few days prior to announcing the record, Big Thief's members could be found on their Instagram story singing the track's lyrics a cappella, casually, as though singing along to a classic song. But there's no arrogance to that; rather a sense that they don't see their music as their own, but more as something they have stumbled upon by accident. When the lyrics profess that "I believe in you," it's as though they are addressing their own work, or the unnamed thing that bonds them together as a band. As the song concludes: "It's a little bit magic." 
With Dragon… we glimpse Big Thief's magic in action, like pressing an ear to the rehearsal room door. It's a lived experience, open-hearted and spontaneous, that pushes the boundaries of what the four, between them, can create.
Please support Loud And Quiet if you can
If you're a fan of what we do, please consider subscribing to L&Q to help fund our support of new musicians and independent labels
You can make a big difference for a few pounds per month, and in return we'll send you our magazines, exclusive flexi discs, and other subscriber bonus bits and pieces
Try for a month and cancel anytime