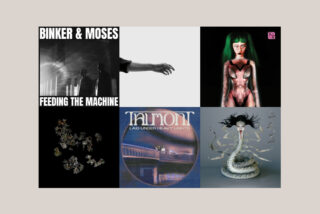 From future-pop to folk-infused nu metal: the best new albums of January and February 2022
The shape of lists to come
Without wanting to trivialise what's going on the world right now, 2022 hasn't exactly started well. But at least the music's still been brilliant, so that's some comfort at least – here are our favourite albums of the year so far.
Artist: SASAMI
Title: Squeeze
Label: Domino
What is it? A brilliant fusion of indie rock, nu metal, industrial music and Japanese folklore.
L&Q says: "Made with the intention of helping her audience to access and process anger, Squeeze is a remarkable album from SASAMI."
Read Jasleen Dhindsa's full review here.
Artist: Binker and Moses
Title: Feeding the Machine
Label: Gearbox
What is it? A sharp new collaboration from London jazz stalwarts Moses Boyd and Binker Golding.
L&Q says: "On this record, [Binker and Moses] can be heard pushing beyond their own limits and mobilising a new sonic trajectory that is surprising and meditative in many ways."
Read Shrey Kathuria's full review here.
Artist: Keeley Forsyth
Title: Limbs
Label: Leaf
What is it? A stark, arresting collection of spectral folk from one of the UK's most distinctive new voices.
L&Q says: "Like [Scott] Walker, Forsyth sounds unafraid to grasp the conventions of modern pop songwriting and turn them inside out, pushing the boundaries of her sound without entirely losing focus of the need to produce empathy and exhilaration in her listener."
Read Luke Cartledge's full review here.
Artist: Yeule
Title: Glitch Princess
Label: Bayonet
What is it? Shapeshifting, digitised pop from a compelling new songwriter.
L&Q says: "The album remains focused on portraying an inner/virtual world. It's crushingly dark at points, but no less playful, thanks to their boundless approach to genre blending."
Read Skye Butchard's full review here.
Artist: Horrid1 x Sav'O
Title: Violent Siblings
Label: Mixtape Madness
What is it? A startling update on the state of London drill from a fiercely talented duo.
L&Q says: "This is the shape of drill to come. And it's coming sooner than you think."
Read Robert Davidson's full review here.
Artist: Talmont
Title: Laid Under Heavy Lights
Label: Good Soldier
What is it? An essential slice of sample-heavy dream-pop, perfect for crate diggers and club kids alike.
L&Q says: "Talmont create an ambient, malleable space that feels worlds away from the small London studio where the band laid down the album's groundwork."
Read Charlotte Marston's full review here.
Artist: deathcrash
Title: Return
Label: Untitled
What is it? A sublime reworking of post-rock tradition from the understated London band.
L&Q says: "An embarrassment of musical riches that is only matched by the depth of evocations that haunt the record."
Read Robert Davidson's full review here.
Artist: Burial
Title: ANTIDAWN
Label: Hyperdub
What is it? The latest effort from one of the 21st century's most significant electronic musicians – which doesn't disappoint.
L&Q says: "The slow, lengthy understatement of ANTIDAWN probably means it won't win over any Burial agnostics… but for the die-hards, there's much to love here if you're willing to stick with it."
Read Luke Cartledge's full review here.
Artist: Shamir
Title: Heterosexuality
Label: Antifragile
What is it? A chameleonic return from experimental US songwriter Shamir.
L&Q says: "The usual kaleidoscope of influences and sounds distinguishing the artist's sonic palette is present in the album, and his countertenor voice runs magnificently through the octaves."
Read Guia Cortassa's full review here.
Artist: Big Thief
Title: Dragon New Warm Mountain I Believe In You
Label: 4AD
What is it? Another shot of heavenly songwriting from one of America's most mesmerising groups.
L&Q says: "With Dragon… we glimpse Big Thief's magic in action, like pressing an ear to the rehearsal room door."
Read Katie Cutforth's full review here.
Loud And Quiet could do with your help
We love making Loud And Quiet – our magazines, this website, our podcasts and more – but it's become increasingly difficult for us to balance the books.
If you're a reader who'd like to help us keep the show on the road, please consider becoming a Loud And Quiet member. There are options to receive our physical magazines and lots of other extras that are exclusive to our supporters.