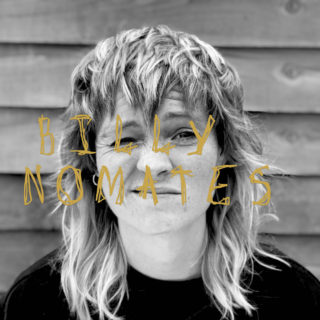 Billy Nomates
Billy Nomates
(Invada)
7/10
Tor Maries only embraced self-prioritisation recently. Meaning: she'd spent a life not always putting herself first. The songwriter, who originates from the pork pie capital Melton Mowbray, spent years performing in groups around Bristol – there was some success, but little satisfaction.
It was only when Maries moved to Bournemouth, bought a ticket and flew solo to watch Sleaford Mods in 2019 – in a neat piece of circularity Jason Williamson pops up to rap about meat on 'Supermarket Sweep' – Maries decided to go it alone (she owes the moniker to a drunk man calling her "Billy Nomates" at that very show). 
Billy Nomates is therefore what happens when you discard outside perceptions, pause people-pleasing and discover the power of self-expression. That's why when observers question why Maries sometimes sings with a U.S. accent, she simply counters: it's because I want to. Why not? Damn right. 
These songs are Tor Maries' experienced truth, then. 'Modern Hart' – a melancholic track that feels like a telegram to her old self – provides the opening. "Anyone can do it," she sings over a grimy, Kim Deal-esque bassline. 
It's a subtle start, but things soon spice up with a string of acerbic and entertaining pot-shots. 'Hippy Elite' is about wanting to be more active in the climate emergency, but also needing to cover the household bills. 'Happy Misery' takes aim at anti-productive nostalgic mindsets (see also: Gazelle Twin's 'Better In My Day') and 'Supermarket Sweep' a song about how the mundanity of financial survival chips away at aspirations. There's the catchy centrepiece 'No' – about the empowering discovery of resistance. 
Such everydayisms could come across as corny, but like her pals Sleaford Mods the songs are authentic, authoritative and frequently funny. They also pack a consistent and timely reminder: "Forgotten normal people are a force to remember." 
Free Protomartyr flexi disc with this month's magazine
Subscribers to Loud And Quiet now receive a limited edition flexi disc of a rare track with their copy of the magazine
This month's disc is from Detroit punk band Protomartyr