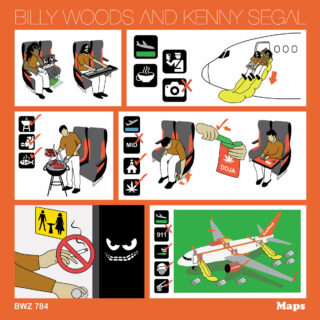 Billy Woods & Kenny Segal
Maps
9/10
ALBUM OF THE WEEK
"It's hard to live when before you was dead." It's rare that Billy Woods gives it to you straight. The last time he teamed up with veteran producer Kenny Segal for a full-length record, the title Hiding Places seemed to acknowledge the slippery nature of his writing with a wink. 2022's Aethiopes and Church are still revealing their layered references and centuries-deep scope. But when he does, like on this line from 'Agriculture' late into their new album, it's a gutpunch.
Maps is full of these narrative knife-twists. During an incredible mid-career streak that's lasted about seven records, Woods is at his frankest. Always a fan of imagery that evokes instability and statelessness, Maps takes place in the no-mans-land of overseas touring. It's his version of Call Me If You Get Lost. Instead of stunning coastlines and glamorous boat trips, it's lonely layovers, skipped soundchecks and feeling out of place at hotel after-parties. The album centres on his refusal to become an acceptable face of rap success, and the struggle to reconcile his new life with his old one  – "survivor's guilt with a side of buyer's remorse," as he raps on 'NYC Tapwater'.
It's familiar territory for an artist who's ridiculed tasteless wealth and rap gentrification his whole career ("I don't wanna go see Nas with an orchestra at Carnegie Hall," went one chorus from Hiding Places).  His default mode is world-wise, worn out, and untrusting. But there's greater clarity to the despair on Maps that makes it an ideal entry point for a complete newcomer.
Kenny Segal is the perfect partner for his knotted and descriptive delivery. He emotionally matches each verse with fluid and deliberate production. The aforementioned 'Agriculture' uses saturated keys and jazz embellishments to colour Wood's words with warmth. On 'Year Zero', he mirrors Danny Brown's cackling nihilism with blown-out drums and apocalyptic synth lines.
Speaking of guests, whether it's Backwoodz Studioz mainstays Elucid and ShrapKnel, or independent rap heavyweights Quelle Chris and Aesop Rock, the featured artists rival Woods with their bleak and clever quotables. The competitive edge gives the record a jolt of adrenaline when they appear, but it's his Armand Hammer partner Elucid who steals the show on the pitch-black 'Baby Steps'.
On his own, Woods is relentless. 'The Layover' riffs on Anthony Bourdain and grave-robbing while sneaking in his album titles ("Before History I made fire in a cave"). You can feel your synapses firing with each uncovered connection.
Single 'FaceTime' with Sam T. Herring underlines Woods as one of rap's great storytellers. On it, he grumbles through a hotel lobby, thinking of home. Spoilt rich-kid festival-goers spill out of the hallways while he waits for his phone to ping. Then there's 'Hangman', a painting of dread that digs into what stops him from getting comfortable with success: "any day could be the day they frog-march you in manacles."
On 'NYC Tapwater', he's back in New York with his mind somewhere else. "Through the peephole I see new people going up and down the stairs / New buildings just appear". For an artist so good at slipping out of view, the album concludes with the world he knows doing the same to him. It's another high bar for one of rap's most dependable writers.
Free Protomartyr flexi disc with this month's magazine
Subscribers to Loud And Quiet now receive a limited edition flexi disc of a rare track with their copy of the magazine
This month's disc is from Detroit punk band Protomartyr