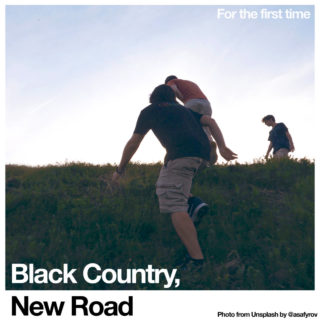 Black Country New Road
For The First Time
10/10
In an interview from years ago, the comedian and occasional music journalist Stewart Lee bemoaned, or perhaps merely pointed out, a cultural phenomenon. He noted the glut of Scottish power-pop bands like Teenage Fanclub who perhaps wouldn't have come into existence had a sudden influx of Big Star LPs not appeared in their local record shops during the late 1980s. Speaking to a distancing from the local, Lee claims that the current age of immediate information exchange causes the same thing to occur in an accelerated and diversified state, as ideas and genres are blurred by dissemination on a much wider scale, far removed from the source. It's not a reoccurring past, more an ever-present present. While the Lee anecdote might be misremembered on my part – which seems strangely apt – it at least helps to situate an understanding of where Black Country, New Road are coming from.
Geographically at least, the septet are based in London, a configuration of musicians gathered under the New Weird Britain banner alongside the likes of Squid and black midi. They're superficially a rock band, but one whose sound isn't easily defined, because it seems to incorporate countless different styles, owing as much to many of the members' classical, jazz and klezmer music training as it does to their willingness to embrace anything they're keen on. Their sonically-similar former group Nervous Conditions – also hotly-tipped until multiple accusations of sexual assault were made against their lead singer Connor Browne in 2018 – were rumoured to be working with Brian Eno. For a better idea of Black Country, New Road's sound, it's fun to entertain the thought that Eno had his co-curated 1978 No New York compilation in mind when he first came across them, which featured the skronking mutant funk of James Chance and the Contortions, Teenage Jesus and the Jerks and DNA. It speaks to a certain climate in popular rock music over the last few years where, much like the early days of post-punk, a kitchen sink methodology met with a postmodern regard for both high and low culture is exacerbated by the ease and accessibility of streaming platforms and online piracy. This has been the feeling of watching Black Country, New Road play, as well as listening to their debut LP, For The First Time. Daniel Dylan Wray's summation in his L&Q cover interview with the group last year was a neat one: "the band's approach […] feels like the formation of a new language; a distinctly Generation Z approach to musical overlap and hyper-awareness of the world around them as a result of a life lived in a forever switched-on digital age."
But it's a question worth asking whether Black Country, New Road would've happened at all were it not for the widespread re-appraisal of Slint's 1991 post-rock benchmark Spiderland around 2005, and the rest of their minuscule but, as it turns out, highly influential output. Vocalist and guitarist Isaac Wood's spoken deliveries are seemingly woven from the same fabric. Wood and Luke Mark's guitar interplay, paired with bassist Tyler Hyde and drummer Charlie Wayne's dynamic rhythm section, vaguely invoke 1990s Midwestern emo. Saxophonist Lewis Evans, violinist Georgia Ellery and keyboardist May Kershaw send the sound of the band into different dimensions entirely, plunging into cacophonous free noise and melodically shimmering finesse, whether the occasion calls for it or not. Still, there are many superficial similarities between For The First Time and Spiderland (ones that are not lost on the band, if the lyrics of 'Science Fair', their third single, is to be believed): both have six tracks, each of which nudge at or exceed the five-minute mark; both are made by relatively young musicians; obvious comparisons aside, both sound new and modern for their respective times. Both also have the veneer of 'masterpiece' about them. For The First Time comes off as a wildly successful experiment and, much like Slint, it's easy to wonder if Black Country, New Road will ever make anything remotely similar ever again. The closing track, cheekily called 'Opus', begs the logical next question: will they feel the need to make anything ever again?
Black Country, New Road must be aware of the immense pressure being exerted on For The First Time. Heaped with praise after three singles, a wicked reputation as live performers and murmurs of "best rock band in the world" in the air, the group could've gone one of two ways with their debut; disregard your own hype, or face it head on. Clearly, they decided that the LP simply had to be a statement. To this end, 'Opus' acts as an expanded reprise of the opener 'Instrumental' – which at once recalls Eastern European klezmer music and a rock cover of an RPG battle theme – and 'Track X' is a gorgeous acid folk song crafted from pieces of melody and chord structures lifted from 'Sunglasses', giving off the ambition of Rush-flavoured multi-part suites without much of the pretence. While at times it could feel like a nagging lack of material, the self-referential musicality of For The First Time is neatly reflected in Wood's self-referential lyricism. Passing references are made to fellow scenesters black midi and Jerskin Fendrix, along with Wood's own Guest solo moniker. Then there's the near-constant cropping-up of that elusive "Black Country", a reminder that, while the group are London-based, they are not necessarily a London group. I'm left wondering what he means by it, and indeed what the band's name refers to in the first place. Black Country; the region in the West Midlands, so-called for its centrality to the coal, iron, glass and steel industries in the early 19th century. New Road; a provocation; a different way of being and progressing. A militaristic advance.
When Wood isn't referencing himself or his friends, other figures and aspects of a wider culture pepper his prose – Kanye West, The Fonz, Nutri-bullets, six-part Danish crime dramas, sourdough bread, 'thank u, next' – in a way that might seem gauche to the average songwriter. But these are more than just empty "references, references, references," as Wood puts it in 'Science Fair'. The repetition signifies an emptying kind of fatigue but, like Slint's weird fiction of haunted Americana, the speakers of Black Country, New Road's tall tales invoke a colourful, lived-in world full of stuff, and yet they are also plagued by loss – of people, places, culture and selfhood – only half-understood through the media they consume. The surly, privileged brat of For The First Time's sprawling, nine-minute centrepiece 'Sunglasses' – re-tooled and fuelled by menacing forward momentum, improving on the winning formula of its 2019 seven-inch version – grumbles about endemic declines in British industry and values in a way that is at once a caricature and also full of feverish, Joycean poetic cadences. Often the perspectival quantum leaps feel like all-too-intimate portrayals of Wood himself, wracked with self-critique and guilt in the search for an authentic self. "Why don't you sing with an English accent?" somebody asks him on 'Athens, France'. "Well, I guess it's too late to change it now," he concludes. These songs feel very personal, pointed messages to former lovers and forgotten friends; fractal stories, always deeply-felt and engaging, whether we can tell what they're directly about or not.
The losses felt across this album– some recognisable, others frustratingly lacking in discernible boogeymen – hold many mysteries as they play out across the dizzying comprehensiveness of the band's music. What's for certain though is that it feels like a fitting representation of living today. It's becoming annoyed at Instagram ads that deign to represent your needs and wants. It's a tacit reminder that genre doesn't exist anymore – or rather never did. It's history in the making, part two. It's frustration felt at an American TV show for not representing your lived experience, and guilt on your part for not already living it. It's Weezer meets The Fall meets Cardiacs meets Modest Mouse's The Lonesome Crowded West, written in a bedsit rehearsal space far from home; but it's more than just "the world's second-best Slint tribute act". Forget the best band in the world. This feels like everything a rock band can do.
Please support Loud And Quiet if you can
If you're a fan of what we do, please consider subscribing to L&Q to help fund our support of new musicians and independent labels
You can make a big difference for a few pounds per month, and in return we'll send you our magazines, exclusive flexi discs, and other subscriber bonus bits and pieces
Try for a month and cancel anytime