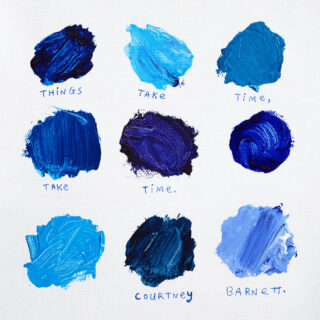 Courtney Barnett
Things Take Time, Take Time
(Marathon)
7/10
Courtney Barnett has always leaned into the more contemplative end of the stereotypical slacker rock continuum. Usually typified by toothy grins and a deadpan gaze, her tentatively-titled debut album Sometimes I Sit and Think, and Sometimes I Just Sit was a pokerfaced breakthrough, revelling in the surreal minutiae of a good pub anecdote, moulding the liminal space between myth and reality into short story technicolour, where details become exaggerated and characters more outlandish than the time it was told before. It's a guessing game as to which came first: these bewitchingly made-up truths and dreamlike philosophising delivered with a razor blade's sharpness, or her incisive wordplay, worthy of a new book of proverbs on anxiety and existential dread. 
Three years later and her second album was an open letter to those that branded her the new, queer, feminist hope for alternative music. Tell Me How You Really Feel was a cutting challenge to the Hole and Courtney Barnett comparisons that had come so easily earlier in her career. While the aesthetics stayed the same on a cheap listen, the small details venerated in her storytelling once upon a time were redacted line by line. Fantastical narratives were traded in for Nirvana puns, and voyeuristic satire swapped for paraphrasing Margaret Atwood. But there was a power within the cast-off nuance, where Barnett was acutely aware of her own talents even while advising the listener not to be: "I could eat a bowl of alphabet soup and spit out better words than you."
If you worried about the lack of tragicomic edge to Tell Me How You Really Feel, Barnett's new album loses it completely. Third time out, Things Take Time, Take Time is Barnett doing borderline tenderness, still keen-eyed and quick-witted, but freed from the intimidating foam finger in the audience pointing to her with the word "funny!" in big, bold, peeling letters. It's a strange shackle to be held by, but her whole no-punchlines tip takes some adjusting to. Soundbite-ready insults may not be the reason behind repeat listening, but they're a nice embellishment on her previous work; there's still a part of pressing play on a Courtney Barnett album that feels chained to a laugh. When she writes about love, you expect to hear of an irrational hatred too. When she writes down her congratulations, you expect her to break the fourth wall and tell us the person's actually a prick.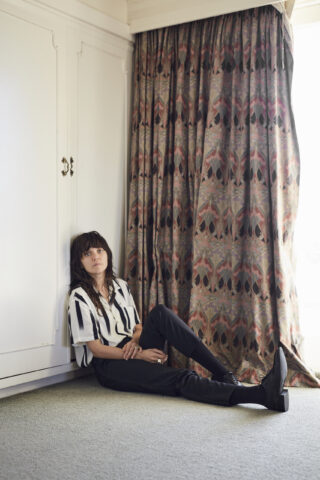 Recorded between Melbourne and Sydney in late 2020 and early 2021 with Warpaint's Stella Mozgawa, the record's narrative somewhat unavoidably seeps into our different experiences of lockdown. What global uncertainties unsettled for some offered others a moment to recalibrate, and an overwhelming feeling of false security – or, at least, resoluteness – permeates Things Take Time, Take Time. Album opener 'Rae Street' switches Barnett's signature flaneurism for voyeurism. Where stories of the street were comically captured in person before, her vignettes are now taken from a seat by the window, aimlessly and morosely filling the time between day and night. Punchlines are swapped for poetry; tiptoeing garbage trucks and isolated rituals are observed with a plaintive curiosity, drawing out their strange beauties and contradictions without judgement. "You seem so stable but you're just hangin' on," she offers at the song's end, which seems to turn its thoughts inwards as much as it is projected elsewhere.
Mozgawa's production gives and takes throughout the album, offering some of Barnett's most and least interesting sonic ventures to date. 'Turning Green' and album closer 'Oh The Night' are occasionally pared back to an isolated drum machine taken from Wilco's The Loft studio two years ago. The former is crying out for a 'Nudge It'-style "gimme gimme" from Sleaford Mods – or any injection of life – rather than a vocal that performatively drains the song's metronomic energy further. It's a visceral burnout, despite reflecting some of the album's most nuanced lyricism on finding beauty within mundanity: "The trees are turning green / And this springtime lethargy / Is kind of forcing you to see / Flowers in the weeds." There's little distinction to be made between the garbage and the flowers, to evoke Leonard Cohen, but it is primordially effective; it has the feeling of listening to a song that's on its last legs, plugged into life support.
Conversely, 'Take It Day By Day' leaps into a DIY-fuelled Nirvana-via-Riot Grrrl swarm, with a new wave undertone like Blondie on a disco extraction. The same by-numbers sprawl that drags Barnett down moments before is defibrillated, emboldened, tracing the song's rhythm one syllable at a time, finding the instrument in her unmistakable Melbourne twang, and laying it over a bassline that – hear me out – sounds straight out of Grease. It's a welcome resuscitation; a mantra on living in the downside of the curve: "Take it day by day / You've gotta put one foot in front of the other." More importantly, Barnett's spark is bright, deliberately spacing out her platitudes until the sentiments switch from encouragement to derision: "Don't give up just yet / Maybe tomorrow / Could be time well spent." 
It's a bold dash of colourful graffiti on a brutalist high-rise, a clown's smile in the middle of a library, the feature wall of a beige room. Things Take Time, Take Time is Barnett's most personal, vulnerable, joyful, and liberated work in one. Still, she sounds more bored, her subjects more commonplace, her life less eventful. The daze she writes about in 'Sunfair Sundown' isn't a sonic switch-up like Kurt Vile's Wakin'… – it's brought on by seeing the potential of her friends' property renovations on Zoom, and the fact that they've built a table. She's still laconically sharp, profound with found objects and master of inversions like a Jonathan Richman and Breeders hybrid, but there's the introduction of a sidenote in her writing that, after all these laissez-fairisms, jokes and sarcastic tumbles, you're still the centre.
The quiet context of Things Take Time, Take Time addresses Barnett's break-up with long-time partner Jen Cloher. Their relationship has been musically back-and-forthed a few times until now, with Cloher admitting in her 2017 self-titled album that she struggles with long distance, and painting in the silences between texts: "You've been gone so long you could have been dead". Barnett's response, four years on, is tender:"If I don't hear from you tonight / I know you've probably closed your eyes / And everything will be alright." It's a song of back-dated reassurances, that each morning she'd wake with her on her mind. As foreshadowing goes, it turns the album's standout track 'Splendour' into a moment of genuine heartbreak, as the reality of their relationship ending sends Barnett's droning cadence drifting into an unshakeable sadness: "Oh no / Oh no / Oh no / Oh no / Oh no I am really going to miss you."
So here it is: Things Take Time, Take Time. The result of everybody not saying, "isn't it about time that Courtney Barnett scraps all the talk about organic vegetables, house-hunting in a gloomy village, and makes a good old-fashioned record about falling in and out of love?" And like all the best albums, its originality comes strangely packaged. It's an exercise in having seen it all before, without knowing where you saw it; it's a feat of having heard it all before without knowing what it sounded like. On a collection of songs largely free from any of Barnett's signature quips, her presence is still enough to turn half an hour's overthinking into a real page-turner.
Free Protomartyr flexi disc with this month's magazine
Subscribers to Loud And Quiet now receive a limited edition flexi disc of a rare track with their copy of the magazine
This month's disc is from Detroit punk band Protomartyr